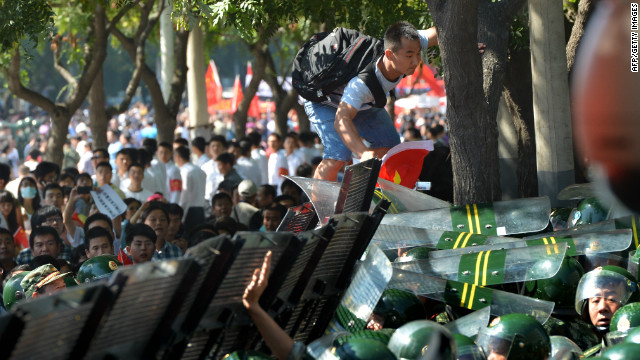 A protester (top) attempts to climb over a security barrier during an anti-Japanese protest outside the Japanese embassy in Beijing on September 15, 2012.
Beijing (CNN) --

Thousands of Chinese protesters hurled bottles and eggs outside the Japanese embassy in Beijing over the weekend amid growing tensions between the two nations over a group of disputed islands

.

Waving Chinese national flags and holding portraits of the late Chairman Mao Zedong, the mostly young protesters chanted "down with Japanese imperialism" and called for war as they made their way down the streets under the watchful eyes of police and guards.

Elsewhere in China, anti-Japanese rallies broke out in dozens of cities and sometimes turned violent. Messages and photos posted on Chinese social media sites showed angry mobs in numerous cities ransacking Japanese stores and restaurants as well as smashing and burning cars of Japanese make.

Japanese media also reported incidents of assault on Japanese nationals in China in the past few days. A Chinese foreign ministry spokesman insisted Friday that the public anger was not aimed at the Japanese people, whose safety would be protected in China according to law.

Authorities rarely permit protests in China, prompting suspicion that Saturday's nationwide rallies were government-sanctioned. In Beijing, police walking along the demonstrators were seen to ask spectators to join in instead of blocking the street.

By Saturday night, China's state-run media had started appealing for restraint, running commentaries that condemned violence and lectured the public on the true meaning of patriotism. In a sign of rising concern over the gathering of large crowds, authorities in cities that had seen the most ferocious protests canceled entertainment and sporting events.



Asian islands dispute: Who claims what?


Tensions escalated Friday when Chinese maritime surveillance ships ignored warnings from Japan and briefly entered waters around the group of islands at the center of the heated territorial dispute.

The ships arrived near the uninhabited islands -- which Japan calls Senkaku and China calls Diaoyu -- and began patrols and "law enforcement," China's state-run news agency Xinhua reported.



Economic consequences of island spat


The islands, situated in the East China Sea between Okinawa and Taiwan, are under Japanese control, but China claims they have been a part of its territory for ages.
The long-running argument over who has sovereignty has triggered protests in both nations.

The United States,a key ally of Japan, has repeatedly urged Tokyo and Beijing to resolve the dispute through dialogue. U.S. Defense Secretary Leon Panetta will meet with his counterparts in Japan and China this weekend, the Department of Defense said Thursday.

Chinese vessels had all left the waters by Friday afternoon and headed north, the Japanese Coast Guard said. Japan said it will intensify patrols of the area.
The controversial Chinese move to begin patrols around the islands follows Japan's purchase of several of the islands from a private owner this week. China described the deal as "illegal and invalid." Animosity between the two countries over the islands runs deep.

They have come to represent what many Chinese see as unfinished business: redressing the impact of the Japanese occupation of large swathes of eastern China during the 1930s and 1940s. China says its claim goes back hundreds of years. Japan says it saw no trace of Chinese control of the islands in an 1885 survey, so formally recognized them as Japanese sovereign territory in 1895.

Japan then sold the islands in 1932 to descendants of the original settlers. The Japanese surrender at the end of World War II in 1945 only served to cloud the issue further.
The islands were administered by the U.S. occupation force after the war. But in 1972, Washington returned them to Japan as part of its withdrawal from Okinawa.





Asia's disputed islands -- who claims what?


From the East China Sea to the South China Sea, tensions have long simmered between rival countries seeking ownership of a range of territory, from lush island chains to barren, rocky outcrops. CNN looks at the main flashpoints.

Islands in focus
Many of the islands are little more than uninhabited, rocky outcrops. But beneath the waves, analysts believe potentially huge reserves of natural gas and oil exist. A Chinese estimate suggests as much as 213 billion barrels of oil lie untapped in the South China Sea alone which, if true, would make it the largest oil reserve outside Saudi Arabia, according to the U.S. Energy Information Administration. Click through to learn about some of the disputed islands in the region.

MORE STORIES:

Why Asia is arguing over its islands: http://globalpublicsquare.blogs.cnn.com ... le_sidebar

Chinese ships begin patrols around islands at center of dispute with Japan: http://edition.cnn.com/2012/09/13/world ... le_sidebar

Tokyo dispatches team to survey islands at center of Japan, China tensions: http://edition.cnn.com/2012/09/02/world ... le_sidebar

Japan regrets Beijing flag snatching: http://edition.cnn.com/2012/08/28/world ... le_sidebar

Islands dispute reopening old wounds in China and Japan: http://edition.cnn.com/2012/08/23/world ... le_sidebar

Anti-Japan protests erupt in China amid island dispute: http://edition.cnn.com/2012/08/19/world ... le_sidebar

China urges Japan to halt disputed island visit: http://edition.cnn.com/2012/08/18/world ... le_sidebar

Japan deporting Chinese held over island landing: http://edition.cnn.com/2012/08/17/world ... le_sidebar
.
.




Anti-Japan protesters surround paramilitary policemen outside local Communist Party headquarters in Shenzhen, China. (Associated Press / September 17, 2012)

BEIJING —

Anti-Japan rallies spread to dozens more Chinese cities Sunday, as thousands of people demonstrated against the Japanese government's plan to buy several uninhabited islands near Taiwan that China also claims. Protesters marched in front of diplomatic compounds, attacked Japanese businesses and burned Japanese flags

.

In the southern city of Guangzhou, demonstrators stormed into the first two floors of a complex that houses the Japanese Consulate, breaking windows in a hotel and smashing a vehicle. In nearby Shenzhen, police fired tear gas and used a water cannon to disperse marchers. Japanese factories, grocery shops, restaurants and car dealerships were reported damaged in a number of cities, including Qingdao.

In Beijing, more than 1,000 marchers waving flags and carrying banners gathered for a second straight day in front of the Japanese Embassy, hurling water bottles at the building and chanting slogans such as "Knock down the little Japanese," "Long live the People's Republic of China" and "China will prevail."

Hundreds of police and security officers, some holding riot shields, lined the protest route. But generally they appeared relaxed, calmly guiding the marchers back and forth past the embassy as a helicopter buzzed overhead. Scores of neighborhood watch volunteers, many of them senior citizens with red armbands, also patrolled the area.

On a nearby commercial street, Japanese restaurants were shuttered, with some hiding their signs behind tarps. Others hung Chinese flags and banners in front of their stores.

"The Diaoyu islands themselves are not so important, but I do think Japan is trying to bully China," said an 18-year-old university student surnamed Wen who came to watch the protest but not participate. "Still, I feel bad about these restaurants because it is Chinese people who work in them."

Tensions have been rising since Japan's government announced a plan last week to purchase three of what it calls the Senkaku islands from the Japanese family that has controlled them for decades. China has protested the move at the United Nations and sent vessels to the area in an expression of force. Taiwan, which also claims the island chain, has also sent ships to nearby waters.

Japanese Prime Minister Yoshihiko Noda, speaking Sunday on a talk show on national broadcaster NHK, called on China to ensure the safety of Japanese citizens and businesses in the country. The Japanese Consulate in Shanghai has reported that a number of Japanese have been harassed in recent days, including one who had a bowl of hot noodles thrown at him and another who was kicked on the street. The consulate urged citizens to not take taxis alone or speak loudly in Japanese while in public.

The protests are expected to continue at least through Tuesday, when China will mark the anniversary of an incident in 1931 that began Japan's 14-year occupation of portions of the mainland.

The dispute brought a warning from U.S. Defense Secretary Leon E. Panetta that it could lead to a regional conflict. "I am concerned that these countries engage in provocations of one kind or another over these various islands that it raises the possibility that a misjudgment on one side or the other could result in violence," Panetta told reporters traveling with him to Asia aboard an Air Force jet.

Panetta arrived in Tokyo on Sunday at the start of a weeklong trip to Asia that will also take him to China and New Zealand.

Large-scale protests of any kind are rare in China, though the government has allowed and even encouraged anti-Japan and anti-U.S. demonstrations in the past, particularly when such gatherings could help bolster its political or foreign policy objectives. Still, there is always the risk that such rallies could morph into outpourings of discontent with Chinese authorities themselves.

In a sign that the protests may be pushing officials toward the edge of their comfort zone, an opinion piece carried by the state-run New China News Agency on Sunday counseled that "wisdom is needed in the expression of patriotism" and that "Chinese people should be rational and obey the law when expressing patriotic feelings, and they should abstain from 'smashing and looting.'"

A number of protesters in Shenzhen and Guangzhou had issues beyond the disputed islands, such as corruption and high housing prices, on their minds. One photo circulated on Weibo, China's Twitter-like microblog service, showed a man at a demonstration wearing a shirt reading, "I'm willing to feed the corrupted officials and become a housing slave, but I will never give up on the Diaoyu islands."

Jessica Chen Weiss, an assistant professor of political science at Yale University who is writing a book on Chinese foreign policy and nationalist protests, said that although the government has taken pains to emphasize the island dispute, it would be a mistake to regard the protests as completely manufactured.

Weiss said the spread of Weibo and other technology has added more unpredictability into such situations for China's government and for outside observers trying to discern Beijing's political objectives as it manages the gatherings.

"The increasingly viral methods of organizing protests means the government's task [in controlling the demonstrations] is harder" once they start, she said. "And it's harder to interpret Beijing's intentions."