JAPAN COAST GUARD/AFP/GETTY IMAGES - A Chinese marine surveillance ship cruises Friday near a disputed group of small islands in the East China Sea

TOKYO — In an increasingly fierce dispute over control of tiny islands and the sea around them, six Chinese maritime patrol ships entered Japanese waters Friday. Japan's coast guard asked the ships to leave; China said they had every right to be there.

The standoff occurred near a group of contested, uninhabited rocky outcroppings that Japan's central government recently purchased, prompting threats from China that it will increase surveillance of the area. China's state-run Xinhua news agency, citing a government statement, said the ships had been sent to the islands — known as Senkaku in Japan, Diaoyu in China — for "law enforcement and patrol activities" and to "demonstrate China's jurisdiction."



Either two or three of the six Chinese ships quickly moved outside of Japanese territory, which extends 12 nautical miles from the islands, Japanese media said, quoting the country's coast guard. The others left hours later, but not before declaring they were in Chinese territory and ordering the Japan Coast Guard to retreat.

"Diaoyu is China's territory," a Chinese ship said in radio communications, according to the Associated Press, which quoted Japan's coast guard. "This ship is carrying out lawful operations. We urge you to leave the waters immediately."

The stare down, which began in the early morning and ended mid-afternoon, marked a recent high point for tension between Asia's two largest economies, both of which see the islands as a symbol for national pride and covet the waters around them for their rich fishing stock and natural resources.

As the ships tracked one another, Japan summoned the Chinese ambassador to protest and Prime Minister Yoshihiko Noda met with a crisis task force at his office. Chinese ships had last entered Japanese-controlled territory two months ago, but a government spokesman in Tokyo, in an unusually strong condemnation, called the Friday intrusion an "unprecedented scale of invasion into Japanese contiguous waters."

The extended row between China and Japan is already fraying ties between key trading partners; Nissan, for instance, has said its sales in China have been hurt by the recent tensions. Meanwhile, some China-based travel agencies are canceling group tours to Japan, and cultural events in both countries designed to mark the 40th anniversary of China-Japan diplomatic ties have been called off or postponed.

The tensions also create a dilemma for the United States, which is treaty-bound to defend Japan but whose officials have repeatedly emphasized that they don't take sides in territorial disputes. Earlier this week State Department spokeswoman Victoria Nuland urged Japan and China to "work together" through dialogue, adding that good relations are "important for the region and important for our interests."

Some security experts fear that China and Japan are risking armed conflict by beefing up their security in the island area, which sits along a chain between Okinawa and Taiwan in the East China Sea. The Senkaku or Diaoyu islands are controlled by Japan, but they are also claimed by China and Taiwan.

Japan's central government, which had previously been renting the islands, finalized a $26.2 million purchase earlier this week with a private Japanese landowner. The move enraged Beijing, which called the purchase a "gross violation" of Chinese sovereignty.

China, in turn, released a set of sea coordinates, announcing the exact boundaries to the territory around the Senkaku or Diaoyu islands it considers its own. This move, according to Chinese security experts, gives China new legal ground to act against Japanese vessels in the contested waters. Beijing has also said it will increase patrols in the area.

"It's not impossible for the situation to get out of hand," said Jin Yongming, an expert on maritime security at the Shanghai Academy of Social Sciences. "It is possible Chinese fishing boats clash with the Japanese fishing boats, Chinese sea surveillance boats clash with Japanese sea surveillance boats, Chinese naval vessels clash with Japanese naval vessels. Theoretically, when a Japanese naval vessel enters the 12 nautical miles of the Diaoyu islands, China has the right of self defense."

Liu Liu, in Beijing, contributed to this report.
.
.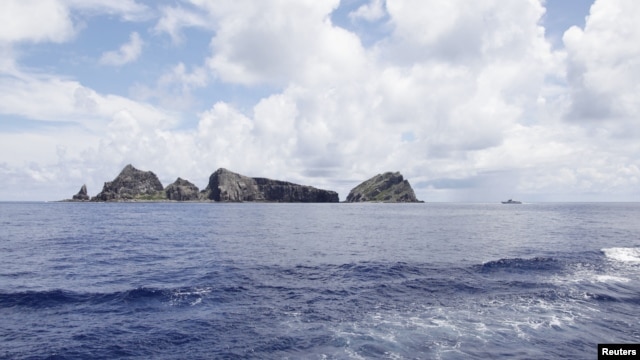 A group of disputed islands known as Senkaku in Japan and Diaoyu in China is seen from the city government of Tokyo's survey vessel in the East China Sea, September 2, 2012.

Japan says six Chinese patrol ships have entered its territorial waters near disputed islands in the East China Sea, further heightening the tensions over the uninhabited archipelago claimed both by Tokyo and Beijing.

Japan's Coast Guard said two Chinese vessels entered Japanese waters early Friday, and four more vessels arrived soon after. The Coast Guard says it has issued a warning for them to leave.

China's official news agency, Xinhua, Thursday quoted the Ministry of Agriculture as saying the vessels would be dispatched on routine patrol near the islands to assert China's sovereignty and protect fishermen.

The rocky islets, known as Senkaku in Japan and Diaoyu in China, have been the focus of recurring flare-ups between the two sides.

On Thursday, hundreds of protesters gathered outside the Japanese embassy in Beijing to condemn Japan's move to nationalize the privately owned islands in the resource-rich maritime area. They called for Japan to leave the uninhabited islands and for a boycott of Japanese products.

Chinese authorities allowed the demonstrations to proceed, although police prevented protesters from getting close to the Japanese embassy compound.

Japan's Kyodo news agency reported that anti-Japan protests also took place in Shanghai and Fuzhou, the capital of Fujian Province.

China's vice commerce minister, Jiang Zengwei, warned Thursday the dispute could affect trade between China and Japan, while Japanese Foreign Minister Koichiro Gemba called for calm.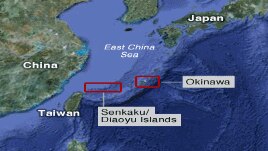 China is Japan's largest trading partner.

On Monday, Japan announced a $26 million deal to nationalize the disputed island chain, whose waters contain rich fishing grounds and potential oil reserves. Japanese officials said the move was meant to ensure that no one triggers a confrontation with China by developing the uninhabited islands.

China called Japan's purchase a violation of Chinese sovereignty, saying China does not recognize any Japanese ownership of the islands. China urged Japan to revoke the purchase immediately.

Japan rejected China's demand, saying Tokyo will not reconsider a transaction involving what it considers to be sovereign Japanese territory





MORE STORIES:

Japan Awaits China's Next Move On Disputed Islands: http://www.voanews.com/content/japan-aw ... 06797.html

China Sends Ships to Stake Claim to Disputed Islands: http://www.voanews.com/content/china-se ... 05442.html

Japan Decision Raises Stakes in Island Dispute: http://www.voanews.com/content/japan_de ... 04887.html