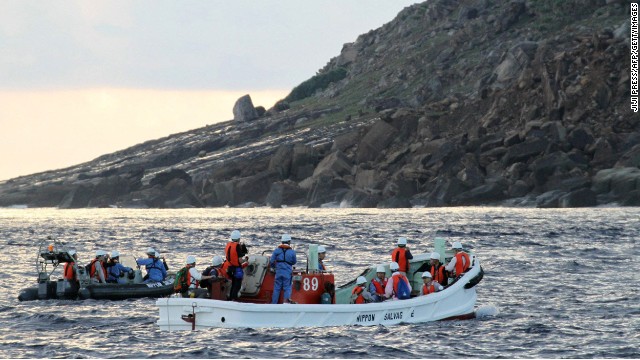 A team of Japanese surveyors conducts an offshore survey from boats near Uotsurijima island, part of the disputed island chain known in Japan as Senkaku and Diaoyu in China, on September 2, 2012.



(CNN) -- Tokyo's governor dispatched a team Sunday to survey a set of islands in the East China Sea to which both Japan and China lay claim.
China's state-run media immediately declared the survey "illegal."
The incident is the latest in rising territorial tensions in North Asia.

The uninhabited islands are known in Japan as Senkaku and in China as Diaoyu, and are privately-owned by a Japanese family.
But both China and Japan separately claim them as part of their territory. The islands, located between Taiwan and Okinawa, sit among rich fishing waters and are also believed to be rich in oil resources.

For now, the Japanese government leases the island from the family to "peacefully and stably maintain" them, as Chief Cabinet Secretary Osamu Fujimura said.
But Tokyo Governor Shintaro Ishihara has begun talks with the private owners and said he expects to strike a deal to buy the islands by the end of the year.

Anti-Japan protests erupt in China amid island dispute
"In place of a weak-kneed national government that has failed to act from start to finish, Tokyo will consider how to make the most of the fertile seas and abundant nature of these islands," Ishihara said earlier this year.

The team dispatched Sunday sailed on a ship and then rode on rubber boats to survey the shoreline. It did not set foot on the islands.
Animosity has run deep between China and Japan over the islands.

Islands dispute reopening old wounds in China and Japan
They are symbolic of what many in China see as unfinished business, redressing the impact of Japanese occupation in the 1930s and 1940s.

China says its claim on Diaoyu extends back hundreds of years. Japan says China ceded sovereignty when it lost the Sino-Japanese war in 1895.
Japan then sold the islands in 1932 to descendants of the original settlers.
Japan's surrender in World War II clouded the issue again.

The islands were administered by the U.S. occupation force after the war. But in 1972, Washington returned them to Japan as part of its withdrawal from Okinawa.

That, says Chinese analyst Guo Xiangang, is where the current troubles begin.
"The U.S. handed over the island to Japan for its own purpose during the Cold War. So, personally, I think the U.S. should take the blame for the dispute of Diaoyu island," said Guo, the deputy director of the China Institute of International Studies, a think tank connected to China's Ministry of Foreign Affairs.

"There shouldn't be any discussion on Diaoyu Island. It has always been a part of China," he said.
In August, a diplomatic row erupted between Japan and China after a group of Chinese nationals were photographed raising flags there. They were arrested.

Japanese activists too have swum ashore, raising their flag, in incidents in 1990 and 1996.
In 2010, tensions rose to a boiling point when a Chinese fishing trawler rammed into a Japan Coast Guard vessel on patrol in the islands' waters.

Japan detained the crew members but later released them under Chinese diplomatic and trade pressure
.

Protesters in Chengdu, China, march Sunday in an anti-Japanese rally stemming from a long-standing dispute over uninhabited islands claimed by both countries. Chinese protesters rallied in more than a dozen cities. (He Yuan, EPA / August 19, 2012)

BEIJING — Angry youths on Sunday overturned cars and smashed shop windows in anti-Japanese protests across China stemming from a long-standing dispute over uninhabited islands claimed by both countries.

Not to be outdone in nationalist fervor, 150 Japanese activists tried to land on the islands in the East China Sea by boat Sunday to commemorate World War II deaths. When that failed, 10 of them swam to one of the rocky islands and tried to plant a Japanese flag.

The demonstrations in China were the largest since 2010, when a Chinese fishing captain whose boat collided with a Japanese coast guard vessel was arrested, leading to a protracted standoff.

The largest street protest was in Shenzhen, where thousands of people, mostly students, overturned Japanese-made police cars and smashed the windows of Japanese restaurants. Demonstrations also took place over the weekend in Chengdu, Xian and Jinan, among other Chinese cities, as well as in Hong Kong. Japanese chain stores including Uniqlo, which are wildly popular among young Chinese, were forced to close for the day.

"Japanese, get off our Diaoyu islands," read most of the banners, while others exhorted Chinese to "kill all the Japanese." The islands are known as Senkaku in Japan.

Photographs that circulated on Chinese microblogs during the day showed a young man with a metal pipe destroying a Honda police car. Another showed a demonstrator in an anti-Japanese T-shirt taking photographs — with a Canon single-lens reflex camera. Canon is a Japanese company.

The Chinese government had periodically allowed anti-Japanese demonstrations, which appear to give the youth an opportunity to let off steam while displaying their patriot fervor. But the protests were usually kept under enough control to prevent serious casualties or property damage.

This time, the tit-for-tat displays of nationalism began when a group of Hong Kong activists landed on the same islands Wednesday, asserting China's territorial claim. Trying to avoid a repeat of the 2010 fishing boat incident, Japan released the Hong Kong activists within 48 hours.

The Chinese Foreign Ministry complained Sunday about the landing of the Japanese activists, but issued an otherwise mild reproof.

The day of protests and counter-protests comes amid a flare-up of disputes in Asian waters. China also has territorial disputes with Vietnam and the Philippines in the South China Sea, and squabbling has also resumed between Japan and South Korea.