U.S. Defense Secretary Leon Panetta, center, steps off his jet after arriving at Yokota Air Base on the outskirts of Tokyo, Japan, Sunday, Sept. 16, 2012.

TOKYO —

U.S. Defense Secretary Leon Panetta says anti-U.S. protests and violence in the Muslim world, sparked by a privately-made video, will likely continue but he says it appears to be leveling off. Panetta has begun a week-long visit to the Asia-Pacific region.



He arrived in Tokyo looking to help ease tensions over territorial disputes between China and its neighbors. But in a briefing to reporters, the questions were largely about anti-American violence across the Muslim world after the posting of a video, made in California, that is offensive to Islam.

"There continue to be some demonstrations, but it would appear that there is some leveling off on the violence that we thought might take place," said Panetta. "Having said that, I think we have to continue to be very vigilant because I suspect that what we have seen, that these demonstrations are likely to continue over the next few days if not longer, and I think we are going to have to be vigilant in watching those areas and make sure that our personnel and our people are protected."

The Pentagon has moved two Navy ships to the coast of Libya, where an attack on the U.S. consulate last week killed four Americans, including the U.S. ambassador. Marine rapid response teams have also been deployed to Libya and Yemen.

A third team was sent to Sudan, but was turned back by the Sudanese government. Panetta said Sudanese authorities believe their own forces can provide sufficient security to protect the U.S. Embassy there.

For now, the defense secretary says there are no plans for further movements.

"I think our approach right now is not to do anything until we have been requested by the State Department," said Panetta.

Panetta visits Asia as tensions rise over territorial disputes between China and its neighbors in the East China Sea and South China Sea.

"I am concerned that when these countries engage in provocations of one kind or another over these various islands that it raises the possibility that a misjudgment on one side or the other could result in violence and could result in conflict, and that conflict would then have the potential of expanding," said Panetta. "

Panetta is to meet with Japan's defense minister and others on Monday to discuss the disputes and offer reassurances of U.S. support for dialogue.

Later, the U.S. defense secretary goes to Beijing, where he will urge Chinese leaders to engage in a process with its neighbors to peacefully resolve territorial disputes.
.
.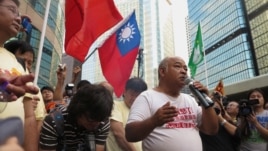 Tsang Kin-shing addresses the crowd after having set alight the Japanese flag during a protest rally in Hong Kong, September 16, 2012. (VOA - I. Broadhead)

HONG KONG — As tensions between China and Japan escalate, anti-Japanese protests have spread to Hong Kong. Pro-democracy activists in the semi-autonomous Chinese territory are taking a surprising lead in the pan-Chinese nationalism movement.

An estimated 5,000 demonstrators marched on the Japanese consulate in Hong Kong Sunday. The demonstration occurred in the build-up to the anniversary this week of the 1931 Japanese invasion of Manchuria.

Tokyo enflamed Chinese emotions last week by purchasing contested islands, known as the Diaoyu in China, the Senkaku in Japan, from their private Japanese owners.

Last month, protest organizer Tsang Kin-Shing and a group of Hong Kong residents landed on the islands, located between Okinawa and Taiwan. Tsang accused Japan of acting irresponsibly.

"Japan must apologize not only for the crimes it committed before and during the Second World War. This latest act by the Japanese state, buying the Diaoyu Islands, is an absurdity. It is a challenge to the Chinese people, to the extent that it is almost an act of war."

An article in the state-owned China Daily newspaper Saturday suggested Hong Kong protesters directing their anger at Japan would simultaneously demonstrate their loyalty to the Chinese Communist Party.

But such a notion was rejected by demonstrators and organizers alike. Teacher CK Yeung explains a widely held sentiment. "The Chinese Communist Party has inflicted a lot of pain on its own people. We are all Chinese. It is our country. [But] we do not equate the Chinese Communist Party with the country. We know the difference," he said.

Hong Kong is regularly rocked by protests against Beijing's growing influence in the former British colony, which enjoys social and political freedoms seen nowhere else in China.

The leaders of Hong Kong's pan-Chinese nationalism movement are well-known pro-democracy activists, many of whom have been banned from entering the mainland since the resumption of Chinese sovereignty in 1997.

Hong Kong Democratic Party vice chairman, legislator Sin Chung Kai attended the protest. He argues the involvement of the Hong Kong people reflects a moral, not a political stance against Japanese provocation.

""[We] are angry with the People's Republic of China - how they handle the pace of [democratic reform] in Hong Kong. But that does not mean we will not support the unity of our sovereign soil. The Diaoyu, since the Ming Dynasty five- or 600 years ago, have been part of China," he said.

Hong Kong protesters insist they have little interest in China's claims to other territories in the East and South China Seas, including the Spratly and Paracel Islands, over which Vietnam asserts sovereignty.

Hong Kong residents, proud of their Chinese identity, have shown long-running support for the Diaoyu claim, observes Hong Kong University History Professor Priscilla Roberts.

"In the 1990s, the Chinese government tried to damp down [Diaoyu-related] protests. It was Hong Kong people who let their emotions get away with them. So perhaps it is a way of showing one can be Chinese - more Chinese than the Chinese - without necessarily following the Beijing party line," she said.

An expert on the Japanese occupation of Hong Kong during the Second World War, Rohan Price of the University of Tasmania, says the legacy of the brutal occupation persists, along with demands for reparation.

"To this day, many Hong Kong families have suitcases full of Japanese military script, which was unfortunately de-monetized by the British on their return in 1945. So effectively, all the proceeds of their business and labor during the Occupation became worthless," he said.

While Japanese businesses have been looted and vandalized during protests elsewhere in China, demonstrators vow Japanese property will be respected in Hong Kong. But the Japanese flag was burned outside Japan's consulate at the conclusion of the march and demonstrators called for a boycott of Japanese companies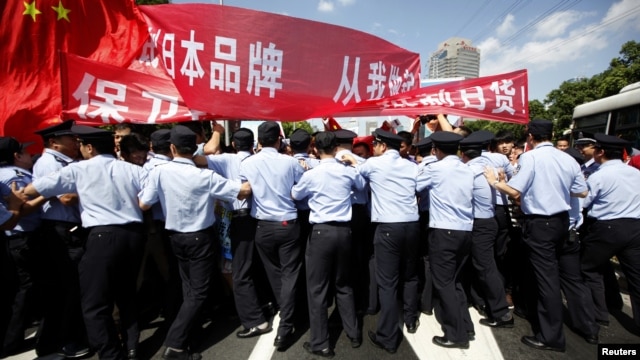 Policemen block demonstrators near the Japanese consulate during a protest in Shanghai September 16, 2012.

BEIJING – Thousands rallied Sunday in the streets of dozens of cities across China as public anger with Japan over disputed East China Sea islands swelled. In view of the protests Japan's prime minister has urged Beijing to guarantee the safety of Japanese citizens and businesses in China.

Outside the Japanese Embassy in the Chinese capital, protests were impassioned and brimming with angst. Some yelled "Japan, get the hell out of China!" and others chanted "Go China, go China!"

A heavy, double barricade of metal fences and flanks of security forces made it difficult for protesters to repeat Saturday's attempt to storm the embassy's front gate.

Authorities allowed protesters organized into large groups to march past the front of the embassy. When they did, many pelted the gate with water bottles, fruit and sometimes stones and glass.

One of the protesters, a woman from China's central Xian province says she joined the rally out of a sense of duty. She says she came to show that the Diaoyu islands belong to China, adding that the Japanese like stealing things.

Last week, Japan announced a $26-million deal to nationalize the disputed island chain, whose waters contain rich fishing grounds and potential oil reserves. The islands, called Senkaku in Japan, had been owned by a Japanese family for several decades.

Japanese officials say the move was meant to make sure no individual could trigger a confrontation with China by developing the uninhabited islands. China called Japan's purchase a violation of Chinese sovereignty.

Anti-Japanese protests have been held in dozens of cities across China in recent days.

Security forces in the southern city of Shenzhen hurled tear gas canisters at protesters. Some tossed them back at authorities and a police vehicle was overturned.

China's state-run Xinhua news agency says in Guanzhou protesters broke into a hotel next to Japan's consulate, smashed windows and damaged a Japanese restaurant.

Ning Mengmeng, a 24-year old hairdresser in Beijing says he and others in his salon put up a sign that reads: "No Japanese or dogs allowed."

Ning says it is very simple. He hates Japanese. He says that maybe it is because of what he has seen in movies and what older people have told him about how the Japanese tyrannized Chinese people in the past.

He adds that while he does not advocate using violence to protest against Japan, he may stop going to Japanese restaurants and start boycotting its goods.

The Chinese government is walking a fine line between allowing the public to reasonably vent its anger and ensuring protests do not turn violent.

The Japanese Embassy says protesters in China have set fire to Japanese factories, sabotaged assembly lines, looted stores and illegally entered Japanese businesses.

Speaking with Japanese public broadcaster NHK on Sunday, Japanese Prime Minister Yoshihiko Noda said Japan deplores the violence and urged both sides to share information and maintain close contacts
.
.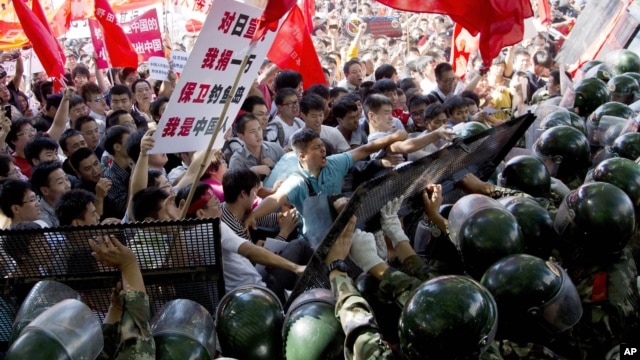 Chinese demonstrators clash with policemen during an anti-Japan protest outside the Japanese Embassy in Beijing, China, September 15, 2012.

Thousands of Chinese protesters staged a demonstration outside the Japanese Embassy in Beijing Saturday, angry over Japan's actions to claim complete control of a group of disputed islands in the East China Sea.

Protesters threw rocks and burned Japanese flags at the embassy, but were held back by riot police from breaking through a barricade.

There are also reports of protests in other Chinese cities.

The protests are the latest in a series of demonstrations since Tuesday when Japan said it had bought the islands from a private owner. China says such a purchase is not legal, and claims the territory as its own.

The dispute escalated Friday when China sent six surveillance ships to the waters around the uninhabited islands, known as Diaoyu in China and Senkaku in Japan.