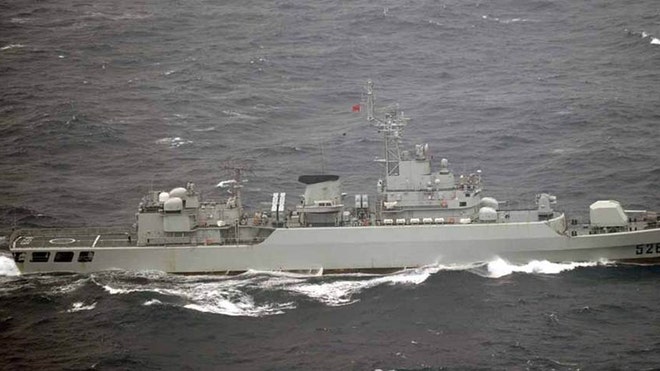 In this photo released by Japan's Joint Staff Office, a Chinese frigate sails in waters off the island of Yonaguni in Japan's Okinawa prefecture on Tuesday, Oct. 16, 2012. Japanese aircraft spotted seven Chinese warships in waters off the southern Japan island and about 200 kilometers (125 miles) from the uninhabited isles at the center of a territorial dispute between the two countries. (AP Photo/Joint Staff Office) (AP2012)

TOKYO –

Japanese military officials said they closely watching seven Chinese warships spotted in waters off a southern island Tuesday. It was unclear whether the ship movements were related to a territorial dispute that has prompted both countries to show off their maritime muscles

.

The Chinese ships were sighted about 49 kilometers (30 miles) from the island of Yonaguni, in Japan's Okinawa prefecture (state), according to Japan's Defense Ministry. They were about 200 kilometers (125 miles) from a chain of small islands that have sparked a heated dispute between Japan and China. The ships were believed to be returning to China after training in the Pacific. Defense Minister Satoshi Morimoto said Japan is monitoring the ships' movement. Japan considers the area part of its contiguous waters, but it is not illegal for foreign vessels to transit them.

It is not unusual for the Chinese navy to transit waters around Okinawa en route to the Pacific, but this is the first such operation observed this year, according to public broadcaster NHK. The ships included frigates, a guided missile destroyer, a refueler and two submarine rescue vessels. It was unclear if their mission was directly related to the territorial issue, or whether they were trying to avoid an approaching typhoon. China's Defense Ministry said the ships were on a scheduled cruising exercise and were acting in a manner that was "appropriate and legal."

Underscoring China's sharper stance, it also protested the scrambling of a Japanese military plane in the direction of the disputed islands, calling that a "gross violation" of Chinese sovereign rights. "The Chinese military is closely following the actions of the Japanese side and demands Japan halt all actions complicating or escalating the situation," the ministry said in a short statement on its website. Japan angered China last month by nationalizing part of the chain of uninhabited East China Sea islands called Senkaku in Japanese and Diaoyu in Chinese. The move sparked violent protests in China. Chief Cabinet Secretary Osamu Fujimura said Tokyo has urged Beijing to "avoid any actions that would go counter to the mutual benefit."

Nearby Taiwan also claims the islands, which are uninhabited but surrounded by rich fishing grounds and possibly lucrative undersea energy deposits.
China and Japan have recently stepped up naval activities in the area around Okinawa because of the dispute, but there have been no clashes between their warships, which have generally stayed away from the islands themselves. Wary of missteps that could lead to a sudden escalation of tensions, the countries have instead sent less threatening coast guard ships. Over the past week, however, both have made a point of showing off their naval prowess. Chinese websites were abuzz Monday with photographs of navy pilots practicing touch-and-go landing exercises on China's first aircraft carrier. It wasn't clear when the pictures were taken, and they did not appear on the Defense Ministry's website or in official media.

The carrier was launched last month without aircraft or an accompanying battle group, and actual flight operations could be years away. But it is widely seen as a symbol of China's ambitions to be a leading Asian naval power, especially as it faces sharpening territorial conflicts with Japan and other countries. Japan's navy, meanwhile, marked its 60th anniversary with a major exercise on Sunday. Japan also plans to hold a joint exercise with the U.S. military later this year, reportedly using a scenario of taking a remote island back from a foreign intruder.

Asked how China sees the reported scenario, Chinese Foreign Ministry spokesman Hong Lei said, "To maintain the peace and stability of Asia-Pacific is beneficial to all sides." He added: "Increasing tension is against the bigger trends of regional security, peace and the buildup of political and security trust. We reserve the right to take further action." Defense Minister Morimoto declined to confirm the scenario or give other details. In Sunday's exercise, about 40 ships — including state-of-the-art destroyers, hovercraft able to launch assaults on rough coastlines and new conventionally powered submarines — took part in Fleet Review 2012, the maritime equivalent of a military parade.

About 30 naval aircraft, mostly helicopters, also participated. For the first time, Japan's navy was joined by warships from the United States, Singapore and Australia. Representatives from more than 20 countries, including China, attended the event staged in waters south of Tokyo..
.

Chinese sailors stand guard during a ceremony in Hong Kong. (AFP/Pool - Mike Clarke)
TOKYO:

A Chinese naval flotilla including two destroyers sailed through waters near Japanese islands on Tuesday, further fuelling tensions, in what one commentator said was a sign of things to come

.

The seven warships --- at least one of which was capable of firing missiles -- passed close to territory internationally recognised as Japanese. The two nations are already embroiled in a bitter wrangle over a separate island chain.

A defence ministry spokesman said it was the first time the Chinese navy had used the passage, but Ryo Sahashi, a specialist in international politics at Kanagawa University said it would not be the last.

"Generally speaking, China acts in accordance with its government's claims," he said.
"It is likely that we will see similar acts repeated in the future," he said, while cautioning it was too early to assess the full meaning of the move.

China's increasingly well-funded navy is somewhat hemmed in by the long chain of Japan's Okinawan islands and must pass relatively near them to get into the Pacific from the East China Sea. However, there are gaps between the islands that allow vessels to stay well away from Japan's contiguous zones, an area that extends a further 12 nautical miles beyond the 12 nautical miles of territorial waters.

A defence ministry spokesman said the seven Chinese naval ships had been involved in exercises in the Pacific Ocean, and "they passed through a wider space between Okinawa island and Miyako island on their way out" on October 4. "They passed through the narrow strait on the way back, and this is the first time we have confirmed that they passed through this gap," the spokesman said.

He said a Japanese spotter aircraft had logged the vessels 49 kilometres south-southeast of Yonaguni island at 7:00 am (2200 GMT Monday). The flotilla comprised two destroyers, at least one of which had missile capacity, two frigates, two submarine rescue ships and one supply ship.

"They were moving north, from the Pacific Ocean to the East China Sea," the spokesman said. At one point the vessels entered contiguous waters, a ministry spokeswoman said. Under the United Nations Convention on the Law of the Sea (UNCLOS), to which both Japan and China are signatories, foreign vessels including military ships have the right to use the contiguous zone.

But a state is allowed to exercise control to "prevent infringement of its customs, fiscal, immigration or sanitary laws and regulations within its territory or territorial sea", UNCLOS says. "At this time, we are not seeing such acts as helicopters flying from these naval ships and approaching toward our nation or (the ships) sailing within our territorial waters," Defence Minister Satoshi Morimoto told a press briefing.

"We are continuing to be on alert and maintaining surveillance of the area waters with aircraft and ships. We will continue to carefully collect information about the movement of the Chinese naval vessels."

He said these Chinese exercises had been going on since 2008. "They have gradually expanded the area of activity but we cannot tell what intentions lie behind that," Morimoto told reporters. The move comes after days of relative calm in a long-running dispute over the sovereignty of a small group of islands in the East China Sea. Tokyo and Beijing are at loggerheads over the Senkaku islands, which are administered by Japan but claimed by China, which calls them the Diaoyu islands. Over the last few weeks Chinese government ships -- maritime surveillance ships and fisheries patrol vessels -- have repeatedly sailed close to the archipelago, but the country's armed forces have apparently stayed away.

The dispute flared in August after landings by nationalists from both sides and the subsequent nationalisation of the islands by Tokyo. Large public protests rocked Chinese cities, forcing Japanese firms to shutter or scale back their operations.



Two-way trade, worth well in excess of $300 billion last year, is starting to show signs of impact from the dispute. Automaker Toyota was reported Tuesday to be planning to temporarily close a factory in China because of falling demand for Japanese goods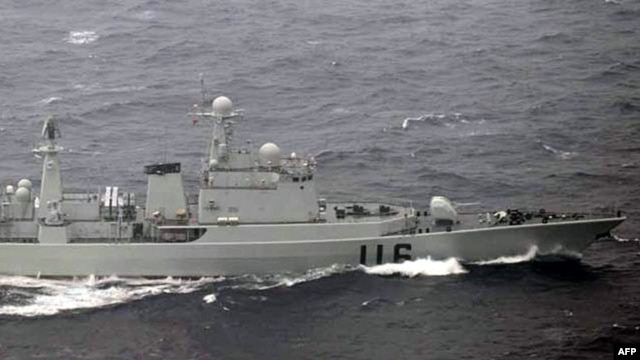 This handout picture taken by the Japanese Defense Ministry on October 16, 2012 shows a Chinese warship ship cruising in waters between two Japanese islands in Okinawa prefecture, in the East China Sea.

Japan says it has spotted seven Chinese naval ships near one of its islands, as tensions between the two Asian powers remain high over a territorial dispute in the East China Sea.

Japan's Defense Ministry says the Chinese ships were spotted early Tuesday by Japanese aircraft about 50 kilometers outside Yonaguni Island, Japan's westernmost island.

The ministry said the ships were in the contiguous zone, an area just outside Japan's territorial waters in which Japan has certain rights under international law.

China has increasingly sent ships to patrol Japanese-controlled areas since September, when Japan nationalized a group of islands claimed by Beijing. So far there have been no clashes.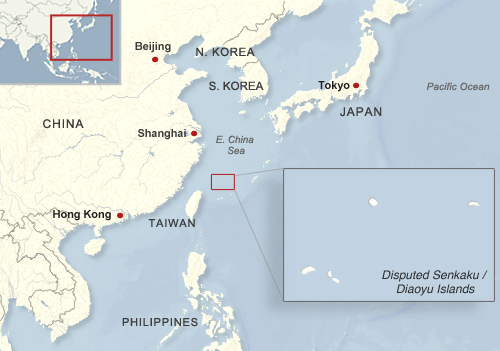 The uninhabited islands at the center of the dispute are called Senkaku in Japan and Diaoyu in China. They are surrounded by valuable fishing grounds and potential energy deposits.

Japan says it purchased some the islands from their private Japanese landowners to ensure their stability. But Beijing has responded furiously, saying they are part of their "sacred territory" since ancient times.