TOKYO —

A Chinese military surveillance plane entered Japanese airspace near Senkaku islands on Thursday, the Japanese Defense Ministry said, an escalation in an already tense standoff over the territory. Japan scrambled fighter jets in response, but the Chinese plane left before they arrived, according to Japanese authorities

.

The ministry said the plane's incursion was the first known violation of Japanese airspace by a Chinese plane since it began keeping records about 50 years ago. China considers the airspace its own, because it is laying claim to the islands that Japan has controlled for decades. Tokyo lodged a formal protest with Beijing, which swiftly retorted that it was the Japanese who had encroached.

In Beijing, the Foreign Ministry spokesman, Hong Lei, said that the activities of the Chinese plane were "completely normal." The episode comes just ahead of Japanese elections in which conservatives pushing for a more robust military to counter China's rise are in the lead. For months, patrol ships from the two countries have sporadically faced off near the Senkaku islands, exhanging protests over loudspeakers that each is infringing on the other's sovereignty. Recently, Chinese ships have sailed near the islands more regularly in what analysts in Japan interpret as a new strategy by China, either trying to wear down Japan's resolve or to use the patrols to bolster its claims that it is protecting the islands and therefore is in charge.

It was unclear on Thursday whether the plane's flight might have been part of such a strategy. This week, China appeared to increase the pressure on Japan by sending a flotilla of navy ships near the islands, instead of the maritime surveillance ships it sent before. Some analysts have said they consider the standoff more dangerous than separate conflicts Beijing is involved with over islands in the South China Sea because those pit China against countries less powerful than Japan, which has one of the world's most sophisticated navies.

The episode was an embarrassment for the administration in Japan, already struggling in national polls, since radar systems failed to detect the Chinese surveillance plane on Thursday. The authorities in Tokyo became aware of its presence only after a Japanese Coast Guard ship spotted it near the islands. The Coast Guard ship's crew radioed the Chinese plane, "Do not intrude into Japanese airspace." The aircraft's crew responded, "This is Chinese airspace," according to the Japanese public broadcaster, NHK.
By the time fighter jets reached the area from a base in Okinawa, the Chinese plane was gone, the Defense Ministry official said.

In Tokyo, Chief Cabinet Secretary Osamu Fujimura called the Chinese actions "extremely regrettable." Gen. Shigeru Iwasaki, chief of Joint Staff of Japan's Self-Defense Forces, said it was regrettable that the plane had entered Japanese airspace unnoticed. "We are going to make sure this does not happen again," General Iwasaki said.
Kurt M. Campbell, assistant secretary of state for East Asian and Pacific affairs, told reporters, "We are encouraging all sides to take appropriate steps so that there will be no misunderstandings, no miscalculations that could trigger an environment that would be antithetical to the maintenance of peace and stability."

Mr. Campbell, who was in Malaysia, also reiterated the Obama administration's stance that the security treaty between the United States and Japan applies to "any provocative set of circumstances." The United States has not taken a position on the sovereignty of the islands. The flare-up over the islands began when the Japanese government started considering buying some of the islands from a private Japanese owner, which it did this year.

Japan said it hoped that would calm tensions by keeping the islands out of the hands of a nationalist Japanese politician, but China took the government's move as provocation.
MORE STORIES:
WORLD NEWS
China - Japan War
Why Asia is arguing over islands
Disputed islands: Who claims what?
Opinion: China won't turn other cheek
Dispute may lead to 'Asia's Palestine'
Can both sides back off peacefully?
How a remote rock split China and Japan




In this photo released by Japan Coast Guard 11th Regional Coast Guard, a Chinese airplane flies in Japanese airspace above the Senkaku islands in southwestern Japan Thursday, Dec. 13, 2012. The Defense Agency said four Japanese F-15 jets headed to the area which has been at the center of a territorial dispute Thursday morning, but no further action was taken.



China and Japan's aerial posturing on Thursday comes amid turbulence in almost all major Asian powers. Japan faces an election on Sunday, in which the incumbent will likely lose to a nationalist opponent known for hawkish language toward China.

A new Chinese government assembled behind closed doors still seeks to assert its regional power employing a traditionally complicated relationship with its own military establishment. These most recent maneuvers come days after North Korea successfully caught the world's attention with a ballistic missile launch shortly before their neighbors to the south conduct their own elections. Continued disputes between Japan and China will likely continue, though a chance of escalation could usher dangerous consequences.

"One thing I've learned about China: They are never happy. You can never make the Chinese happy," says Thomas Snitch, an Asian conflict expert. "Who knows what the internal dynamic is going on in China after this recent change in party." Snitch has previously held senior roles at the National Academy of Sciences and U.S. Arms Control and Disarmament Agency. "The Japanese get annoyed because they're living next to this '800-pound gorilla' that just occasionally throws their weight around," he says.
"There's not much they can do except swat back at it. I guess that's what scrambling some F-15s will do."

Japan deployed the fighters after a Chinese surveillance propeller plane flew over the Senkaku islands. This follows months of non-violent engagements between the two militaries as China transitions its domestic forces into a regional power. Japan's military has been limited to self-defense since World War II, but it recently began exporting military aid to its neighbors. This most recent incident mirrors the usual provocation and response between the two countries, but that could change.

"The biggest risk here is the possibility of an accident," a U.S. Navy officer tells U.S. News.
"Putting several aircraft in the same space at the same time increases the likelihood of a collision."



"Scrambling eight fighters was a little aggressive on Japan's part," says the officer, who served in the region on the 7th Fleet commander's staff.

In 2001, a U.S. Navy EP-3 intelligence aircraft collided mid-air with a Chinese fighter jet killing the Chinese pilot. It led to an international dispute between the two nations often referred to as "The Hainan Island incident." Diplomatic restraint from both sides avoided escalation. The possibility for a repeat accident between China and Japan remains, as the countries use different languages for aerial maneuvers, says the officer, adding Japanese radar often doesn't pick up small Chinese planes like the Y-8 Chinese marine surveillance plane.

"There is very little potential for deliberate armed engagement by either side," the officer says. "We would obviously be involved in such an incident, urging restraint by both sides and working diplomatic back-channels. We have no interest in seeing this escalate." Snitch adds of the potential for a deliberate Japanese offensive response: "What would that be?" Support for Shinzo Abe and his Liberal Democratic Party is largely fueled by country-wide disapproval of the current prime minister. It is comparable to the 2008 election in the United States, when Barack Obama won on a sentiment of "anyone but [President George W.] Bush," says Snitch.

"While I'm sure they're agitated about what China's doing, there is an ethos in Japan that still has the remnants of World War II and that whole anti-military establishment," he says. Even if a newly elected Japanese prime minister wanted to ramp up military operations, he would be restricted by wavering public opinion as well as Article IX of the country's constitution, which prohibits an act of war by Japan. China, in turn, also has to balance its desires to shore up regional resources against opposition from Japan, which can muster an international coalition.

"When Japan does something like this, and makes a point to contest the islands, it's probably a smart move," says Snitch. "They can't contest [China] militarily, but what they can do is throw it into an international arena." A military response invokes the Philippines, Malaysia, Brunei, and other allied partners into protecting their own territorial claims against China. However, the new government under Xi Jinping still has an unclear relationship with its fighting forces, says Snitch.
"You have this new group of leadership coming in who obviously have been schooled and groomed for many many years, but suddenly they're in the driver's seat and who knows how much they've been briefed on these things," he says.

"The question you have to ask is, 'What is [Jinping's] relationship with the military?' I don't believe anybody in the West knows what that is."
MORE STORIES:
WORLD NEWS
China - Japan War
.



Japan says it intends to strengthen its aerial surveillance, hoping to prevent a repeat of an unprecedented incident Thursday when a Chinese government plane flew near disputed isles in the East China Sea

.

The Japanese Air Self Defense Force scrambled eight F-15 fighter jets after a coast guard vessel radioed that a Chinese aircraft was flying just south of the largest disputed island. Japanese land-based radar failed to detect the low flying turboprop surveillance plane from China. ​​ China's foreign ministry spokesman Hong Lei responded to reporters' questions Friday about the incident. Hong says the foreign ministry has demanded many times Japan cease its "illegal activities in territorial aerospace and waters of the Senkaku Islands, including withdrawing their aircraft."

Japanese authorities term unprecedented such a violation of their airspace by a Chinese aircraft. Japan's chief cabinet secretary, Osamu Fujimura, says further such incidents will be dealt with firmly. Fujimura says the defense ministry is considering patrols by E2C early warning aircraft and AWACS control planes. Japan, he says, wants to utilize every measure it can to protect its airspace. The provocative flight came during a week when China also sent a flotilla of navy ships near the Japanese islands.
The presence of the naval vessels follow what have become almost routine sailings near the territory by Chinese maritime surveillance ships.

The long-festering territorial dispute flared this year after Japan's central government moved to purchase the islands from a private Japanese owner. That action was taken to keep the islands out of the hands of then Tokyo governor Shintaro Ishihara. He has since quit the post and formed a new political party. Ishihara's fringe Japan Restoration Party is hoping to capture enough seats in Sunday's parliamentary election to have influence in forming the next government. The governing Democratic Party of Japan is widely forecast to lose its grip on power.

The largest conservative party, the Liberal Democratic Party, hopes it will capture enough seats outright to place its leader, former prime minister Shinzo Abe, back in his old job. Abe is known for his firm stance towards China. Although polls show voters, of which 40 percent say they are undecided on their party of preference, are primarily concerned with economic issues, political analysts assert public concern about the increasing Chinese patrols around the islands could give a boost to Abe's and Ishihara's parties.
by YUKA HAYASHI - Friday, December 14, 2012
ISHIGAKI, Japan—

As Japan's first line of defense in a territorial tussle with China, the once-obscure Coast Guard has enjoyed a surge in popularity—and also suffered new strains.



A movie featuring Coast Guard rescuers was among the year's biggest box-office hits. The number of applicants seeking jobs this year as police officers of the sea has more than doubled from a year earlier. Top political parties vying for power in coming elections show rare unity when they call for more money and people to beef up the maritime agency.

Behind the limelight, however, the Japan Coast Guard is struggling. As the latest island spat with China enters its fourth month, the organization with a relatively modest staff and budget is growing fatigued, raising concerns about the sustainability of the current arrangement. "Our people on the front line are giving up days off and basic training to do the best they can to patrol our territorial waters," Takashi Kitamura, Coast Guard chief, said in late November. "Right now, our operations are in a state that most people would call stretched thin."

Since the row escalated in September over the Senkaku islands China has sent maritime patrol ships into sensitive waters around the islands nearly continuously. To fend them off, Japan, which maintains effective control of the islands, has been forced to deploy a large number of patrol ships in the area. And those ships have come from the civilian Coast Guard—run by the Ministry of Land, Infrastructure, Transport and Tourism—rather than the Self Defense Forces. To avoid an escalation, Tokyo has kept its naval ships away from the area, even as the navy's surveillance planes make frequent rounds to monitor the Chinese ships.

Japan's decision to wage a tense cat-and-mouse game against China with its lightly armed Coast Guard—crew members carry handguns—has raised some fundamental questions about national security that many people in this pacifist nation haven't faced in decades. Some are questioning the nation's ability to defend itself in an emergency. Conservative politicians and activists are arguing for a military buildup. "The Coast Guard fleet is small to begin with, and its ships—with no refueling functions—must return to port each time they run out of fuel," Shigeru Ishiba, a leader of the opposition Liberal Democratic Party—favored to take power in Sunday's elections—said last month.

"We must make a new law and decide how to get the Self Defense Forces involved," added the former defense minister. The LDP has pledged to "expand the personnel, equipment and budget" of the Coast Guard. Coast Guard officials don't disclose fleet details, citing strategic reasons.
But local officials on Ishigaki, an island township that administers the Senkakus 180 kilometers (112 miles) away, estimate as many as 40 to 50 of the Coast Guard's 120 larger ships from around the nation are deployed in the area's waters at any time, having been redeployed there in September. "Coast Guard ships from all over Japan have gathered here. Our port has become very crowded," Yoshitaka Nakayama, Ishigaki's mayor, said in an interview, adding that the city plans to build a new pier to handle more Coast Guard ships.

Among the half-dozen ships docked bow-to-bow in Ishigaki's marine-blue port one recent day was the Shiretoko, a 1,000-ton cutter based at the Otaru port on the northern island of Hokkaido. The spillover of ships from Ishigaki has been sent to ports on the nearby island of Miyako and the main island of Okinawa 400 kilometers away.
The tight deployment schedule has kept many crew members on duty without time off for more than a month, Coast Guard officials say. That is raising stress levels for crews used to shorter shifts lasting two weeks or less.

Training in critical skills such as shooting and restraining offenders has gone by the wayside, while ships that need overhauls have received only temporary repairs.
In September, Japan enacted a new law to expand Coast Guard officials' authority, a step taken in response to the last spat near the Senkakus in 2010 set off by a Chinese trawler ramming into Japanese patrol boats. The new legislation allows Coast Guard officials to make arrests on remote islands, not just on the water, and reinforced their power to expel suspicious foreign vessels from Japanese territorial waters. The change comes as Coast Guard crews increasingly find themselves in harm's way.

In August this year, a Japanese patrol ship pushed against a boat carrying Hong Kong activists to dissuade them from landing on the Senkakus. In a dramatic display in September, Coast Guard ships fired water cannons to push back Taiwanese trawlers from territorial waters surrounding the islands. For now, the Coast Guard and its Chinese counterparts are fairly well matched. China's several maritime law-enforcement agencies have in operation a total of 48 cutters that are 1,000 tons or larger, including 29 ships belonging to China Marine Surveillance, the main entity patrolling the East China Sea, according to Masayuki Masuda, an analyst with Japan's National Institute for Defense Studies. Japan's Coast Guard boasts 51 cutters of equivalent size—the type needed to patrol in distant waters including the Senkaku area. Tokyo took an unusual step last month to use funds from a special reserve to front-load the construction of four cutters.

But the total number in Japan is expected to stay flat or increase only slightly over the next several years as a number of older vessels need to be retired. Mr. Masuda estimates China's overall fleet will grow to 72 ships by 2015. Meantime, the steep rise in the number of job applicants for Japan's Coast Guard isn't leading to growth in the size of staff. The Coast Guard has a limited capacity to train young crew members to succeed the baby boomers who are retiring in droves. Conservative politicians have proposed using military reservists to ease the shortage, but officials dismiss such an idea, saying that most are army veterans with little training on the sea.

Kameichi Uehara, chief of the fishermen's association in Ishigaki, says that in addition to tailing Chinese patrol vessels, the Coast Guard has the headache of dealing with Japanese activists who have repeatedly attempted to land on the islands despite an official ban.

"We really hope to see the Coast Guard's capacity beefed up," Mr. Uehara said. "We'd rather have white boats protect us," he says, referring to the color of the civilian patrol boats. "We don't want gray ones."
by Yoko Wakatsuki and Jethro Mullen, CNN - December 14, 2012 -- Updated 0212 GMT (1012 HKT)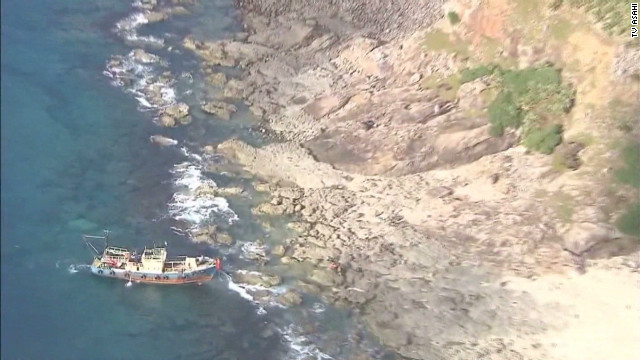 Tokyo (CNN) --

Japan scrambled fighter jets after a Chinese plane was seen Thursday near small islands in the East China Sea that are claimed by both countries. This is the first time that the dispute over the islands -- which Japan calls Senkaku and China refers to as Diaoyu -- has involved aircraft, introducing a new sphere of risky encounters for the two Asian neighbors

.

Chinese government ships have repeatedly entered the waters around the remote, rocky islands since the Japanese government announced in September it was buying several of the islands from private owners.


Why Asia is arguing over its islands
Japanese Coast Guard vessels have engaged in games of cat and mouse with the Chinese ships, with both sides broadcasting messages to one another insisting they have territorial sovereignty over the area.

Analysts say that by sending its own patrols into the area, China is challenging Japan's de facto control of the islands, which has been the status quo for the past 40 years. On Thursday morning, a Japanese Coast Guard patrol vessel spotted the Chinese government plane in airspace around the islands, Chief Cabinet Secretary Osamu Fujimura said.

As a result, the Japanese Self Defense Force sent eight F-15 jets and an early warning E2C plane to the area, the government said, revising up the number of planes it initially said it had deployed. By the time the Japanese jets arrived, there was no sign of the Chinese plane, which had not shown up on military radar, the Japanese Self Defense Force said.


South China Sea risks becoming 'Asia's Palestine'
China's State Oceanic Administration said a B-3837 patrol plane had arrived in the islands' airspace Thursday morning in order to carry out a joint air-sea patrol with ships in the area. The patrol teams announced China's territorial claim and told the Japanese ships to leave the area, it said.

Fujimura said that the Chinese plane's entry into the area was "extremely regrettable" and that Japan has lodged a protest with the Chinese government through diplomatic channels. The Japanese government's acquisition of the islands in September also set off several days of violent anti-Japanese protests across China and soured economic ties between the two Asian nations. The United States has said it doesn't take sides in territorial disputes and urged the two sides to resolve the situation peacefully. Nonetheless, U.S. officials have admitted that the islands fall under the scope of a mutual defense treaty between Washington and Tokyo.
An airplane belonging to China's state oceanic administration flies past about 15 km (9 miles) south of one of the disputed islets, known as Senkaku in Japan and Diaoyu in China, in the East China Sea, in this handout released by 11th Regional Coast Guard Headquarters-Japan Coast Guard December 13, 2012. Japan protested to China on Thursday after a Chinese government plane entered what Japan considers its airspace over disputed islets in the East China Sea, the Japanese Foreign Ministry said. The incident prompted Japan's military to scramble eight F-15 fighter jets, the Defence Ministry said. Japanese officials later said the Chinese aircraft had left the area. Mandatory Credit
Credit: Reuters/11th Regional Coast Guard Headquarters-Japan Coast Guard/Handout

(Reuters) - Japan scrambled fighter jets on Thursday after a Chinese government plane entered what Japan considers its airspace over disputed islets in the East China Sea, escalating tension between Asia's two biggest economies.

Japan protested to China over the incident but China brushed the complaint off saying the flight by the Chinese aircraft was "completely normal".

Sino-Japanese relations took a tumble in September after Japan bought the tiny islands, called Senkaku in Japan and Diaoyu in China, from a private Japanese owner.

Patrol ships from the two countries have been shadowing each other since then in a standoff that has raised concern that a collision could escalate into a clash. Thursday's incident was the first time both sides used aircraft in the dispute.
Japan Coast Guard Commandant Takashi Kitamura speaks during a news conference at the Foreign Correspondents' Club of Japan in Tokyo December 13, 2012.
Credit: REUTERS/Issei Kato
"Despite our repeated warnings, Chinese government ships have entered our territorial waters for three days in an row," Japanese Chief Cabinet Secretary Osama Fujimura told reporters.

"It is extremely regrettable that, on top of that, an intrusion into our airspace has been committed in this way," he said, adding that Japan had formally protested through diplomatic channels.

Japan's military scrambled eight F-15 fighter jets, the Defence Ministry said. Japanese officials later said the Chinese aircraft had left the area.

It was the first time a Chinese aircraft had intruded into Japan's airspace near the disputed islands, Japan's Defence Ministry said.

Japanese Prime Minister Yoshihiko Noda later instructed the government to be "all the more on guard", the Kyodo news agency reported.

China's state maritime agency said a marine surveillance plane had joined four Chinese vessels patrolling around the islands and the fleet had ordered Japanese boats to leave the area immediately.

"The Diaoyu islands and affiliated islands are part of China's inherent territory. China's flight over the islands is completely normal," Chinese Foreign Ministry spokesman Hong Lei told a briefing in Beijing.

Japanese analysts said it was a significant escalation.

"This is serious ... intrusion into Japan's airspace is a very important step to erode Japan's effective control over the area," said Kazuya Sakamoto, a professor at Osaka University. "If China sends a military plane as a next step, that would really make Japan's control precarious."

Toshiyuki Shikata, a Teikyo University professor and a retired general, said the use of aircraft by both sides was significant.

"Something accidental is more likely to happen with planes than with ships," he said.



"SACRED TERRITORY"



The incident comes just days before a Japanese election that is expected to return to power the conservative Liberal Democratic Party (LDP) with hawkish former prime minister Shinzo Abe at the helm.

Abe has vowed to take a tough stance in the dispute over the islands, which are near potentially huge maritime gas reserves, and has said that the ruling Democratic Party's mishandling of its diplomacy had emboldened China.

Abe has also promised to boost spending on defence including on the coastguard.

Smaller Asian countries such as the Philippines have also become increasingly worried about Beijing's growing military assertiveness and its claims to disputed islands in the South China Sea.

U.S. President Barack Obama urged Asian leaders during a visit to the region in November to rein in tension over territorial disputes.

Washington does not take a position on the sovereignty of the islands but says they are clearly covered by a 1960 security treaty obliging the United States to come to Japan's aid if attacked.

US Assistant Secretary of State For East Asian and Pacific Affairs Kurt Campbell reiterated that on Thursday.

"We are encouraging all sides to take appropriate steps so that there will be no misunderstanding or miscalculation that could trigger an environment that would be antithetical to peace and stability," Campbell told reporters in Malaysia.

China says the islands are its "sacred territory" and says its claim predates Japan's.

Nationalization of the islands in September was intended to keep them out of the hands of a fiery nationalist politician, to head off a more damaging confrontation with China.

But the move triggered a wave of protests in China that shuttered Japanese factories and stores, disrupted trade and prompted China to strengthen its own claim to the disputed territory. Japanese carmakers saw their sales in China slump in the weeks after the islands were sold.

(Additional reporting by Terril Yue Jones in BEIJING, Siva Sithraputhran in KUALA LUMPUR; Editing by Robert Birsel and Jeremy Laurence)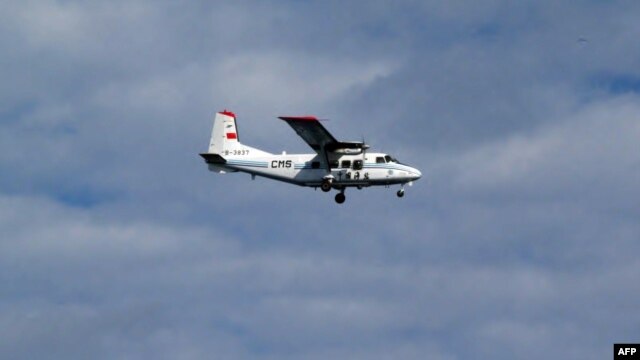 Handout picture taken by Japan Coast Guard shows a Chinese state-owned plane flying in airspace over the disputed island, called the Senkakus in Japanese and Diaoyus in Chinese, in the East China Sea, December 13, 2012



China has defended the flight of a government plane in disputed airspace near contested islands in the East China Sea, an incident that provoked a diplomatic dispute with Japan.



Chinese Foreign Ministry spokesman Hong Lei said Friday Japanese aircraft and ships have entered waters around the islands since September. "The Foreign Ministry has demanded many times that the Japanese side cease their illegal activities in territorial aerospace and waters of the Diaoyu Islands, including withdrawing their aircraft," Hong Lei stated. "The Japanese have not responded. China's maritime surveillance plane protecting China's territorial sovereignty is totally normal.''

On Thursday, a Chinese surveillance plane was spotted near the disputed islands, prompting Japan to dispatch eight F-15 fighter jets to the area.

Japan also lodged an official protest and summoned China's ambassador in Tokyo.

Japan described the incident as the first ever "intrusion" by a Chinese plane into what Japan considers its airspace. Chine said the plane's mission was "completely normal."

The uninhabited islands, known in Japan as Senkaku and in China as Diaoyu, have been a source of major tension between the two Asian powers.