SEOUL -- In what is becoming a daily ritual, North Korea has threatened the United States, saying it is prepared to strike with "smaller, lighter and diversified" nuclear weapons.

The statement from the North Korean military, relayed early Thursday by the Stalinist regime's official news agency, seemed aimed at rebutting assessments by U.S. intelligence that North Korea's nuclear weapons are too large and heavy to be deployed on ballistic missiles.

The U.S. has also said it doesn't believe North Korean missiles are capable of reaching the U.S. mainland or Hawaii.

Though few analysts believe that leader Kim Jong Un actually intends to attack U.S. interests or neighboring South Korea, the blistering rhetoric in recent weeks has jarred nerves and prompted new defensive measures. The United States announced Wednesday that it was sending a mobile missile defense system to Guam to protect the island, a U.S. territory that is home to a Navy base and Andersen Air Force Base.

A senior U.S. official, speaking on condition of anonymity, said the decision to send the missile interceptors to Guam was made because of growing concerns that North Korea had made improvements in the range of its ballistic missiles, possibly giving it the ability to hit the island.

The statement from North Korea's military said it had been authorized to counter U.S. aggression with "powerful practical military counteractions," including nuclear weapons.

"We formally inform the White House and Pentagon that the ever-escalating U.S. hostile policy toward [North Korea] and its reckless nuclear threat will be smashed by the strong will of all the united service personnel and people and cutting-edge smaller, lighter and diversified nuclear strike means," the statement said. "The U.S. had better ponder over the prevailing grave situation."


The BBC's Damian Grammaticas on how the US and South Korea are responding to the threats

UN Secretary General Ban Ki-moon has appealed to North Korea to change course, saying it has "gone too far" in its rhetoric. He said he was concerned any "unwanted crisis" on the Korean peninsula would have "very serious implications". The warning came hours after South Korea's foreign minister said the North had shifted a missile with "considerable range" to its east coast. Pyongyang earlier renewed threats of a nuclear strike against the US.

However, its missiles are not believed to be capable of carrying nuclear warheads. White House spokesman Jay Carney described the threats as "regrettable but familiar", adding the US was taking "all the necessary precautions". Mr Ban told a news conference in Madrid that "nuclear threat is not a game, it's very serious... I think they [North Korea] have gone too far in their rhetoric". He called on all parties in the crisis to "calm down the situation and engage in dialogue". Meanwhile, Russia said Pyongyang's attempts to "violate decisions of the UN Security Council are categorically unacceptable".

"This radically complicates, if it doesn't in practice shut off, the prospects for resuming six-party talks," foreign ministry spokesman Alexander Lukashevich said in a statement on Thursday. The talks involving North and South Korea, the US, Russia, China and Japan were last held in late 2008.

Wary neighbours
Japan said it was co-operating closely with the US and South Korea to monitor the North's next move. Government spokesman Yoshihide Suga earlier told reporters that Japan was braced for a "worst-case scenario". The US has responded to North Korea's statements by moving missile defence shields to Guam. The Pentagon said the shield on its Pacific island territory would be ready within weeks, adding to warships already sent to the area. The North has previously named Guam among a list of possible targets for attack that included Hawaii and the US mainland.

Japanese and South Korean reports had suggested on Wednesday that the missile being moved by the North was a long-range one with a capability of hitting the US west coast. However, experts believe the North's most powerful rocket, which it test-fired last December, has a range of 6,000km (3,700 miles) and can reach no further than Alaska. South Korean Foreign Minister Kim Kwan-jin played down concerns that the missile could target the US mainland, and said the North's intentions were not yet clear.

Mr Kim told MPs in a parliamentary defence committee meeting that the missile had "considerable range". Analysts have interpreted Mr Kim's description as referring to the Musudan missile, estimated to have a range up to 4,000km. Guam would be within that range.

Declaration of war
The North is believed to have its main military research centres in the east. It has test-fired missiles from there before, and its three nuclear weapons tests were carried out in the east. Despite its belligerent rhetoric, North Korea has not taken direct military action since 2010, when it shelled a South Korean island and killed four people.

But in recent weeks it has threatened nuclear strikes and attacks on specific targets in the US and South Korea. It has announced a formal declaration of war on the South, and pledged to reopen a mothballed nuclear reactor in defiance of UN Security Council resolutions. In its latest statement, attributed to a military spokesman, the North appeared to refer to continuing military exercises between the US and South Korea in which the US has flown nuclear-capable bombers over the South. The statement said the "ever-escalating US hostile policy towards the DPRK [North Korea] and its reckless nuclear threat will be smashed".

It promised to use "cutting-edge smaller, lighter and diversified nuclear strike means of the DPRK" and said the "merciless operation of its revolutionary armed forces in this regard has been finally examined and ratified". The US Department of Defense said on Wednesday it would deploy the ballistic Terminal High Altitude Area Defense System (Thaad) to Guam in the coming weeks. The Thaad system includes a truck-mounted launcher and interceptor missiles.

US officials recently also announced that the USS John McCain, a destroyer capable of intercepting missiles, had been positioned off the Korean peninsula. Some analysts say Pyongyang's angry statements are of more concern than usual because it is unclear exactly what the North hopes to achieve. As well as the angry statements, the North has also shut down an emergency telephone line between Seoul and Pyongyang and stopped South Koreans from working at a joint industrial complex in the North. The Kaesong complex, one of the last remaining symbols of co-operation between the neighbours, is staffed mainly by North Koreans but funded and managed by South Korean firms.

MORE:
WORLD NEWS
CHINA
WAR on Cyber Attack:"Cyber Attack is considered Act of WAR"
U.S. would seek regime change in North Korea if attack occurs
Obama administration brushes off latest North Korean nuke threat
With North Korea warning of nuclear war, B-52s soar in 'Foal Eagle'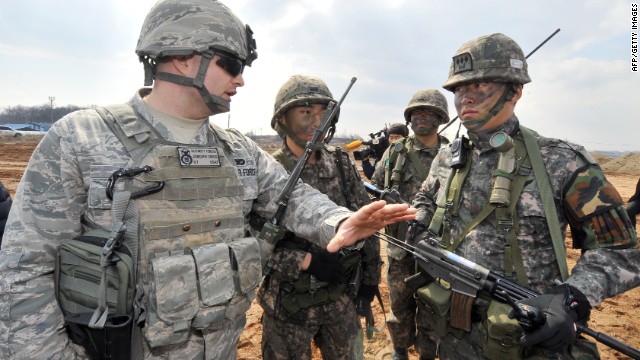 A US Air Force soldier (L) talks to South Korean soldiers during annual joint exercises south of Seoul, on March 14.

(CNN) -- Amidst North Korea's ongoing verbal salvos, the United States has made a show of military strength in the annual drills taking place in the Korean Peninsula.
Here are the key dates:


March 8: US flies B-52 bombers over South Korea
The Cold War-era bombers flew out of Andersen Air Force Base in Guam as part of what the U.S. Pacific Command called a routine mission to highlight a "continuous bomber presence" in the region. A second fly-over was planned for March 26.


March 22: US and South Korea sign joint military agreement
The Combined Counter-Provocation Plan was signed in order to improve the countries' mutual readiness and response capabilities in the event of a North Korean provocation.


March 26: US flies B-52 bombers over South Korea again
The exercise -- the 2nd in a month -- was a routine mission meant to "reiterate the U.S. commitment to the security of our allies and partners," according to the Pentagon.


March 28: US flies nuclear-capable B-2 Spirit bombers over South Korea
The stealth bombers flew from Whiteman Air Force Base in Missouri to drop inert munitions as part of annual joint US-South Korea military exercises. The US military said the mission demonstrated "the United States' ability to conduct long range, precision strikes quickly and at will."


March 31: US deploys F-22 Raptor jets to US Air Force Base in South Korea
The US Command in South Korea says the stealth fighter jets were deployed to support annual US-South Korea training exercises.


April 1: US Navy moves warship and sea-based radar platform closer to North Korean coast
The Defense Department said the USS John S. McCain destroyer and the oil rig-like SBX-1 will better monitor North Korea's military moves, and may be the first of other naval deployments.


April 3: US announces missile defense system to be sent to Guam in coming weeks
The land-based Terminal High Altitude Area Defense System (THAAD) will defend against North Korean ballistic missile launches, according the Defense Department.

N. Korea bans S. Korean workers: North Korea on Wednesday banned South Korean workers from entering a joint industrial complex near the demilitarized zone.

SEOUL — This bustling South Korean capital has been defined for decades as a place of traffic jams and luxury shopping malls, long days of work and longer nights of drinking rice liquor. Residents rarely behaved as though their routines could be upended in minutes by the Kim regime to the north and its 10,000 artillery pieces.

But after years of largely ignoring threats from North Korea, some residents say they are becoming a bit jittery, with the ascension of an unpredictable young leader in Pyongyang and levels of hostile rhetoric not seen since the early 1990s.

Coffee shops here are still packed, and pop music pulses from storefronts, but South Koreans' concerns are palpable in quieter moments. Their phones buzz with news updates on the North's latest moves — its declaration of war; its announcement of plans to restart key nuclear facilities; its barricade of a joint industrial complex near the border. Children ask their parents what would happen if fighting broke out and where they would go for safety.

On Thursday, the fear spread to South Korea's stock market, which suffered its biggest daily fall of the year. The South's defense minister, Kim Kwan-jin, said the North had moved an intermediate-range missile to its eastern coast, perhaps for testing or drills.

"There could be war, or there could be peace," said Joo Yang-yi, 26, a graduate student who studies North Korea.

Rather than play down the possibility of an attack, South Korean officials in recent days have emphasized their ability to strike back promptly. They have also welcomed recent U.S. shows of force in the region, including a brief deployment to the peninsula of nuclear-capable stealth bombers.

In the event of an attack, South Korea will "respond immediately without political consideration," said a senior official who spoke on the condition of anonymity to share government thinking. "At the initial stage, South Korea is self-sufficient in terms of our ability to strike back. But [thereafter], we will need cooperation from the U.S. and neighbors."

South Koreans differ in their views of their increasingly belligerent northern neighbor. Some speak with confidence, saying the North's near-daily threats are part of a coherent plan to force negotiations, not spark war. But others fear that the North's new leader, Kim Jong Un, might push things too far, perhaps because he thinks he needs a major conflict to coalesce domestic support.

That divergence is reflected in public opinion polls. Over the past two months, the percentage of South Koreans who say the North is their top concern has more than tripled. Still, that represents just 26 percent of respondents; more South Koreans care about job creation than about Pyongyang.

Even the segment that is concerned about the North is far from panicking. During a crisis 20 years ago sparked by North Korea's announced intent to withdraw from the nuclear Non-Proliferation Treaty, some in South Korea rushed to stock up on canned goods and water. This time, grocery-store shelves remain full.

"We have no alternative to remaining calm, because what we can do to personally prepare for emergency? Virtually nothing," said Park Hyeong-jung, a North Korea researcher at Seoul's Korea Institute for National Unification. "We live in a congested area of more than 10 million population. What a catastrophic chaos we will have if individuals begin to worry about tomorrow."

Over the past several decades, Park said, South Koreans have been "gradually immunized" about the North's threats. And for all the North's recent bluster, nothing it has done recently compares with the galling attacks of the 1960s, '70s and '80s, which included hacking to death two U.S. soldiers in the demilitarized zone; numerous assassination attempts on South Korean presidents; and the midair sabotage of a South Korean passenger plane.

After a fatal attack by the North in November 2010, South Koreans were at least as angry with their own government as they were with Pyongyang. When the North killed two soldiers and two civilians by shelling a front-line island, the South responded by lobbing 80 shells toward the North. Then-President Lee Myung-bak was criticized for not taking more serious action, leading to his pledge — reiterated by the current president, Park Geun-hye — to counter with greater force if provoked again.

One lingering concern, voiced by a minority of South Koreans, is whether the United States can act as a sufficient deterrent to the North at a time of defense budget cuts in Washington and major crises in the Middle East. The United States has tried to assuage those worries, and deter the North, by flying the stealth bombers over the peninsula and speeding up the deployment of a missile defense system to Guam.

On Thursday, North Korea accused the United States of trying to bring down its "dignified social system."

South Korean analysts say they are most concerned about how either side can step back from the possibility of a confrontation over the next few months. The Obama administration has shown little interest in talking directly with the North, and the North is seen as having little interest in toning down its rhetoric — unless it can win some kind of concession.

"If the U.S. doesn't want to engage, that pushes North Korea even further" to provoke, said Kim Dong-sik, a researcher at the Institute for National Security Strategy in Seoul. "I don't know how that scenario ends."

Yoonjung Seo contributed to this report.

Kim Jong-un inspects North Korea troops in this government photo

North Korea moved an intermediate-range missile to a launch site on its east coast, South Korea's defense minister said Thursday, as reports said the isolated and crumbling Communist state might be preparing a missile launch, either as a test or a strike again U.S. or allied forces. South Korean Defense Minister Kim Kwan-jin told a parliamentary defense committee that the missile was believed to have "considerable" range, though it is not able to strike the U.S. mainland, independent news agency Yonhap reported.

"The missile does not seem to be aimed at the U.S. mainland," Mr. Kim told lawmakers. "It could be aimed at test firing or military drills." He said U.S. and South Korean intelligence had not seen evidence of preparations for a full-scale invasion, like the movement of supply units or other rear echelon troops. CNN, citing unnamed U.S. officials said communications intercepts in recent days suggested that the North was planning to launch a mobile ballistic missile, either as a military strike, or as a test, perhaps to celebrate the upcoming, mid-April birthday of the nation's founder Kim Il-Sung, grandfather of the current ruler Kim Jong-Un.
According to Yonhap, Mr. Kim the South Korean defense minister dismissed media reports that the missile moved Thursday was a KN-08, an untested, road mobile solid fueled projectile believed to have a range of 10,000 kilometers — which would make it capable of hitting Alaska, Hawaii and even the West coast of the continental United States.

The range he described apparently refers to another North Korean mobile missile known as the Musudan, which according to some estimates can reach 2,000 miles. That would put the U.S. territory of Guam just in range, along with Japan and South Korea — and U.S. bases in both countries — but experts have doubts about the missile's accuracy. The moves follows the U.S. announcement Wednesday that it was moving anti-ballistic-missile defenses to Guam to counter what Defense Secretary Chuck Hagel called "a real and clear danger and threat to the interests" of the United States and its allies.

In a statement Tuesday, the General Staff of the North Korean People's Army (KPA) told state-controlled media in Pyongyang that the military was "formally inform[ing] the White House and the Pentagon" that U.S. threats would be "smashed by… cutting-edge smaller, lighter and diversified nuclear strike means."
"The merciless operation of (our) revolutionary armed forces in this regard has been finally examined and ratified," the statement said. "The location of the missile on the east coast and the repeated mention of bombers from Guam (in the KPA statement) provide some basis for concern that Guam could be a target," said veteran military intelligence analyst and Asia-watcher John McCreary.

Mr. McCreary, who now works for Kforce Government Solutions, argued that because North Korea learns of deployments like the anti-missile defenses in Guam or last week's F-22 raptor stealth fighters, through the news media, they are very alarming to Pyongyang. "They have no way to detect the most dangerous weapons with which the United States can attack them, no way to get any warning," he said. "That is very scary for them." The Wall Street Journal, citing unnamed Obama administration officials, reported Thursday that the deployments in Guam, like the earlier moves of the F-22 and the nuclear-capable B-2 stealth bomber, had been deliberately telegraphed as part of a "playbook" of successive announcements designed to warn and deter North Korea. But Mr. McCreary said that, if that was indeed the strategy, it wasn't working.

"The announced moves are not deterrent to the North Koreans, they are provocative and escalatory," he said.

Soldiers from the U.S. Army's 23rd chemical battalion put on their gear as they give a demonstration of their equipment. Picture: Reuters

North Korea has taken a concrete military step by moving a missile with "considerable range" to its east coast, South Korea's Defence minister has said.
Kim Kwan-jin said it was not clear why North Korea had moved the missile, saying that it "could be aimed at test-firing or military drills". While Kim Jong-un's regime has repeatedly threatened to launch a nuclear strike on America, this missile "does not seem to be aimed at the US mainland", added the minister. Mr Kim said the weapon had "considerable range" and a military source told Yonhap, the South Korean news agency, that it could be a "Musudan", an untested model with a possible range of 2,000 - 2,500 miles, allowing it to strike the US military base on Guam.

But analysts doubt whether the missile could even reach that far. "North Korea does not have the capability to carry out its threat to attack US bases in Hawaii, the US mainland or Guam using long-range missiles," said James Hardy of IHS Jane's Defence Weekly. North Korea has boasted of possessing a "miniaturised, lightweight and diversified cutting edge nuclear" weapon. In reality, said Mr Hardy, the regime could only threaten South Korea and perhaps Japan. The Musudan missile could be test-fired as a show of strength on April 15, the anniversary of the birth of North Korea's founder and "eternal" leader, Kim Il-sung. The South Korean Defence minister said there was no sign of the North mobilising troops in preparation for large-scale conflict. He described the recent threats as "rhetorical", adding: "I believe the odds of a full-scale provocation are small."

But Mr Kim said that North Korea might mount a small-scale attack, such as its shelling of Yongpyeong island in 2010, in which four people died

Brian Myers, a professor at Dongseo university in South Korea who monitors the North's propaganda, said he also expected a small attack before the end of the year. "They cannot let the rhetoric drop without coming through on some target," he said. "Kim Jong-un came out on a limb three weeks ago and instead of walking back, he is going forward and forward." North Korean propaganda has taught the public that military goals and economic goals are intertwined.
"The man in the street that gets interviewed for the television news usually says he is angry with the United States and South Korea for not letting him work more," said Prof Myers. "We should stop thinking that North Korea makes these threats because it is afraid," he added. "In fact that is the direct opposite. They say they are angry because their dignity has been offended. There is a genuine sense of confidence that you only feel when you go into the country. They really believe that although they might lack in some of the technical areas they have the will to fight.

"One of their most common slogans is 'We don't speak empty words'. They do not think it will get that far, of course [...] History indicates that South Korea is likely to blink first".



There were signs on Thursday that both America and South Korea were preparing to step back and allow some sort of concession. With the Seoul stock market falling because of the tensions on the peninsula, there were suggestions in the South Korean media that a solution must be found. The North has stopped South Koreans from crossing its border to work at the Kaesong Industrial Park, but those already there have been permitted to stay. On Thursday, however, 220 South Koreans left Kaesong, suggesting that many factories have decided to evacuate staff at the expense of their operations.

American officials have reportedly decided to "pause" the recent show of US force in Korea in surprise at the intensity of the North's response. "The concern was that we were heightening the prospect of misperceptions on the part of the North Koreans, and that that could lead to miscalculations," an unnamed administration official told the Wall Street Journal. On Tuesday, a spokesman for the Pentagon said the US wanted to lower the "temperature" on the peninsula.

However, Daniel Pinkston, a North Korea expert at the International Crisis Group, argued that few diplomatic were options available. "A lot of people are saying the US should go back to diplomacy, but the US has already tried many ways of engaging. Last year there were secret missions. Flights went in a couple of times. We have been going through this for 20 years." It was also unclear what further shows of military strength the US could offer. "It has sent out a nuclear submarine, the B52 bombers, the B2 stealth jets, a pair of destroyers and now I hear an aircraft carrier is on the way," said Mr Pinkston. "What else have they got to roll out? Once they have done all this, is it rolling back if they pause?"

Members of the 374th Airlift Wing of the U.S. Air Force work on a C-130 aircraft in February during military exercises at Andersen Air Force Base on Guam. (Koji Ueda / Associated Press)

The Pentagon is sending a THAAD missile defense system to the island as Washington seeks to defuse North Korea's belligerence.
WASHINGTON — The Pentagon said Wednesday that it was sending a mobile missile defense system to Guam as a "precautionary move," as Defense Secretary Chuck Hagel said North Korea posed a "real and clear danger" to the U.S. military base on the western Pacific island, as well as to allies and other U.S. territory.

North Korea has named Guam and Hawaii as potential targets in bellicose statements in recent weeks, which have increased tension on the Korean peninsula and prompted a series of U.S. military moves aimed at beefing up the American presence in the region and reassuring allies that the United States will come to their aid in the event of an attack. In its latest statement, issued early Thursday, the North Korean military said it was ready to attack the United States using "smaller, lighter and diversified" nuclear weapons.

The decision to send a Terminal High Altitude Area Defense system to Guam came after Pentagon officials were questioned in recent days about whether the island — a U.S. territory — has been covered by the U.S. missile defense system. The system includes ground-based interceptors in Alaska and California as well as warships capable of shooting down missiles.

North Korea has "ratcheted up their bellicose, dangerous rhetoric, and some of the actions they've taken over the last few weeks present a real and clear danger and threat," Hagel said Wednesday in a speech at the National Defense University in Washington.

Areas at risk include South Korea and Japan, as well as Guam, Hawaii and the West Coast of the United States, he said. "We have to take those threats seriously."

Despite the concern, North Korea has not demonstrated that its missiles have the range to hit Guam or Hawaii, much less the U.S. mainland. Nor is it known to have a nuclear warhead small enough to be carried on its missiles.

But a senior U.S. official said the decision to send the interceptors to Guam came because of growing concern that North Korea improved the range of its ballistic missiles, possibly giving them the ability to hit the island. He asked not to be identified because he was discussing sensitive intelligence assessments.

Asked about Guam last month, Undersecretary of Defense James Miller said the U.S. missile defense system "provides coverage of not just the continental United States, but all the United States." But some analysts note that the U.S. military's own maps show that Guam is not within the geographic reach of the ground-based interceptor.

Guam, in the Pacific between the Philippines and Hawaii, is home to Andersen Air Force Base and U.S. Naval Base Guam.

Defense officials said Guam was still covered by U.S. warships in the Pacific equipped to shoot down ballistic missiles. Sending the ground-based system to Guam beefs up the U.S. defense. The so-called THAAD system, which the Pentagon said would arrive in Guam "in coming weeks," includes a truck-mounted launcher, interceptor missiles, a tracking radar and a fire-control computer system.

The system shoots interceptors designed to hit ballistic missiles in the final phase of their flight as they descend toward their targets.

"I hope the North will ratchet this very dangerous rhetoric down," Hagel said. "There is a pathway that's responsible for the North to get on a path to peace." But, he added, "you don't achieve that responsibility and peace and prosperity by making nuclear threats and taking very provocative actions."

South Korean armored vehicles move over a temporary bridge during a river-crossing drill near the border with North Korea. (Kim Jae-hwan / AFP/Getty Images / April 1, 2013)

The sea-based X-band radar is heading over from Pearl Harbor, a Pentagon official says. The John S. McCain guided missile destroyer is also being sent.
WASHINGTON — The U.S. Navy is moving a sea-based radar platform closer to North Korea to track possible missile launches, a Pentagon official said Monday, in the latest step meant to deter the North and reassure South Korea and Japan that the U.S. is committed to their defense.

The sea-based X-band radar, a self-propelled system resembling an oil rig, is heading toward the Korean peninsula from Pearl Harbor, the official said. The John S. McCain, a guided missile destroyer capable of shooting down ballistic missiles, also is being sent to the region, said another Defense Department official.

The officials spoke on condition of anonymity in discussing ship movements.

On Sunday, the Pentagon sent two F-22 Raptor stealth fighters to Osan Air Base in South Korea from Japan.

The moves come amid heightening tensions on the Korean peninsula as the North has issued nearly daily threats over recently imposed United Nations sanctions and joint U.S.-South Korean military exercises that the Stalinist regime calls "an unpardonable and heinous provocation and an open challenge."

The Pentagon's decision to send only two fighters appeared to reflect a delicate balance, seeking to demonstrate American resolve without provoking a confrontation with North Korea. Last week, the U.S. military flew B-2 Spirit stealth aircraft to carry out dummy bombing drills over South Korea.

Pentagon Press Secretary George Little said the F-22s were on "static display" at Osan as part of the monthlong military exercises and "to provide South Korean senior leaders with an orientation to the aircraft, which are an advanced capability that is available for the defense of South Korea."

The flights Sunday were the fourth time that F-22s, one of the Air Force's most advanced fighters, have deployed to South Korea, the Pentagon said

The U.S. has had a land-based version of the X-band radar in northern Japan since 2006 that can track North Korean missile launches, and it recently announced plans to install a second radar in central Japan to improve monitoring of missile launches toward Hawaii and Guam. But the latter system is not due to be operational for at least several months, Defense officials say.

The latest U.S. moves came as North Korea announced the appointment of a 74-year-old economics expert as prime minister. The naming of Pak Pong Ju, who served as prime minister for four years ending in 2007, followed by a day the North's declaration that economic reform and nuclear weapons development would be two mainstays of the regime.

Observers speculated that the naming of Pak was meant to show the government's determination to strengthen the economy of the impoverished nation, which is beset by periodic food shortages. But the pledge to reform the economy was matched by leader Kim Jong Un's declaration Sunday at a meeting of the ruling Workers' Party central committee that the North's controversial nuclear weapons program was a "treasure" that would not be abandoned or traded for "billions of dollars."

The North has been widely condemned for its nuclear ambitions. After successfully launching a three-stage rocket in December and testing a nuclear warhead Feb. 12, it was slapped with the additional sanctions by the U.N. Security Council. The measures were approved by the regime's chief ally, China, as well as the United States.

In defiance of the sanctions and the military exercises, the North first announced that it was annulling the cease-fire between the Koreas, then said it was prepared to attack "all U.S. military bases in the Asia Pacific region," and finally declared that a "state of war" existed between North and South Korea.

South Korean President Park Geun-hye, who has pledged to provide humanitarian aid to North Korea if Kim's regime abandons its nuclear ambitions, called Monday for her nation's military to respond powerfully if the North makes any threatening moves.

Despite the North's threats, Seoul residents resumed their routines Monday with little sign of anxiety.

"It's a regular event. I don't feel so moved about it," Seo Hwan-seok, a 21-year-old army cadet on a short leave, said at the bustling Seoul train station. "Within the military, there has been a moderate amount of additional training on the issue. But I don't think the war's going to break out. I joke about it with my peers."

The South's military has not delayed leaves for soldiers.

Nor do investors seem overly concerned. The South Korean stock market's Kospi index rose throughout last week before dipping slightly Monday.

"The issue of North Korean threats has been a continuous one," said Seo Dong-pill, chief strategist at IBK securities. "The investors have developed a tolerance to North Korean threats. Such events just don't make people overreact. "

North Korea has begun moving its mid-range missile launchers, possibly indicating a looming test as tensions are already boiling on the peninsula, U.S. officials told Fox News.

Earlier Thursday, South Korea said North Korea moved a missile with "considerable range" to its east coast after an unnamed spokesman for the North Korean army warned the U.S. Wednesday that its military has been cleared to wage an attack using "smaller, lighter and diversified nuclear" weapons.
South Korean Defense Minister Kim Kwan-jin dismissed reports in the Japanese and South Korean media that the missile could be a KN-08, which is believed to be a long-range missile that if operable could hit the United States.

Kim told lawmakers at a hearing that the missile's range is considerable but not far enough to hit the U.S. mainland. He said he did not know the reasons behind the missile movement, saying it "could be for testing or drills." The range he described could refer to a mobile North Korean missile known as the Musudan, which has a range of 1,800 miles. That would make Japan and South Korea potential targets, but little is known about the missile's accuracy. North Korea has railed for weeks against joint U.S. and South Korean military exercises taking place in South Korea and has expressed anger over tightened sanctions for a February nuclear test.
U.S. National Security Council spokesperson Caitlin Hayden has called North Korea's threats "unhelpful and unconstructive."

"It is yet another offering in a long line of provocative statements that only serve to further isolate North Korea from the rest of the international community and undermine its goal of economic development," she said. "North Korea should stop its provocative threats and instead concentrate on abiding by its international obligations." Russia said Thursday that North Korea's disregard for the U.N. sanctions is hurting the chances of resuming stalled six-party nuclear talks, Reuters reports. "Attempts by Pyongyang to violate ... decisions of the U.N. Security Council are categorically unacceptable," Foreign Ministry spokesman Alexander Lukashevich said during a briefing.

Despite North Korea's rhetoric, analysts say they do not expect a nuclear attack, which knows the move could trigger a destructive, suicidal war that no one in the region wants. But following through on one threat Wednesday, North Korean border authorities refused to allow entry to South Koreans who manage jointly run factories in the North Korean city of Kaesong. Washington calls the military drills, which this time have incorporated fighter jets and nuclear-capable stealth bombers, routine annual exercises between the allies. Pyongyang calls them rehearsals for a northward invasion. The foes fought on opposite sides of the three-year Korean War, which ended in a truce in 1953. The divided Korean Peninsula remains in a technical state of war six decades later, and Washington keeps 28,500 troops in South Korea to protect its ally.

U.S. Defense Secretary Chuck Hagel said Washington was doing all it can to defuse the situation, echoing comments a day earlier by Secretary of State John Kerry. "Some of the actions they've taken over the last few weeks present a real and clear danger and threat to the interests, certainly of our allies, starting with South Korea and Japan and also the threats that the North Koreans have leveled directly at the United States regarding our base in Guam, threatened Hawaii, threatened the West Coast of the United States," Hagel said Wednesday. The Pentagon said in Washington that it will deploy a missile defense system to the U.S. Pacific territory of Guam to strengthen regional protection against a possible attack.

In Pyongyang, the military statement said North Korean troops had been authorized to counter U.S. "aggression" with "powerful practical military counteractions," including nuclear weapons. "We formally inform the White House and Pentagon that the ever-escalating U.S. hostile policy toward the DPRK and its reckless nuclear threat will be smashed by the strong will of all the united service personnel and people and cutting-edge smaller, lighter and diversified nuclear strike means," an unnamed spokesman from the General Bureau of the Korean People's Army said in a statement carried by state media, referring to North Korea by its formal name, the Democratic People's Republic of Korea. "The U.S. had better ponder over the prevailing grave situation."

However, North Korea's nuclear strike capabilities remain unclear. Pyongyang is believed to be working toward building an atomic bomb small enough to mount on a long-range missile. Long-range rocket launches designed to send satellites into space in 2009 and 2012 were widely considered covert tests of missile technology, and North Korea has conducted three underground nuclear tests, most recently in February. "I don't believe North Korea has to capacity to attack the United States with nuclear weapons mounted on missiles, and won't for many years. Its ability to target and strike South Korea is also very limited," nuclear scientist Siegfried Hecker, a senior fellow at the Center for International Security and Cooperation at Stanford University, said this week.

"And even if Pyongyang had the technical means, why would the regime want to launch a nuclear attack when it fully knows that any use of nuclear weapons would result in a devastating military response and would spell the end of the regime? " he said in answers posted to CISAC's website. In Seoul, a senior government official said Tuesday that it wasn't clear how advanced North Korea's nuclear weapons capabilities are. But he also noted fallout from any nuclear strike on Seoul or beyond would threaten Pyongyang as well, making a strike unlikely. He spoke on condition of anonymity because he wasn't authorized to speak publicly to the media.

North Korea maintains that it needs to build nuclear weapons to defend itself against the United States. On Monday, North Korean leader Kim Jong Un led a high-level meeting of party officials who declared building the economy and "nuclear armed forces" as the nation's two top priorities.