Mr Abe will be accompanied by several business officials

Japanese PM Shinzo Abe is heading to Burma in the first visit by a Japanese head of government since 1977. A business delegation will accompany Mr Abe, who is keen to strengthen economic ties with Burma. Japan is a key aid donor to Burma, and maintained trade relations with the country during its years of rule by military junta.

Mr Abe is expected to announce $980m (£648m) in development aid during his visit, reports say. Mr Abe will also meet Burmese opposition leader Aung San Suu Kyi, who he met in Japan last month, AFP news agency reported. "We will seek to further enhance Japan-Myanmar relations, which have been kept sound for a long time through [Tokyo's] support to [the country's] reforms," Japan's Chief Cabinet Secretary Yoshihide Suga said on Wednesday, using Burma's official name.

In 2012, Japan's previous government agreed to write off more than $3.7bn (£2.29bn) of debt owed by Burma, an agreement honoured by the existing government. Mr Abe is thought to be keen to help Japanese companies secure infrastructure projects in Burma. The country has undergone several reforms since a nominally civilian government was installed in 2011.

Hundreds of political prisoners have been released, and censorship rules have been relaxed. The EU and US have lifted the majority of sanctions against Burma as a result. However, Burma has experienced serious anti-Muslim violence in recent months.

At least 40 people were killed in violence in central Burma last month, while widespread unrest in 2012 between Buddhists and Muslims in Rakhine state left nearly 200 people dead, and tens of thousands of Rohingya Muslims displaced.

MORE:

WORLD NEWS
CHINA
WAR on Cyber Attack:"Cyber Attack is considered Act of WAR"
China - Japan War
China - India War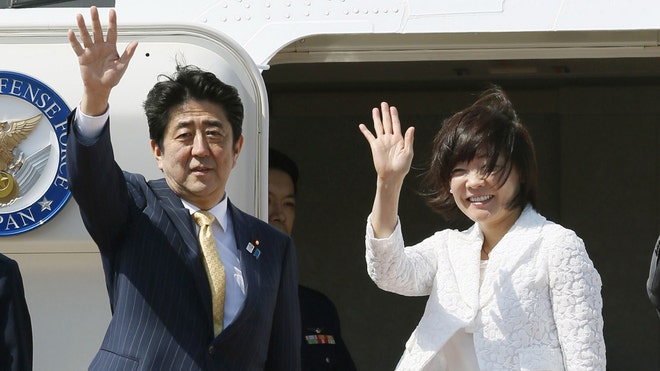 Japanese Prime Minister Shinzo Abe and his wife Akie wave before boarding a plane at Tokyo's Haneda Airport Friday, May 24, 2013. Abe is traveling to Myanmar for a three-day trip, the first visit to the country by a Japanese leader in 36 years. (AP Photo/Kyodo News) JAPAN OUT, MANDATORY CREDIT (The Associated Press)

TOKYO – Prime Minister Shinzo Abe is traveling to Myanmar on the first visit to the country by a Japanese leader in 36 years, as Tokyo bids to reassert its position as a top economic partner after decades of frosty relations with the previous military regime. Traveling with a delegation of business leaders, Abe was to arrive in Yangon Friday evening for a three-day trip, and will meet President Thein Sein on Sunday in Naypyitaw, officials from his office said. The last Japanese premier to visit Myanmar was Takeo Fukuda in 1977 during the Socialist regime of the late dictator Gen. Ne Win.

"Japan will cooperate in Myanmar's reforms with both public- and private-sector assistance," Abe told reporters before departure, according to Kyodo News agency. Abe will meet Myanmar's democracy icon and lawmaker Aung San Suu Kyi whom he met during her visit to Japan in April. Japanese companies are eager to invest in Myanmar after it started to open up when Thein Sein took office in 2011. With the U.S. and European Union relaxing sanctions, Japan has moved quickly to capitalize on Myanmar's resources and its new economic environment without sanctions. At least 35 Japanese investment projects are under way in Myanmar, the biggest being plans to develop the 2,400 hectare (5,900 acre) Thilawa Special Economic Zone near Yangon Zone led by trading companies Mitsubishi Corp., Marubeni Corp. and Sumitomo Corp.

Abe is scheduled to sign agreements to provide Japanese grant money for human resources development and to extend the first Japanese government loan to the impoverished but resource-rich country since it cancelled $3.58 billion in debt in January. Japan, Myanmar's largest aid donor, helped clear part of its unpaid debt in an effort to boost Myanmar's democratic reforms and open ways to resume fresh loans for infrastructure building and major development assistance that will support Japanese business interests in the Southeast Asian nation. Japan had close ties with Myanmar before the junta took power in 1988, prompting Tokyo to suspend grants for major projects. Although it scaled back most business activity and cut government aid when the U.S. and other Western nations imposed sanctions in 2003 after the military regime put Suu Kyi under house arrest, Japan did not impose sanctions on Myanmar.

But with no major development grants or Japanese loans, major Japanese corporations maintained branch offices in Myanmar with minimal business operations during the previous regime, while neighboring China gradually became Myanmar's major trade partner and investor after Thailand and Singapore. Japan's investments and involvement lag far behind those of China and India, but that is fast changing after Tokyo forgave about half of Myanmar's more than $6 billion dollars in debt. A high-powered delegation of business leaders, including top executives from Toyota Motor Corp., Hitachi Ltd. and Sumitomo Chemical, toured Myanmar, also known as Burma, in February and pledged to cooperate in encouraging more investment.

As of late February, Japan was the 11th largest investor in Myanmar, with $270 million in overall investments, way behind the $14.2 billion committed by China and $9.6 billion by Thailand, the top two sources with 33 percent and 23 percent respectively of total foreign direct investment. The Japanese business community views Abe's visit as a sign of reinvigorating ties. "We welcome Prime Minister Abe's visit which is actually long overdue. The Japanese government should help Myanmar develop and return the goodwill Myanmar had shown during the war," said Kazuto Yamazaki, deputy managing director of Famoso Clothing Co. who worked in Myanmar for 23 years.