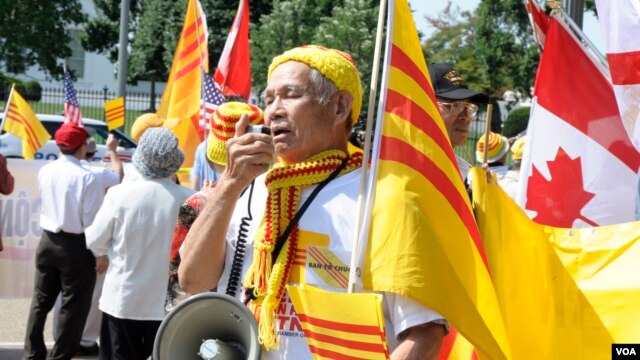 Protesters rally against human right abuses in Vietnam during President Truong Tan Sang's visit to the White House, in Washington, D.C., July 25, 2013.

WASHINGTON — While President Barack Obama welcomed Vietnam's President Truong Tan Sang to the White House Thursday, hundreds of people gathered across the street to protest Vietnam's human rights record.

Taking part were Vietnamese from across the United States, Canada and Australia. They called on Obama to press Hanoi to improve its human rights record, and backed this up with a petition signed by thousands of people from across the world.

Obama said he had a "very candid" conversation during the White House meeting -- saying all nations should respect freedoms of speech, religion and assembly. His Vietnamese counterpart said Washington and Hanoi still have differences over human rights.

The protesters were united in their opinions on the issue.

"I am here in solidarity with democracy activists who are imprisoned right now in Vietnam," said protester Hoang Tu Duy. "Six years ago, I was here, at the protest against then-Vietnamese President Nguyen Minh Triet. We in the Vietnamese community here in the States, and elsewhere, we do not accept the Vietnamese Communist regime, and anywhere there is a Vietnamese communist leader, we will be present to protest."

"Human rights [are] a human basic need," said Pham van Dam of Boston. "We Vietnamese are human beings, and demand that human rights be respected. [Our Vietnam today, especially] the communist leaders in Vietnam do not respect freedom and democratic rights of the people, that is why we are here to protest by joining the gathering today, to voice our concerns. We are standing in front of the White House right now, with about a thousand of our compatriots from everywhere. We come here not to have fun, but to voice our unity. We are all looking in the same direction."

In addition to the petition, there were letters from the families of prisoners of conscience inside Vietnam -- including bloggers, lawyers and Catholic activists -- urging an end to human rights violations there.

Hong Thuan, carrying a Free Le Quoc Quan poster at the protest Thursday, said, "As you know, Le Quoc Quan is an activist, a lawyer for human rights in Vietnam. He is in jail now. Having known him, and as a friend of his, on the occasion of the Vietnamese president 's visit to Washington, I would like to bring up his case to the attention of the international media, as well as the Vietnamese community."

Advocacy groups like Reporters Without Borders and Human Rights Watch have also urged Vietnam to free prisoners of conscience.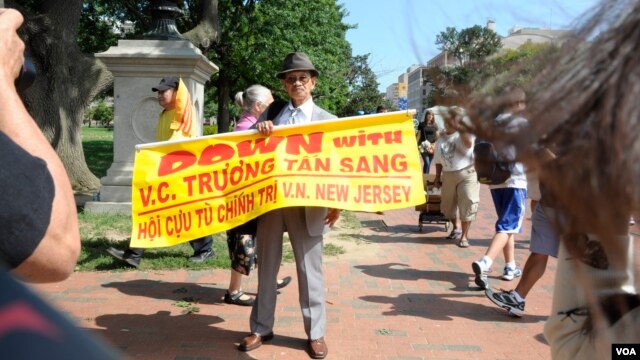 Protesters highlight what they call Vietnam's poor human rights record
during a rally near the White House in Washington, D.C,
July 25, 2013.



July 25 (Bloomberg) -- U.S. President Barack Obama and Vietnamese President Truong Tan Sang speak at the White House about U.S.-Vietnam relations. The two leaders met as their nations intensify trade talks opposed by U.S. labor leaders and human rights advocates who say the Southeast Asian nation must do more to protect workers and political dissidents. (Source: Bloomberg)

President Barack Obama and Vietnamese President Truong Tan Sang met as their nations intensify trade talks opposed by U.S. labor leaders and human rights advocates who say the Southeast Asian nation must do more to protect workers and political dissidents. While the U.S. and Vietnam are among a dozen working toward an agreement by year-end on a free-trade accord to link an area with about $26 trillion in annual economic output, the agenda for Obama and Sang included human rights, climate change and working with other countries to put pressure on China, protect maritime security and ease South China Sea disputes.

"We had a very candid conversation about both the progress that Vietnam is making and the challenges that remain" on human rights, Obama said as the two concluded their meeting in the Oval Office. Sang said the two countries "still have differences" on human rights. A coalition that includes the Teamsters union and Human Rights Watch, an advocacy group, called yesterday for a suspension of the talks until Vietnam can show sufficient improvement in worker protections, the environment and individual rights. "President Obama must hold Vietnam accountable for its record on worker and human rights before America rewards the country with greater trading privileges," Teamsters President Jim Hoffa said in a statement.

Specific Steps
U.S. Representative Ed Royce, a California Republican and chairman of the House Foreign Affairs Committee, has pressed Obama to use Sang's White House visit to urge Vietnam's government to take specific steps. These include halting hacker attacks on bloggers, easing blocks on social media access and ending the detention of religious and political dissidents.

"Over 50 Vietnamese human-rights advocates have been held in arbitrary detention this year alone," Royce said in a July 18 letter to Obama, calling it a troubling statistic that reflects the "intolerable state of human rights in Vietnam." "This further backslide in the Vietnamese government's respect for human rights comes as the country is increasing its international engagement," Royce said. "If our two countries are to build a strong relationship, Vietnam must honor its citizens' basic rights, including freedom of association and assembly, freedom of opinion, and freedom of religion." The rights of people in Vietnam will be "an important part" of Obama's discussions with Sang, said Jonathan Lalley, a spokesman for the White House National Security Council. "We've consistently expressed our concerns with respect to Vietnam's human rights record."
Vietnam's Efforts

Sang acknowledged the tensions. "Vietnam has been making sustained efforts to protect and promote human rights so that the people can benefit," he said at a lunch yesterday with Secretary of State John Kerry. Vietnam has "made every effort to ensure the right of freedom of religion," Sang said. Ernest Bower, president of Fairfax, Virginia-based Bower Group Asia, which advises businesses on operating in Southeast Asia, said while there are legitimate concerns about human rights, U.S. labor unions also are "threatened by the garment and textile industries" in Vietnam. Bower said in the long run, the Trans-Pacific Partnership trade deal being negotiated is more likely to boost total U.S. manufacturing. The Obama administration, Bower said, is seeking to balance human-rights concerns against signs of improvement and Vietnam's role in the region.

Strategic Thinking
"The U.S. government thinks the Vietnamese are among the most strategic-thinking of all the Southeast Asian countries," said Bower, who also is a senior adviser on Southeast Asia at the Center for Strategic and International Studies, a policy research organization in Washington. Sang said he invited Obama to visit Vietnam and that U.S. president promised to "try his best" to make a trip. The U.S. and Vietnam have a shared interest in strengthening the Asia-Pacific Economic Cooperation and East Asia Summit forums to persuade China to "play by the rules of the neighborhood instead of coercing" smaller nearby nations, Bower said.

Vietnam's government is planning a revamping of state enterprises by 2015, trying to revive an economy that expanded by 5.25 percent last year, the slowest annual rate since at least 2005. Delaying structural reforms may curb investor confidence and expansion, the World Bank said this month in a report. Economic growth slowed to a 4.9 percent annual rate in the 2013 second quarter, after one of the highest bad-debt levels in Southeast Asia crimped business credit. The International Monetary Fund has lowered its projection for the nation's growth this year to 5.2 percent from 5.8 percent.

Barack Obama (R) and Truong Tan Sang (L) shake hands during a
meeting in Washington, July 25, 2013. AFP

Vietnam and the United States accept that they have "differences" on human rights, Vietnamese President Truong Tan Sang said Thursday after President Barack Obama pressed him on the prickly issue during their White House talks.

Following pressure from lawmakers, nongovernmental organizations, and the Vietnamese-American community to put human rights at the front and center of the summit talks, Obama said he spoke to his visitor during their meeting about the need to respect freedom of speech and other basic democratic values.

"We discussed the challenges that all of us face when it comes to issues of human rights, and we emphasized how the United States continues to believe that all of us have to respect issues like freedom of expression, freedom of religion, freedom of assembly," Obama told reporters with Sang by his side after the Oval Office meeting.

"And we had a very candid conversation about both the progress that Vietnam is making and the challenges that remain," the U.S. leader said, without being specific about particular rights issues.

Sang, only the second Vietnamese head of state to visit the White House since the former foes resumed relations nearly two decades ago, was even more brief than Obama in commenting on the human rights issue after the meeting, which lasted for more than an hour and longer than expected.

He said that they touched on the human rights topic and "we still have differences on the issue."

"We accept that there are differences," Sang said separately, in a speech at the Washington-based Center for Strategic and International Studies (CSIS). "The most viable way is to continue our dialogue in a frank manner so as to enhance understanding and to narrow differences," he said.

In line with this spirit, he said, he exchanged views with American lawmakers "in an open and friendly manner" on human rights and religious freedom issues during his visit.

Sang's arrival at the White House was met with protests by hundreds of slogan-chanting Vietnamese-Americans across the street calling on Obama to protect human rights in Vietnam.

Before the talks with Obama, Sang had said that concerns over human rights abuses in Vietnam should not dampen closer U.S. military and economic ties with the Southeast Asian nation.

Eroding rights
Vietnam's human rights have been eroding rapidly with almost 50 rights defenders jailed this year alone and with the government cracking down on freedoms of expression, assembly and association, according to the families of 35 key political prisoners who asked Obama in a letter this week to "stand up for the people of Vietnam."

The families included those of rights activist and popular blogger Nguyen Van Hai, known by his pen name Dieu Cay, who is on a month-long hunger strike to protest the actions of prison officials who tried to force him to make a false confession.

Vietnamese dissidents are often held incommunicado for lengthy periods, without access to counsel or family visits, often subjected to torture or other mistreatment, and prosecuted in politically controlled courts, which are increasingly handing out lengthy sentences, U.S.-based Human Rights Watch said.

U.S. lawmakers and rights activists were concerned that the Obama administration might leave human rights on the sidelines in its efforts to forge closer ties with Vietnam on trade and military cooperation as China flexes its muscle while pressing Beijing's territorial claims in the disputed South China Sea.

In fact, based on the remarks of the two leaders after the meeting, it appeared that rights was not a top priority issue.

On the topics discussed Thursday, Obama in his remarks started with a trade pact which Washington has been negotiating with Vietnam and 10 other Asia-Pacific nations.

"We're committed to the ambitious goal of completing this agreement before the end of the year because we know that this can create jobs and increase investment across the region and in both our countries," the U.S. leader said of the proposed Trans-Pacific Partnership (TPP) trade pact.

Obama then touched on the South China Sea issue, saying Washington appreciated "Vietnam's commitment to working with ASEAN and the East Asia Summit in order for us to arrive at Codes of Conduct that will help to resolve these issues peacefully and fairly."

Vietnam and the other Southeast Asian nations have been trying for about a decade to have a code of conduct with China on how to resolve rival territorial claims in the South China Sea but to no avail.

Obama then touched briefly on human rights before moving on to Vietnam's continued cooperation in efforts to recover American soldiers missing in action and those that were lost during the course of the Vietnam War and Washington's commitment to work with Vietnam on post-war environmental and health issues, as well as the need to develop people-to-people ties.

Low-priority issue
In his remarks at the White House, Sang had human rights nearly at the end of the long list of topics they discussed.

"We discussed various matters, including political relations, science and technology, education, defense, the legacy of the war issue, environment, the Vietnamese-American community, human rights as well—and the East Sea [South China Sea] as well," he said.

Sang had said during talks with U.S. Secretary of State John Kerry on Wednesday that his country made "every effort to ensure the right of freedom of religion and belief."

Sang brought along a group of Vietnamese "religious dignitaries," including three handpicked Buddhist monks and Christian Protestants, to Washington to hold talks with their American counterparts on religious-related issues.

But U.S. participants said most of the questions at the meeting were about Vietnam's religious restrictions and abuses and controversial government policies and they were answered by the head of Vietnam's religious affairs panel in the Interior Ministry.

'Big test'
Scott Flipse, Deputy Director of the U.S. Commission on International Religious Freedom, said that Sang's visit is a "big test" of the Obama Administration's 'Asia Pivot' strategy, which is seen as a U.S. bid to clip China's growing military and economic influence in the region, prompting Chinese anxiety about U.S. containment.

"Will human rights be a priority moving forward, and will Secretary Kerry make better human rights a condition for better relations," asked Flipse.

"Vietnam wants more from the U.S. than the U.S. can get from Vietnam, the Administration clearly has the leverage to bring about real changes in Vietnam, but only if it conditions new trade benefits [such as TPP membership] and security cooperation [balancing China claim on Vietnam's offshore islands] on concrete human rights improvements," he said.

He said it was clear from Sang's comments that Vietnam believes that human right and religious freedom are impediments to better relations.

"The Administration made human rights a priority in its engagement with Burma [Myanmar], it should do so again with Vietnam. Ironically, with Burma's openness to reform, Vietnam now has the worst record in Southeast Asia."
MORE:
Obama, Vietnam's President Discuss Trade, Human Rights
Vietnam-US Talks to Cover Trade, Human Rights, China
WORLD NEWS
CHINA
WAR on Cyber Attack:"Cyber Attack is considered Act of WAR"
China - Japan War
China - India War