In Hong Kong, pro-democracy activists march to the Government Offices in Admiralty on June 1 to mark the 25th anniversary of the Tiananmen Square massacre.

Pro-democracy activists march through Hong Kong to mark the 25th anniversary of Tiananmen Square massacre.
BEIJING — His name is still unknown, but to many Westerners, the single pedestrian who stopped a line of tanks near Tiananmen Square remains the iconic image of the protest that shook the world 25 years ago.

In China, "Tank Man" is a nobody from a non-event.
The anniversary of the bloody crackdown on the 1989 pro-democracy movement — which still defines China for many Americans — will pass Wednesday with little to no government acknowledgment of those killed by soldiers after seven weeks of peaceful, student-led protests in Tiananmen Square, the equivalent of the National Mall in Washington, D.C.

Today, the exact death toll from the protests remains unknown.

The crackdown left 500 to 2,600 dead, according to Tiananmen Square, 1989: The Declassified History, published by the George Washington University's National Security Archive.

China's official death toll is 246.
The pro-democracy movement and massacre are not even taught in Chinese schools, and images and information about the event are scrubbed from the Internet.
"Young people have very little idea what happened in 1989 and very little curiosity or interest," says Louisa Lim, an NPR correspondent.

In four top Beijing colleges, just 15 out of 100 students shown the Tank Man photo last year could identify it, says Lim, author of China, The People's Republic of Amnesia, which will be published Wednesday.
While many Chinese youth are tech-savvy enough to evade China's Internet restrictions, "they have learned that politics is dangerous and it's best to steer clear," she says.

Those who do dare speak about the crackdown face arrest.
In the weeks leading up to the anniversary, Amnesty International says, dozens of activists have been detained.
Others have been placed under house arrest or reported missing.

"The response by the Chinese authorities to the 25th anniversary has been harsher than in previous years, as they persist with trying to wipe the events of 4 June from memory,"Salil Shetty, secretary-general of Amnesty International, said in a statement.

Still, Hu Jia, 40 — a dissident under house arrest for the past three months who, at 15, pushed buses into the road near his home to stop tanks headed for the square — is calling on Chinese citizens to mark the anniversary by visiting the square Wednesday wearing black clothes.

Some wore the color last year, says Hu — who risks jail time for organizing others to protest, a major crime in the party's eyes — convinced officials can't ban black without being forced to explain why.
"The authorities can't change my understanding and my memories," he says.

"It's a very small number, but more young people are waking up and gaining an understanding than before."
China's Internet remains "an information prison to keep the truth out," Hu says, but he uses software to evade the "Great Firewall of China" and push online campaigns such as "Return to Tiananmen," which launched a year ago.
"The authorities use terror to shut people's mouths," he says, "but they are not God, and can't make everything disappear."

Chinese people gather around a replica of the Statue of Liberty on Tiananmen Square demanding democracy despite martial law in Beijing on on June 2, 1989.

Student leader Wang Dan addresses the crowd in Tiananmen Square.

'THEY'RE AFRAID OF US'
When Zhang Xianling needs groceries, she passes three state security personnelstationed to watch her ninth floor apartment.

Another four wait downstairs, along with a police car she must take to reach the market or go anywhere.
That's all because Zhang, 76, pursues justice for her son, Wang Nan, a student killed by an army bullet a quarter of a century ago when he was just 19.

Authorities prevent Zhang from meeting journalists or other Tiananmen Mothers, a group she co-founded in 1989 for relatives of those who died in the massacre.

Ding Zilin, a spokesperson for the group, has been placed under house arrest, according to Amnesty International.
"At first we just did this for our kids, then we came to realize it's a problem of our country's political system," Zhang says.
Despite years of intimidation and harassment — to stop Zhang from mourning her son, asurveillance camera is trained on the spot where he died — the Tiananmen Mothers persist in demanding a public investigation, a list of the dead and punishment for those responsible.

"They're afraid of us, because we grasp the truth," she says.
"They killed so many people, this is not a government that takes responsibility. Justice is in our hands."
For the government, that truth is that the protest was a "counterrevolutionary rebellion."

Hu despairs at such enforced ignorance.
"School textbooks lack the two characters 6/4; at most there's one sentence referring to a 'political disturbance,' as they've shrunk it into a small-sounding case," he says.

Today, Chinese authorities maintain that their decisive action ensured years of spectacular economic growth, transforming the nation into the world's second-largest economy, one that is gaining fast on the U.S.

That notion has achieved wide acceptance in China, Lim says.
"People have largely believed this, as their lives have got better, and people have wanted to believe there was no other way," she says.

In 1989, protesters called for a less corrupt, fairer government that could continue under party rule.
But the party's leadership saw a "near-death experience," says Rana Mitter, a Chinese history and politics expert at Oxford University.

As a result, the movement's key influence was "making the party determined that whatever else happens, it must maintain a firm grip on power."

Authorities now spend more on internal security — including suppressing dissidents — than external from "a great fear that the political settlement is very fragile," Mitter says.
Over the past 25 years, the ruling party has remained "alarmed by the prospect of more liberalization and understood the importance of economic growth to cement its legitimacy."

In the past year, Chinese authorities have crushed a loose network of activists called the New Citizens Movement, a group that aims to expose the official corruption that was also a major focus of the 1989 demonstrations.
Current party chief Xi Jinping, who has tightened Internet controls, leads a wide-ranging anti-corruption campaign, but makes no move toward creating the independent media, judiciary and anti-corruption agency China requires to tackle graft.

"There's a crushing sense of disappointment that we see every time a new set of leaders comes into power," says Lim.
"People had hoped that Xi Jinping maybe would be a closet reformer, but there's a sense now that we are further away than ever before to any re-evaluation of 1989."

People's Liberation Army (PLA) tanks guard the strategic Chang'an Avenue leading to Tiananmen Square in Beijing on June 6, 1989.
Demonstrators gather in Tiananmen Square around a replica of New York's Statue of Liberty, called the Goddess of Democracy, created by students from an art institute to promote the pro-democracy protest against the Chinese government on May 30, 1989.

'TRUTH WILL OVERCOME THEIR LIES'
Under close watch at home is Dai Qing, 73, a writer and environmental activist jailed for 10 months after Tiananmen, despite her efforts to get students off the square before they fell victim to the deadly crackdown.

"From some angles, I even understand a little why the people at the top think 'stability' is the most important, but it's too much," she says.

"It shows they are so weak internally."
Dai challenges the so-called "success" of post-Tiananmen China, pointing to rampant inequality and the denial of basic rights.

"As a Chinese, I should be proud and happy the central government is very rich, and we have powerful weapons," she says.
"No! Only when every person in this land feels really happy, then it is a strong country."

Calls to action such as Hu's make Dai nervous.
Rather than risk revolution, Dai says, she hopes China's people morph from "yes men" to ardent citizens.
"We want an education movement to change the slaves of the emperor to citizens," she says.
"Bit by bit, they'll change the whole society and the political and economic system."

Amid the despair and the strictest surveillance since 1989, the Internet offers hope as awareness is raised on social media, says Zhang, who will mourn her son at home.
"The Communist Party has such a long experience of brainwashing and telling lies, and they do it very well," says Zhang.
"I used to believe them. The party can fool many people, but the truth will overcome their lies."
A dissident student urges soldiers to go back home as crowds flood into central Beijing. Hundreds, possibly thousands, of protesters were killed by China's military on June 3 and 4 in 1989 as Communist leaders ordered an end to six weeks of unprecedented democracy protests in the heart of the Chinese capital at Tiananmen Square.

A soldier stands guard in front of People's Liberation Army tanks at Tiananmen Square on on June 9, 1989
Zhang Kun Was Inspired by 1989 Protests, Silenced by the State
By JOSH CHIN


Zhang Kun left his job to start working with an activist group.

XUZHOU, China—After Chinese police rounded up the leaders of the civic group he participated in, Zhang Kun said he would be proud to join them in jail.
He soon got his wish.

In March, he was released after two months in detention—during which he says he endured lengthy interrogations by police and physical mistreatment by other detainees.
Once out, he posted a note on a messaging app telling friends he was stepping back from his previous activism.
"I hope everyone can understand," he wrote.

"Everyone has their weak spot," the slight, unassuming 26-year-old now says, and the police "will find it eventually."
A quarter-century after Chinese leaders sent the military to crush student protesters in Beijing's Tiananmen Square, Mr. Zhang's short career on the front lines of activism shows how the events of 1989 inform the Chinese authorities' iron-fisted approach to dissent.

The military assault on June 3 and 4 that killed a still-unaccounted-for number of people—estimated to be in the thousands—temporarily left China diplomatically isolated, setting back economic reforms.

It also convinced Chinese leaders of a lesson: Threats to Communist Party rule must never be allowed to spiral into a repeat of the 1989 protests.

In taking down Mr. Zhang, police applied a well-honed, layered strategy to nip opposition in the bud.
His moves were carefully tracked online and in real life.
He was apprehended just before the Chinese New Year, when it was less likely to attract attention, and then quietly released into a life of isolation.

"These are strategies that have been used over and over again," says Maya Wang, Asia researcher with Human Rights Watch.

"Tiananmen also started small. The government has to be on the lookout for sparks…They've been working on this for 25 years."
Police declined to comment on Mr. Zhang's detention, treatment and release.

It was the unexpected discovery of a documentary about the Tiananmen protests that, Mr. Zhang says, planted the seeds of his activism when he was a teenager.
As a 14-year-old, Mr. Zhang would occasionally sneak out to join friends at an Internet cafe near his home in Xuzhou, northwest of Shanghai.

Hong Kong opens what organizers say is the world's first permanent museum dedicated to China's violent crackdown on protesters in Beijing's Tiananmen Square on June 4th, 1989. The WSJ's Eva Tam reports on the exhibit marking the 25th anniversary.

Bouncing between searches for news of the 2002 World Cup and surfing Japanese porn sites, he says, he ran across clips from "Gate of Heavenly Peace"—a 1995 documentary about the Tiananmen Square protests produced by Carma Hinton and Richard Gordon.

He had never heard of the protests.
"At first I thought it was a movie," he says.
But the footage of state-run television told him otherwise.
"Visually, it was an assault," he says.
"I couldn't sleep for days."

He tried talking to friends about what he saw until a few threatened to report him to police, he says.
He dropped it until years later when social media caught on in China and crackled with criticism of the state.
Postings he read about dissidents being warned by state security agents—known as being "taken out for tea"—and people being corralled into illegal detention centers known as black jails made him wonder what it was like to run afoul of the authorities.

He began to show up at protests.
When Mr. Zhang began his encounters with dissidence a few years ago, China's sprawling internal security apparatus was already upping its game.
In the years following Tiananmen, muscular economic growth unleashed social mobility, raised standards of living and upended lives.

The dismantling of the planned economy and the boom in cities set off waves of small-scale protests by laid-off workers in state industries and farmers thrown off their land for development.

Bao Tong, the highest-ranking official jailed in the 1989 crackdown, described these proliferating protests as "mini-Tiananmens."
In response, budgeted spending on domestic security—from police salaries tosurveillance equipment—rose nearly 90% to 769.1 billion yuan ($123.1 billion) in the six years to 2013, outstripping the amount spent on national defense, according to the government figures.

Over the years, security agents have shattered fledgling democracy parties, the popular Falun Gong spiritual movement and nascent networks of labor activists.
"The level of technical sophistication that goes into their surveillance and also the sheer expenditure and effort is absolutely impressive," says Eva Pils, a law professor at Chinese University of Hong Kong who researches human rights in China.

Mr. Zhang came to activism through the loosely organized New Citizens Movement, which was launched in 2010 by civil-liberties lawyer Xu Zhiyong and supported by venture capitalist Wang Gongquan.

Mr. Zhang left his job with an advertising company to join the group in calling for greater government transparency, social fairness and equal access to education.
Last year, he traveled with another activist to more than 10 cities to build support for the public disclosure of officials' family assets.
"What he did is not something everyone is willing to do," says Chen Jiangang, a rights lawyer who has traveled with Mr. Zhang.

"He is a sunny kid, full of courage."
Mr. Chen recalls how in October, while returning from a protest against the jailing of a religious-freedom advocate in the coal-mining city of Jixi, Mr. Zhang led protesters to sing a Chinese rendition of the song "Do You Hear the People Sing?," a call to arms for French revolutionaries from the musical "Les Misérables."

But last summer, authorities detained the movement's leaders, Messrs. Xu and Wang.
And by winter, police were closing in on Mr. Zhang.
Harassed in Beijing, Mr. Zhang returned to his parents in Xuzhou.

On Jan. 15, his second night back, a half-dozen state security agents walked into his room, woke him up and took him away, sirens blazing.

Taken to the Red Star Guesthouse, a dingy hotel in the city's northeast, Mr. Zhang says he was presented with an inches-thick printed record of his Internet activity and interrogated by groups of police working in shifts.
The next day, he was taken to the Xuzhou Detention Center—a compound that spreads along the bottom of a hill opposite a high-end apartment complex.

He was booked under suspicion of "picking quarrels and provoking trouble"—a crime authorities have used to detain dozens of activists in the past year.

Upon entering his cell, Mr. Zhang says, he was grabbed by other detainees and forced to kneel on the ground near the toilet while a cellmate dripped ice-cold water on his head so that it drizzled down his back, causing his body to contract—a form of torture they called "the small stream flows forever."
"They keep dripping water until your body is completely locked up. It's incredibly painful, like you're being stabbed," he says.

"After 10 minutes, I couldn't take it anymore."
Mr. Zhang says the inmates made him clean the toilets and mop the floors, and beat him if they found the slightest speck of dirt.

After a month, he says, police showed him newspaper reports saying that Mr. Xu had been sentenced to four years in prison for disturbing public order and that Mr. Wang had been released on bail after confessing to the same charge.
He was then given a pen and paper and told to work on his own confession.

Mr. Zhang's eyes well up when he recalls seeing the report about Mr. Xu's prison sentence.

"Such a good person advocating rule of law and human rights for the good of society, devoting 10 years of his energy, ending up like this," he says.
Still, he refused to confess.

Instead, he says, he used the pen to draw pictures on the skin of fellow detainees—watches for their wrists, third eyes on their foreheads—as a way to entertain them.

Police once took him to a mental hospital for an examination, threatening to have him declared insane.
The breaking point, he says, came when his interrogators issued vague threats against his family.

"They said if I continued to refuse, it might 'impact' my parents' jobs," he says.
He signed a statement promising to end his participation in the New Citizens Movement.

A person at the press office of the Xuzhou Public Security Bureau who refused to identify himself said that he hadn't heard of Mr. Zhang and that such mistreatment isn't possible.
Calls to the Xuzhou Detention Center went unanswered.
Under the terms of his release, Mr. Zhang says, he is required to stay in Xuzhou for a year.

He says fear of being judged by neighbors led his parents to move to a new house on the opposite side of the city shortly after his release.

A surveillance camera sits mounted on the wall outside Mr. Zhang's old family apartment; another is installed outside their new home.

He says police have warned him about content he publishes online and recently threatened to cut off the family's Internet access.

Childhood friends now keep their distance, Mr. Zhang says, while some fellow activists have criticized him online, accusing him of caving under pressure.

Mr. Zhang says he plans to continue fighting against censorship, in part by teaching others in China how to circumvent the country's Internet filtration systems, but says his days of openly confronting authorities could well be over.
"There's no point in fighting directly with police," he says.
"I'm not the sort of person who really wants to go to prison."
China, the world remembers Tiananmen massacre

June 4 marks the 25th anniversary of the Tiananmen Square massacre
When will China's leaders stop whitewashing the event?
Beijing's tactics of suppression and crackdown breed discontent

Brave Chinese activists are still trying to defend human rights
By Sophie Richardson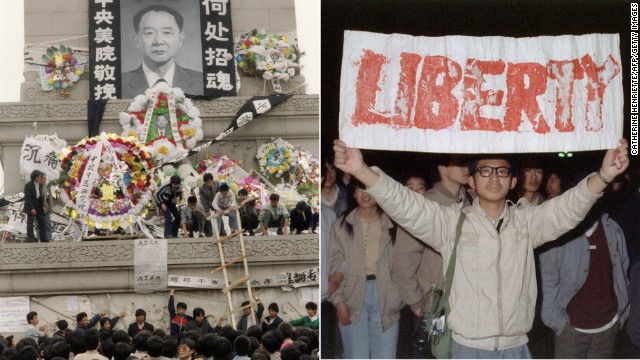 Ousted General Secretary of the Communist Party, Hu Yaobang, dies at age 73 on April 15, 1989. The next day, thousands of students gather at Tiananmen Square to mourn him -- Hu had become a symbol of reform for the student movement. A week later thousands more marched to Tiananmen Square -- the start of an occupation that would end in a tragic showdown.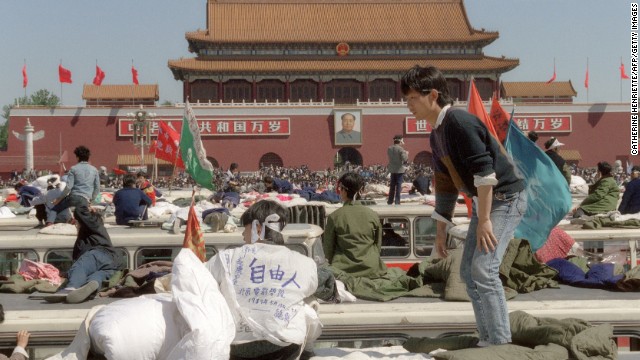 Student hunger strikers camp out on top of buses parked at Tiananmen Square.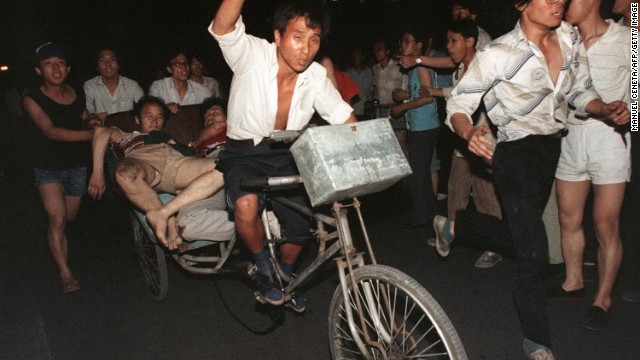 On the night of June 3 and into the early hours of June 4, armed troops and tanks moved in on students and other civilians in the areas around Tiananmen Square, opening fire on the crowds.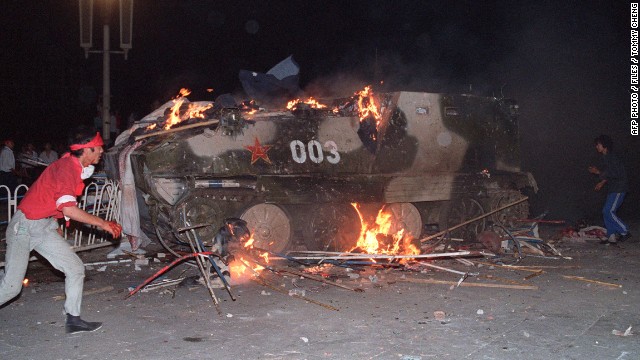 June 4, 1989, students set fire to tanks. An official death toll has not been released but witnesses and human rights groups say hundreds were killed in the clash.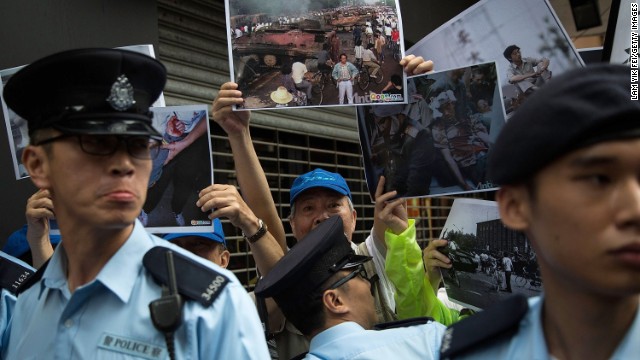 2014: A pro-democracy group takes part in a rally outside the June 4 Museum on its opening day. A candlelight vigil commemorating the martyrs of the 1989 crackdown is held in the city's Victoria Park each year on June 4, attended by thousands.

Here's an uncomfortable truth confronting Xi Jinping: It's 2014, but the pro-democracy, pro-rights sentiments that manifested across China as demonstrations in 1989 are still alive and well.

For 25 years, the Chinese government has tried to expunge the June 4, 1989, Tiananmen massacre from history to deny people inside the country any knowledge of the event.
And as the second largest economy in the world, Olympic host, and U.N. Security Council member, Beijing has also maintained to the outside world that June 4 is "much ado about nothing" and a "strictly internal affair."
Beijing's strategy of suppression has proved successful in some quarters.

Many in China have generally focused on getting ahead economically while staying away from politics.
But in other quarters, the strategy has produced the opposite outcome, fueling domestic demands for accountability and ongoing attention to China's abysmal human rights record.
"Harmonious society," "social stability," "stability maintenance" -- these are the watchwords of the current Chinese government.

But imposed stability is oxymoronic.
Not a week goes by without hundreds of protests over land or housing issues in rural areas, and environmental or infrastructure projects in major urban areas.
China's security forces and judiciary systems are using increasingly heavy-handed tactics to track and suppress all manners of peaceful expressions in ethnic minority regions.
Uyghur Muslims are prohibited from wearing beards.
Prosecutions are set up against those who know Tibetans who self-immolated.

Despite a proliferation of laws, there are few avenues for public feedback, let alone redress or debate without fear of reprisal for ordinary citizens.

The combination of repression and denial of justice are clearly breeding more, not less, discontent in China.
Every year in the weeks leading up to June 4, critics of the Chinese government anticipate higher-than-usual scrutiny, ranging from arbitrary impositions of house arrest to people being taken to police stations to "have tea."
This year's crackdown started early and ferociously.
In early May, roughly a dozen people gathered in a Beijing apartment to discuss Tiananmen.

They sent a photograph of the group and a brief summary of the discussion to friends and contacts.

Within a few days, five of them, well-known human rights lawyer Pu Zhiqiang, academicsXu Youyu and Hao Jian, blogger Liu Di, and dissident Hu Shigen had all beencriminally detained on charges of causing a disturbance.
Previous gatherings like this had merited the attention of the police, but had not resulted in actual charges.

So spooked are Chinese authorities that Ding Zilin, the founder of the Tiananmen Mothers, a group formed to press for accountability for family members' deaths in 1989, has been told she may not return to Beijing in early June.
This will be the first year she must observe the anniversary of her son's death from afar.
China's central and local governments occasionally make concessions, seemingly designed to placate popular frustrations.

The widely loathed arbitrary detention system known as "re-education through labor," in which people could be incarcerated by police for up to three years with no trial, was abolished in late 2013.

Some of the most controversial chemical and industrial facilities have been shut down or construction put on hold.
But many of these are half measures, or only temporary fixes.
In response to the political status quo, a law-based, rights-oriented consciousness has emerged in China, and advocates known as the weiquan have started a "rights defense" movement.

These activists, who endure police monitoring, detention, arrest, enforced disappearance and torture, monitor and document human rights cases across the country.
Some of their most prominent members were involved in the 1989 protests, and they say that Tiananmen and its legacy informs their current efforts.

Four of these lawyers were detained and tortured in Heilongjiang province in March 2014, yet have continued to try to represent politically unpopular cases.
Similarly, the New Citizens Movement is an informal group that has advocated the promotion of civic rights and participation, including the public disclosure of officials' assets to curb corruption, or protecting the rights of children of migrant workers.

At least five of its members, including prominent lawyer Xu Zhiyong, have been sentenced this year on charges of "gathering crowds to disturb public order."
These activists, too, know the price they are likely to pay for their efforts, yet they carry on, believing that transforming society into a democracy that respects the rule of law requires citizen participation.

The Internet and social media have replaced the hand-lettered placards at Tiananmen, but the messages are similar: accountability for abusive officials, transparency from the state, justice for all.

Independent Chinese organizations try to engage directly with United Nations organizations.
But these kinds of actions often provoke extraordinary wrath of the government.

One activist, Cao Shunli, was imprisoned in 2013 for her efforts to participate in a review of China's record at the United Nations Human Rights Council.
She died in detention in February 2014 after being denied adequate medical treatment.

A truly confident leadership in Beijing would recognize these demands for what they are: efforts to improve life for ordinary people across the country.

And while such groups are prevented from gathering at Tiananmen, they increasingly find one another and try to push for change via social media and legal channels.
They show no sign of scaling back their demands for human rights.
So, will the Chinese government meet them halfway at least?