Decision Delayed Until Washington and Beijing Can Agree on Rules for Encounters Between Warplanes

By JULIAN E. BARNES in Washington and JEREMY PAGE in Beijing

Rep. Randy Forbes (R., Va) said that military exchanges with China risk sharing too much information, including critical elements of U.S. military strategy.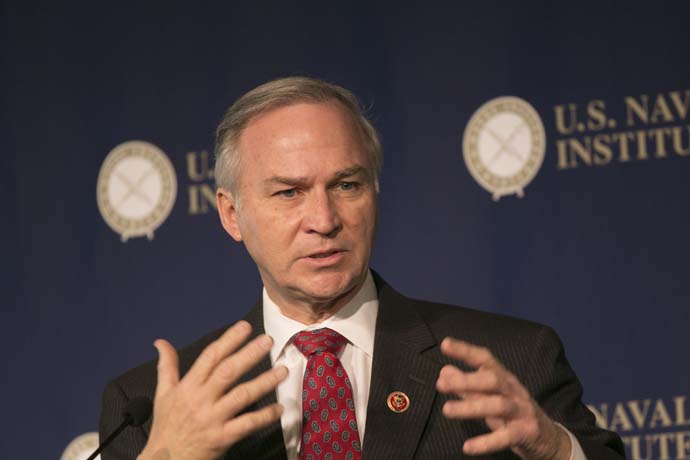 The Pentagon put on hold an effort to expand defense ties with China, saying it wouldn't agree to a major new military exchange until the two countries can agree on rules for airborne encounters between their warplanes.

The delay, which doesn't affect existing military-to-military exchanges, reflects concerns among some U.S. politicians and military officials that an expansion of defense ties with Beijing over the past 18 months hasn't stopped China from trying to enforce its territorial claims in Asia.

Top U.S. and Chinese naval officials had proposed the U.S. send an aircraft carrier on a visit to China, but Pentagon officials have deferred any decision until work on an air-intercepts agreement is complete, officials said.
Rep. Randy Forbes (R., Va), who leads a House subcommittee on sea power, has said the Pentagon has been pushing military exchanges without clearly stating what they hope to achieve with the exchanges.

"We think if you are going to do military-to-military exchanges, you should have strategic goals for why we are doing it," he said.

Mr. Forbes added that military exchanges with China risk sharing too much information, including critical elements of U.S. military strategy.

"It gives them a better understanding how we might react in a situation and so it may embolden them more," he said.
In a letter to Mr. Forbes this month, Pentagon officials defended their approach, saying it has "elements of cooperation and competition."

"U.S. policy toward China is based on the premise that it is profoundly in both countries' interest that we develop a cooperative relationship that brings a rising China into that system while constructively managing the differences between our two countries," wroteChristine Wormuth, the pro-China undersecretary of Defense for policy, in the letter to Mr. Forbes.

Defense officials said they have a vetting process in place to ensure that sensitive information isn't shared during military exchanges with China.

One official said the delay in the carrier decision was an example of how the Pentagon is following the approach advocated by Mr. Forbes.

Leaders of both countries have pushed for expanded military ties and improved communications. That objective was a key part of the deal the administration reached with Beijing during President Barack Obama's trip to China in November.
During that visit, Chinese and U.S. officials announced an agreement designed to prevent confrontations at sea, with a new set of rules for maritime encounters.

The agreement followed a 2013 incident when a Chinese ship came within 100 feet of theUSS Cowpens, a guided missile cruiser, in the South China Sea.

China said its ship followed proper procedures.
Officials said at the time that the maritime agreement would be followed by one covering air-to-air engagements, which have been a source of friction, including an August encounter when the Pentagon said a Chinese fighter plane came within 50 feet of a Navy P-8 surveillance plane.

China said its pilot kept a safe distance.
It also demanded that the U.S. stop surveillance flights near its coastline.

U.S. officials remain hopeful a deal will be possible this year, but said that reaching an agreement on rules for air incidents is more complicated than the maritime agreement.
Some agree a better understanding of Washington's China strategy is needed.

"Everyone is accusing people of being off the reservation. But we need to know where the fence line for the reservation is," said a defense official.

The Pentagon is beginning work on a new report mandated by Congress last month to lay out its military strategy in Asia.
The defense official said that will amount to a clearly stated approach to China, and should address Mr. Forbes's concerns.

Officials said that a continuation of military-to-military exchanges between China and the U.S. would remain a cornerstone of the American approach to maintaining stability in Asia.

"The option of ignoring each other is not a grown-up option," the defense official said.
"Everything has to be done for a reason, and is. We aren't doing things just to do them."

China's defense ministry didn't respond to a request to comment on planned exchanges this year, including the carrier visit and the air-encounter agreement.

Asked about the plans for a carrier visit for China, Lt. Col. Jeffrey Pool, a Pentagon spokesman, said he wouldn't comment on internal decision-making but that the military would "publicize our decision in the established manner."
While the decision on the aircraft carrier is on hold, other smaller exchanges are continuing, officials said.
This month, 38 U.S. personnel and 50 Chinese service members participated in a humanitarian relief exercise in Hainan Island.

Hainan is where a Navy P-3 plane landed after it was disabled in a midair collision with a Chinese fighter jet in 2001.