TERRA FIRMA: China's land reclamation in the disputed Spratly Islands has up to now been met by timid responses from its neighbors and the U.S

.
The Pentagon announced this week that it is considering deploying military ships and planes to patrol territory near China's newly built islands in the South China Sea.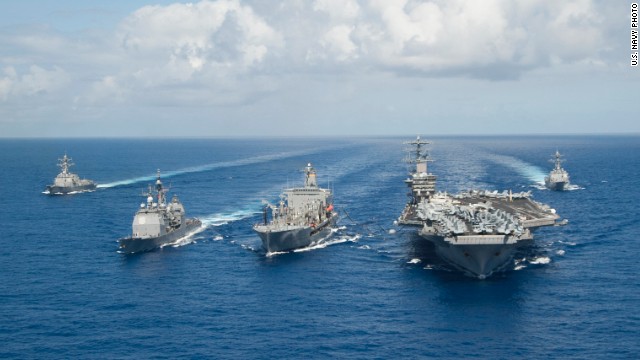 Such a plan, if approved by the White House, would open a new phase in the struggle to shape Asia's balance of power.
U.S. policy makers and their Asian counterparts have long hoped that as China becomes more internationalized, it would gradually embrace political liberalization at home and act more cooperatively abroad.

But reshaping China's international environment is a far more likely way to influence Beijing's policy choices than is changing the nature of Chinese government or waiting for a democratic uprising in the country.

Already opposition to China's expansionary behavior has caused Beijing to alternate between assertive action and attempts to calm its neighbors' suspicions.

But the U.S., no less than China's neighbors, has generally been too timid in responding to Beijing's coercive behavior.
Such reticence may be changing thanks to Beijing's land reclamation in the disputed Spratly Islands.

Incoming U.S. Pacific Commander Adm. Harry Harris says Beijing is trying to build a "great wall of sand" in the Spratlys.
Adm. Samuel Locklear, the outgoing Pacific Commander, has warned that Beijing's island-building spree may give it "de facto" control over the waters around the Spratlys through new airstrips and port facilities.

In response, Washington has been gradually expanding its links with the Philippines and is close to finalizing an agreement that will allow U.S. forces to use up to eight bases on the islands on a rotational basis.

Japan also is conducting naval drills with the Philippines, following its agreement to give 10 maritime patrol vessels to Manila, and has pledged to provide an unspecified number to Hanoi.

Beijing's reaction so far has been to play "good cop, bad cop" with the international community. Chinese officials unexpectedly announced last week that "when conditions were right," other nations would be allowed to use the civilian facilities on its new islands for humanitarian purposes and weather forecasting.

Yet such indications of cooperative behavior were quickly blunted by a Chinese Foreign Ministry statement that China has the right to set up unilateral air-defense identification zones over the Spratlys.

Manila claims that Beijing recently warned Philippine patrol planes to stay away from the disputed islands, raising further fears that Beijing will attempt to establish an air-defense zone.

No one should be lulled into thinking that Beijing's core policies will change anytime soon.

Yet the fact that China feels it needs to try and allay suspicions at all shows that it is concerned about the growing response to its moves.

Japan's indications that it will continue to expand its role in regional security, possibly including joint sea or air patrols with U.S. forces in the South China Sea, is of particular concern to Beijing.

China will do what it can to get its neighbors to lower their guard, but it may act more cooperatively if it feels more pressure.

That might force a change in its unwillingness to agree to multilateral negotiations over disputed territories, or to sign a binding code of conduct with its Southeast Asian neighbors.
Washington must further maintain its pressure to send Beijing the message that the new constellation of opposition will not disappear just because China offers a few conciliatory messages.

At the same time, Washington will have to make clear to other nations that they, too, cannot unnecessarily exacerbate tensions with China and expect stability in the regional security environment.

At least since Lord Macartney's famously failed expedition to China in 1793, the West has been trying to change the Middle Kingdom, only to end up frustrated.

Pressing China to adopt liberal norms will always falter on the rocks of the Communist Party's self-interest.
Yet by reshaping the environment surrounding China, liberal states have a much better chance of curbing some of the policies that cause them to fear Beijing's growing power and influence.