SHANGHAI --

Chinese state media have sent another sharply worded message to the United States

, amid continuing tensions over

China's reclamation of land around islands it says are part of its territory in disputed waters in the South China Sea

-- as China's foreign ministry said it had lodged a formal complaint with Washington over U.S. surveillance flights over the islands.
Last week China's military issued warnings to a U.S. surveillance plane to leave the area, and following reports of continuing U.S. ship, air and submarine patrols in the area, the official Global Times newspaper said on Monday that one of China's "bottom lines" was that "the reclamation of these islands must be finished 'no matter what.'"

In a commentary published in its Chinese-language edition, the paper said that if the U.S. set its own bottom line on stopping the reclamation, then "a battle between China and the US in the South China Sea is inevitable – and the intensity of the clashes will be higher than what people normally understand by 'friction.'"

Also on Monday, China's foreign ministry spokesperson Hua Chunying said Beijing had now issued a formal complaint to the U.S. about flights over the islands, adding, "We urge the U.S. to correct its error, remain rational and stop all irresponsible words and deeds," according to Reuters.

The English edition of the Global Times also quoted an expert from China's People's Liberation Army Academy of Military Science as saying that "China will very likely strike back if the US comes within 12 miles of the islands." Peng Guangqian told the paper that the U.S. was forcing China to defend its "territorial sovereignty and maritime interests" by travelling "thousands of miles to China's doorstep."

Another academic analyst told the Global Times that if both sides were flying air missions in the area, clashes were quite likely: "

Once China dispatches aircraft to drive away the US fighters, both sides are likely to exchange fire due to high flight speed

," Zhu Feng of Nanjing University said.

These comments do not necessarily add up to statements of official policy, observers noted. The Global Times, published by the official People's Daily, is known for its hawkish commentary on foreign policy issues. However its views often represent those of at least part of the Chinese establishment. And there is no question that tensions between Beijing and Washington have heightened sharply in the past two weeks, since the U.S. said it was planning to send vessels to the region, to ensure that international shipping lanes are kept open.

During a visit to Beijing in mid-May, U.S. Secretary of State John Kerry asked Beijing "

to take actions … to reduce tensions and increase the prospect of a diplomatic solution

." However, China's Foreign Minister Wang Yi said at the time that Beijing's determination to protect what it says are its economic and territorial interests in the area was as "hard as a rock."

The latest comments follows reports in the U.S. that China electronically jammed U.S. drones flying over the area last week. In an apparent reference to the incident, the Global Times quoted Tao Wenzhao, a U.S. expert at the Chinese Academy of Social Sciences, as saying "

China's response were justified acts of self-defense when the US flights approached China's territory and were in accordance with international practice.

"

The paper quoted Chinese academics as saying the U.S. should accept China was now becoming a maritime power. Its commentary suggested the U.S. was "

still vague about its real purpose in the South China Sea

": it said if the U.S.'s main interest was freedom of navigation, then the two sides "still have leeway to maneuver" – adding that if the U.S. was simply "saber rattling" then China would generally "exercise self-restraint." However, it said, if the U.S. seeks to "

teach China a lesson by provoking and humiliating… China will have no choice but to engage

."

Some observers noted that during Kerry's recent visit to Beijing, President Xi Jinping said relations between the two countries had "remained stable," and officials reiterated there were many areas where the two countries could work together. The Global Times also added that if the U.S. gave "enough space to China's peaceful rise, and China "share[d] US concerns about the rise" then risks would remain "under control."

However the paper's commentary is clearly designed to reiterate the message that China is serious about going ahead with the island projects -- and fits in with what some analysts see as an increasingly assertive mood among the leadership in Beijing.

U.S. Assistant Secretary of State Daniel Russel said last week that the U.S. navy and air force would "continue to fully exercise" the right to operate in international waters and airspace, in order to preserve freedom of access for all countries. He added, "Nobody in their right mind is going to try to stop the U.S. Navy from operating - that would not be a good bet," according to Reuters.
AP/The Huffington Post UK

A state–run newspaper in Beijing published an editorial on Tuesday calling war between China and the US "inevitable" if Washington doesn't stop its protests over Chinese military actions in the South China Sea.

Reported by The Telegraph, the document on military strategy, published in The Global Times, said China's military is to switch to an offensive posture in the face of "grave and complex" security threats in the region.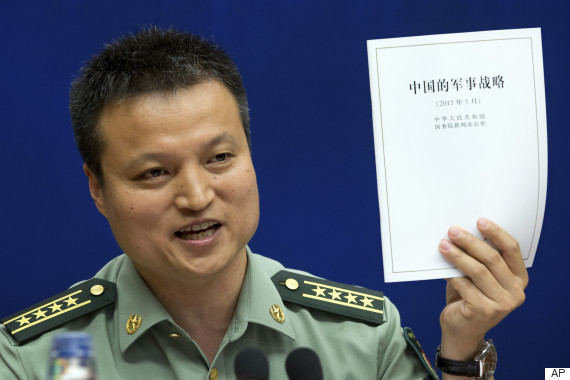 China's Defense Ministry spokesman Yang Yujun holds up a report on China's Military Strategy during a press conference at the State Council Information Office in Beijing, China

In addition, the 25-page report said the navy would be adding "open seas protection" to traditional remit of "offshore waters defense," while boosting its ability to counterattack and conduct joint operations at sea. The air force, meanwhile, will "endeavor to shift its focus from territorial air defense to both defense and offense," said the document, which was issued later on Tuesday in English and Chinese at a rare news conference presided over by uniformed officers.

The sabre-rattling comes days after a US aircraft carrier dismissed warnings from the Chinese military not to fly reconnaissance planes over the disputed Spratly Islands. The article added that China didn't want war with the US, "but if it were to come, we have to accept it." It said: "If the United States' bottom line is that China has to halt its activities, then a US-China war is inevitable in the South China Sea."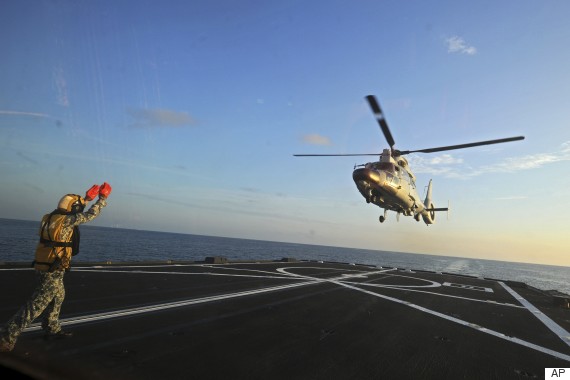 A Dolphin Z-9 helicopter of China's Navy missile frigate CNS Yulin flies off the deck of Singapore's Navy missile frigate RSS Intrepid during exercises by Singapore and Chinese navies in the South China Sea

China has bristled at what it sees as US interference in the region and says it is within its sovereign rights in developing islands made from sand piled on top of reefs and atolls. The US and many of China's neighbours see the island-building as an upending of the status quo by China to bolster its claims to the region and possibly pave the way for military installations far from its shores.

In regards the Spratly Islands, US officials say China has created about 800 hectares (2,000 acres) of dry land since 2014 that could be used as airstrips. The US argues that man-made constructions cannot be used to claim sovereignty and is closely watching for signs that China will seek to back up its claims by basing missile systems and fighter aircraft on the newly formed islands.
=================
China's frigate 'Yulin' in action in the South
Warning from state-run China newspaper as Beijing reveals plans for development of disputed South China Sea islands
By Julian Ryall, Tokyo
China's armed forces are to extend their operations and its air force will become an offensive as well as defensive force for the first time, in a major shift in policy that will strengthen fears of accidental conflict.

A policy document by the state council, or cabinet, said China faced a "grave and complex array of security threats", justifying the change.

The People's Liberation Army, including its navy and air force, will be allowed to "project power" further beyond its borders at sea and more assertively in the air in order to safeguard its maritime possessions, the white paper stated.
Chinese dredging vessels in the waters

The navy will add "open seas protection" to a traditional remit of "offshore waters defence", it said.

The posture risks escalating the tension over disputed islands in the South China Sea and elsewhere in the Pacific, where the United States is determined to protect the interests of allies like Taiwan and the Philippines.

Only last week, a US aircraft ignored repeated warnings from the Chinese military to fly a reconnaissance mission over the islands.
The on-going reclamation by China at Subi reef seen from Pagasa island

Global Times, a tabloid newspaper run by the Communist Party, said that China might have to "accept" there would be conflict with the United States.

"If the United States' bottom line is that China has to halt its activities, then a US-China war is inevitable in the South China Sea", said the paper, which is often seen as a mouth-piece of hardline nationalists in the government in Beijing.

State media reported on Tuesday that Beijing had begun building two lighthouses on reefs in the Spratly Islands, a smattering of outcrops that are claimed by an array of countries including not only China but also Vietnam and the Philippines.

Last month, satellite imagery revealed the Chinese had almost completed an air strip on another reef - Fiery Cross - while they are turning another rock, Mischief Reef, into a full island through land reclamation.

The Global Times article described the construction of runways, harbour facilities and buildings on the disputed Spratly Islands as the nation's "most important bottom line".

Speaking at a press conference in Beijing, Yang Yujun, a spokesman for the Defence Ministry, dismissed international criticism of China's policies in the South China Sea, claiming the work was the same as building roads and homes on mainland China and that it would benefit "the whole of international society".

"From the perspective of sovereignty, there is absolutely no difference", he said, adding that "some external countries are also busy meddling in South China Sea affairs".
Analysts say neither Washington nor Beijing appear to be in the mood to back down and that there is a serious risk of a minor incident in airspace around the islands escalating rapidly.

"I think the concern has to be that China misjudges the situation", said Robert Dujarric, director of the Institute of Contemporary Asian Studies at the Japan campus of Temple University.

"Neither party wants a war if it can be avoided, but there are red lines for both sides", he said. "I worry whether Beijing considers the US to be a declining power and assumes that Washington will back down if it shoots down a US observation aircraft".

Washington chose to "de-escalate" a major crisis that blew up after a Chinese fighter collided with a US Navy intelligence-gathering aircraft off Hainan Island in April 2001.

However, Prof. Dujarric said there would be a different response if a similar incident were to occur in what Washington insists is international air space over the South China Sea.

Recent developments have provoked new concerns in the region, with Ma Ying-jeou, the president of Taiwan, calling for the different nations laying claim to the South China Sea to put their differences aside and carry out joint development of natural resources.