Philippine military and commercial aircraft will keep flying over disputed areas in the South China Sea despite Chinese warnings over the airspace, President Benigno Aquino said on Monday.

"

We will still fly the routes that we fly based on the international law from the various conventions we entered into,

" Aquino told reporters when asked whether the Philippines accepted China's position.

The Chinese military last week ordered a US Navy P-8 Poseidon surveillance plane away from airspace above the disputed Spratly islands in the South China Sea.

The Chinese foreign ministry later insisted it had sovereign rights to those waters, maritime features and the airspace above.



China claims nearly all of the South China Sea, even waters approaching the coasts of the Philippines and other Asian neighbours

.

In recent years it has caused alarm with increasingly aggressive actions to assert its claims.
Philippine President Benigno Aquino speaks during an interview at the Malacanang Palace in Manila, in April 2015 (AFP Photo/Ted Aljibe)

It is undertaking giant land reclamation works in the Spratlys, located between the Vietnam and the Philippines, to turn reefs into islands that can host airstrips and other military facilities.

The Spratlys, about a thousand kilometres (620 miles) from the nearest major Chinese landmass, are one of the biggest and most strategically important archipelagos in the sea.

Aquino said the Philippines would not give up its territory to China, even as he acknowledged major differences in the capabilities of their militaries.

"

We will still exercise our rights over our exclusive economic zone

," he said.

"

Bottom line is, it has to be clear, we will defend our rights to the best of our abilities

."

Aquino said the Philippines was also working closely on the issue with the United States, his nation's longtime ally and mutual defence treaty partner, but declined to elaborate.

"Even in basketball, you don't reveal all your moves to the other coach," he said.

Vietnam, Malaysia, Brunei and Taiwan also have competing claims to parts of the South China Sea.

All claimants but Brunei have military facilities on Spratly islands that they control.

Philippine Air Force spokesman Colonel Enrico Canaya said its planes flew over the sea, including the route taken by the US Navy plane.

He declined to give more details.

The Philippine civil aviation authority said local carriers also flew over parts of the sea that were considered international air lanes.
Related Stories
Aquino: Philippines to fly usual routes over disputed reefs Associated Press
Philippines says important to uphold rights over South China Sea Reuters
U.S. says South China Sea reclamations stoke instability Reuters
Poseidon Over the China Sea The Wall Street Journal
China lodges complaint with U.S. over spy plane flight Reuters
Philippines to fly over disputed South China Sea: Aquino AFP
Beijing says Philippines, U.S. 'exaggerate China threat' in sea dispute Reuters
U.S. says South China Sea reclamations stoke instability Reuters
Philippine Defense Secretary Voltaire Gazmin (R) reviews the honor guards upon his arrival to lead the 117th Philippine Navy anniversary held inside the Naval station in Pascual Ledesma, Fort San Felipe, Cavite City, south of Manila May 25, 2015. REUTERS/Romeo Ranoco

FORT SAN FELIPE, Philippines (Reuters) - The Philippines is seeking a "stronger commitment" from the United States to help its ally, the defense minister said on Monday, as China asserts its sovereignty over disputed areas of the South China Sea.

China claims most of the South China Sea, through which $5 trillion in ship-borne trade passes every year, and the Philippines, Vietnam, Malaysia, Taiwan and Brunei have overlapping claims.

China said on Monday it had lodged a complaint with the United States over a U.S. spy plane that flew over parts of the disputed South China Sea in a diplomatic row that has fueled tension between the world's two largest economies.

Philippine Defense Minister Voltaire Gazmin said he would meet U.S. Defense Secretary Ash Carter on Wednesday in Hawaii to ask for a stronger commitment.

"

I will ask about the extent of the assistance they will give us, what they can do to help us because right now we are being oppressed

," Gazmin told journalists at a naval base south of Manila.

"

We feel concerned about what is happening in the West Philippine Sea (South China Sea). Freedom of navigation, freedom of flight is disrupted so that even U.S. aircraft flying at the international territory are challenged

."

A senior military official told Reuters Gazmin would ask Washington to provide second-hand planes, ships and coastal radar systems.

Next week, Gazmin will join President Benigno Aquino on a three-day visit to Tokyo to discuss the rising tension in the South China Sea.

He said the two sides would also discuss the transfer of Japanese military equipment to the Philippines to boost maritime security.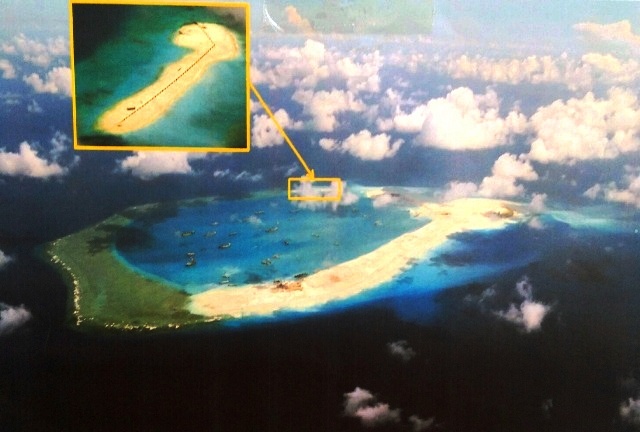 Among the photos released by the Armed Forces of the Philippines last month of reclamation activities by China on Subi Reef in the South China Sea claimed by the Philippines. AFP/Released

MANILA, Philippines — There have been seven recent incidents involving Chinese personnel demanding aircraft of the Armed Forces of the Philippines flying over the South China Sea to leave, a senior military official said.

Western Command chief Vice Adm. Alexander Lopez told the Philippine News Agency last week that Chinese attempts to challenge Philippine maritime patrol flights started on April 19.

A recent incident was reported on May 10, Lopez said.

"We told the pilots to answer them (Chinese) the correct way: That they are navigating in international airspace and we are doing our normal air patrol missions," Lopez said.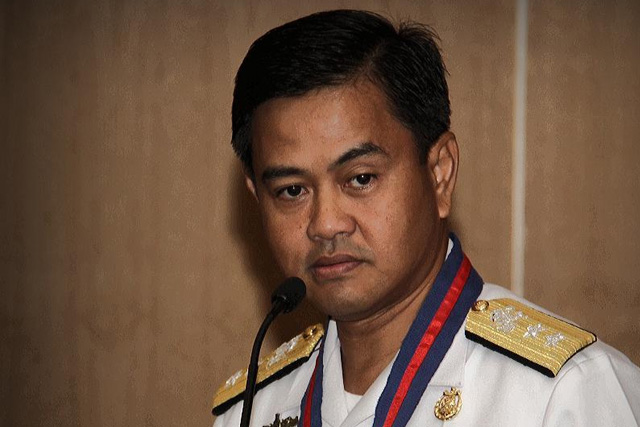 Western Command chief Vice Adm. Alexander Lopez. AFP PAO



The incidents occurred at the height of China's rapid and massive reclamation efforts to build man-made islands and military outposts in the disputed waterway, which the Philippines claims to have jurisdiction over.

Lopez said China's unilaterally declared no-fly zone over Subi Reef of the Kalayaan Island Group where China has reclamation work has no legal basis.

"There is no such thing. Again, it's an international airspace. (We have) freedom of flight," he added.

The ranking military official said China's presence does not intimidate Filipino pilots, who will continue their sovereignty patrols over the contested waters.

China issued a similar warning to the United States Navy whose most advanced surveillance plane, a Poseidon P-8A, recently took off from Pampanga's Clark Air Base to conduct a flight operation over the South China Sea.

Videos released by the US Navy last week show footage of aerial patrols in the Spratlys (Kalayaan) islands when China's Navy radioed the US spy plane to "go away quickly" and "identify" itself.

The American pilots addressed the warning the same way as Filipino pilots did.

"

I am a United States military aircraft conducting lawful military activities acting outside national airspace. I am with due regard in accordance with international law

," the P-8A Poseidon answered.

On Monday, China, however, complained over US' reconnaissance activities over the South China Sea, insisting that the American military aircraft "poses a potential threat to the security of China's maritime features, and is highly likely to cause miscalculation, or even untoward maritime and aerial incidents."

"It is irresponsible and dangerous and detrimental to regional peace and stability. The Chinese side hereby expresses strong dissatisfaction," China Foreign Ministry spokesperson Hong Lei said in a press briefing.
Rapid reclamation

The Western Command chief said that Chinese reclamation progress in Subi Reef has developed fast in recent months.

Only patches of dredging and reclamation could be discerned from patrols in the area on February 25, but solid "connections" can already be seen in the past weeks, Lopez said.

He also observed an average of three Chinese Coast Guard ships patrolling around Panatag (Scarborough) Shoal to drive away Filipino fisherfolk.

Panatag, which is also known as Bajo de Masinloc, has been placed by former Armed Forces chief Gen. Emmanuel Bautista under the operational jurisdiction of the Palawan-based Western Command since February 2014.

Lopez said the move was made "

to enhance our external defense capabilities

" and unify external defense efforts to be placed under only "

one commander

."