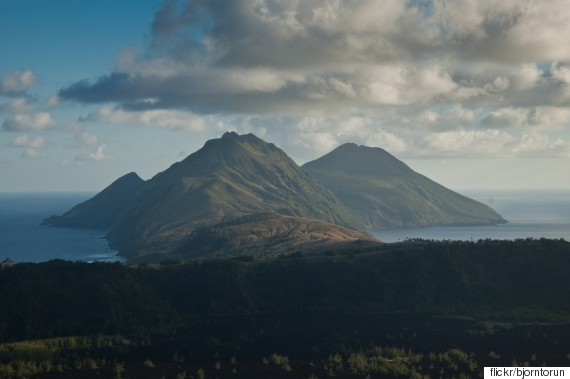 This Is Pagan Island
Pagan island is a biologically diverse, 10-mile-long island anchored by two volcanoes in the Commonwealth of the Northern Mariana Islands, an independent government associated with the United States.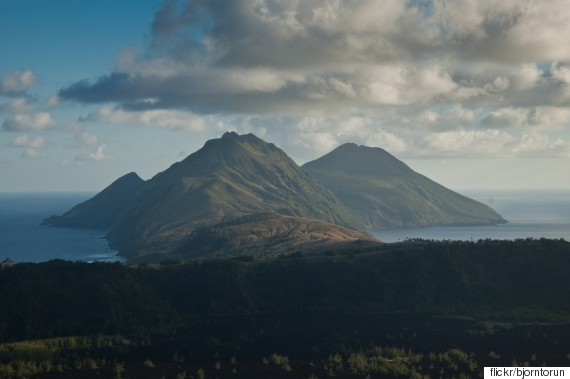 The island, nearly three-quarters of the way to the Philippines from Hawaii, is home to wildlife that includes an endangered fruit bat, endemic birds, huge spiders, lizards, and a rare tree snail. The island has been mostly uninhabited since 1981, when its population was evacuated because of volcanic eruptions.

It is one of the most habitable islands in the Mariana chain, says Michael Hadfield, a biologist at the University of Hawaii at Manoa, who spent time on the island documenting the wildlife on behalf of U.S. Fish and Wildlife Service.

Hadfield, a self-described conservational biologist who also administers the website SavePaganIsland.org, wrote in an op-ed that Pagan Island is a "biological treasure house."

It may also be the next U.S. bombing target.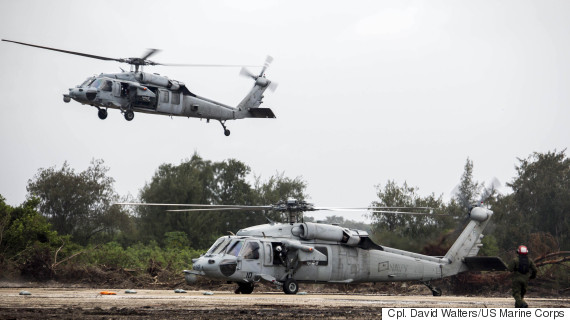 The Pentagon Wants To Use Pagan Island For Target Practice

Two Navy MH-60S Seahawk helicopters with Helicopter Sea Combat Squadron 25, Helicopter Sea Combat Wing Pacific land in 2014.

Pentagon officials have proposed leasing Pagan Island from Commonwealth of the Northern Mariana Islands to use for live-fire amphibious practice, including "guns-blazing war games on Pagan at least 16 weeks a year," the Los Angeles Times reports.

Hundreds of Marines would play out Pacific warfare attacks on Pagan's black sand beaches and in its fields, potentially participating with forces from other Pacific Rim nations such as Japan, South Korea and Australia, firing guns and mortars and dropping bombs from B-52s with support from drones, helicopters and fighter jets.

The exercises would be part of President Barack Obama's military "rebalance" to the Pacific. The Pentagon website says the island could be used for increased "joint military training capabilities by developing live-fire ranges and training areas."

Because China is investing in amphibious invasion capabilities, the Pentagon says the U.S. should be prepared, should war return to the Pacific.

Pagan is the only island in the area with beaches big enough to support large amphibious maneuvers, Marine Corps officials said.

Craig Whelden, executive director of Marine Corps forces in the Pacific, told the Los Angeles Times that it's the "perfect" training opportunity. He acknowledged Pagan's natural beauty and endangered species. "We would protect it like it was our own," he said.
Mariana Residents Aren't Buying It
Residents of Commonwealth of the Northern Mariana Islands, as well as the Sierra Club and other environmental groups, strongly oppose the U.S. military's plans.

The CNMI legislature called on Gov. Eloy Inos to deny the military's proposal, even though it would bring hundreds of millions of dollars in construction contracts to a floundering economy.

Inos will ultimately approve or deny the U.S. lease request. The Los Angeles Times reports that local lawmakers are worried that Congress can take the land by eminent domain under a 1975 compact between the U.S. and the Mariana Islands.

Jerome Aldan, mayor of the Northern Islands in the commonwealth, said military operations would essentially turn Pagan "into a wasteland."

A petition on Change.org asking the military to stop its plans received more than 6,500 signatures.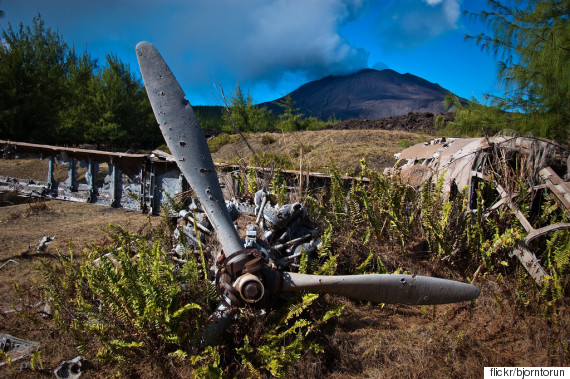 Pagan Is Uninhabited ... For Now
Remnants of Japan's military presence during WWII are peppered around Pagan Island.

Pagan is an ancestral home to the Chamorro people, who are believed to have settled there in the 1300s.

The island was evacuated in 1981, when Mt. Pagan, one of the largest and most active volcanoes in the Mariana Islands, erupted, forcing the entire population -- about 300 people -- to move to nearby Saipan.

While the military considers Pagan technically uninhabited -- Hadfield told HuffPost the reality is different.

"More than 50 families in Saipan consider Pagan their home island and have plans and desires to return to homesteads," he says. The island is occupied by about a dozen people, who he says live in shacks without plumbing, electricity or access to markets.

Cinta Kaipat, a lawyer and activist, told The Huffington Post that live-fire trainings and bombings will "kill the dreams of hundreds of families who long to resettle on Pagan and the other inhabited Northern Mariana Islands." Kaipat is Carolinian, the commonwealth's other indigenous group.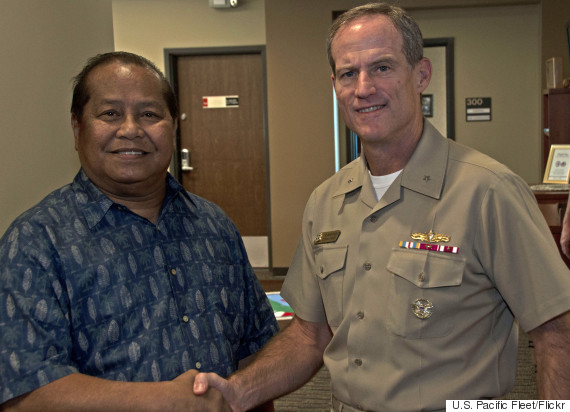 The Military's Final Proposal Could Address These Concerns
GUAM (May 9, 2013) - Gov. Eloy Inos (left) of the Northern Mariana Islands shakes hands with U.S. Navy Rear Admiral Tilghman Payne in Guam in 2013.

After holding several public hearings on its draft environmental impact statement, military officials announced they will look at ways to address concerns. The final impact statement will be released in July 2016.

According to the Saipan Tribune, possible compromises could include reducing the target areas for live-fire exercises on Pagan, as well as only dropping bombs on areas with more lava, to reduce the impact on wildlife.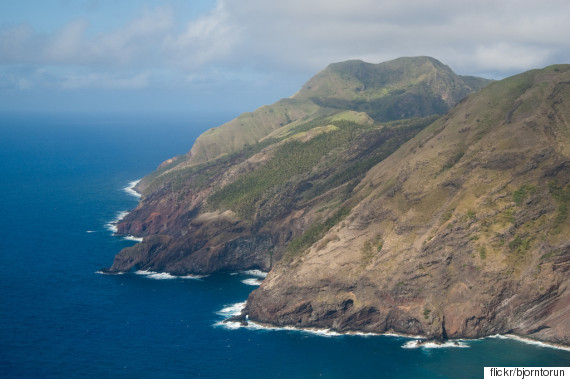 Will It Be Enough?

According to Hadfield's op-ed, "The proposed military activities will most certainly jeopardize Pagan and cause disturbances to its rich agriculturally and ecologically valuable topsoil, an increased risk of fire during dry summers, erosion and consequent destruction of Pagan's coral reefs, and would risk extinction of Pagan's unique plants and animals."

"The Marines would have you believe it's a volcanic wasteland and it's just not," Hadfield told The Huffington Post. "It's a very special place in the world."

Hadfield said that he's never been anywhere else where all the birds are native species. "There are no invasive birds; they all belong there," he said.

Whether the commonwealth governor will approve or deny the plan, or the U.S. will invoke eminent domain and proceed, bombing isn't likely to hit Pagan soil until at least 2017. Until then, the residents continue to protest and wait.

"There are so few places in the world today that are untouched. We shouldn't bomb those that remain," Angelo Villagomez, a former resident of Saipan who works for an environmental nonprofit in Washington, told HuffPost. "If the U.S. has to drop something on Pagan, it should be conservation dollars and scientific funding."
Adm. Sun Jianguo, left, from the Chinese People's Liberation Army's General Staff, chats with U.S. Secretary of Defense Ashton Carter in Singapore on Saturday. PHOTO: ROSLAN RAHMAN/AGENCE FRANCE-PRESSE/GETTY IMAGES
China's Island-Building Poses Dilemma for U.S.

Obama administration debates 'right balance' in response to actions in South China Sea

SINGAPORE—China's refusal to curtail island-building in the South China Sea has sparked a debate in Washington between those who believe such muscle-flexing shouldn't go unchecked, and others who fear the wrong response could trigger a military confrontation or a new Cold War.

ANALYSIS
The delicacy of the Obama administration's position was on display throughout the weekend at the Shangri-La Dialogue, a major security conference where Defense Secretary Ash Carter tried to convince Beijing to stop its building of islets in the disputed Spratly Islands.

U.S. officials say China's program, which has expanded dramatically in recent months, includes transforming semi-submerged reefs into forward bases with airfields fit for military use—sparking anxiety among China's neighbors and threatening America's decadeslong military primacy in East Asia.

Obama administration officials are struggling to find "that right balance" to exert pressure without inflaming the situation "more than it needs to be as we try to pursue our goals and objectives," a U.S. official said.

"There aren't any silver bullets to resolving this," said David Shear, a former U.S. ambassador to Vietnam who is now the assistant secretary of defense for Asian and Pacific security affairs.

In Singapore, Mr. Carter insisted the U.S. "will fly, sail, and operate wherever international law allows," despite Beijing's claims that coming too close to the islands would be provocative. He also listed new weapons systems the U.S. plans to move to Asia as part of its longer-term rebalance of military assets to the region, including the newest stealth destroyer, the Zumwalt.
Yet Mr. Carter couched his remarks in language that stressed a common vision of Asian prosperity in which "everyone rises." By portraying China as disrupting this status quo and defying international norms, he appeared to be carefully laying the groundwork for any future show of force.

China appeared unfazed by Mr. Carter's remarks and showed little indication of backing down. Zhao Xiaozhou, a Chinese colonel, said Mr. Carter "wasn't as tough as I expected."

On Sunday, Adm. Sun Jianguo repeated Beijing's line that the islands are China's sovereign territory and would benefit Asia, providing maritime search and rescue, disaster relief, and scientific research bases. "

There is no reason for people to play up the issue in the South China Sea

," said Adm. Sun, the deputy chief of staff of the People's Liberation Army's General Staff. The new islands "do not target any other countries, or affect freedom of navigation."

That leaves President Barack Obama facing a dilemma. His signature pivot to Asia early in his first term was meant to reassure allies worried about China's rise. But an overly aggressive approach now risks antagonizing China and could polarize the world's most vibrant economic region—a recurring dread of Asian countries that don't want to have to choose sides.

On the other side, Chinese President Xi Jinping is a strong nationalist who views the expanding islands as symbols of China's rise and its determination to recover territory lost during a "century of humiliation" at the hands of imperialist powers.

Even within the U.S. military, there isn't a consensus on how to approach the situation, the U.S. official said. Some officials inside U.S. Pacific Command see a need to respond to China's aggression, for example, while others in the Pentagon wonder if responding too muscularly is an overreaction.

"There's not a monolithic view in the Defense Department," the official said. "Everyone agrees that what they're doing is wrong, but it's a question of what actions do you take to influence that behavior."

Some analysts have argued for a grand bargain in which the U.S. would concede greater influence to China in its own backyard, possibly involving U.S. troop withdrawals to create neutral buffer zones.

That would effectively mean the end of the post-World War II status quo in which America has served as the predominant power in Asia, ensuring the right of unfettered access to shipping lanes.

Others, including some in Congress, believe the U.S. ultimately will have to demonstrate military resolve, despite the danger of miscalculation on both sides.

Sen. John McCain, (R., Ariz.), who was at the Shangri-La Dialogue with a bipartisan delegation of senators, also urged tougher action. "

We need to recognize this reality that China will likely continue with its destabilizing activities unless and until it perceives that the costs of doing so outweigh the benefits

," he said after Mr. Carter's speech. "

Clearly, it has not yet concluded that

."

In weighing how forcefully to press its case, though, the U.S. is constrained by the fact that China's island-building doesn't violate maritime law, and other claimants to the Spratlys, including Taiwan, Vietnam and the Philippines, have all expanded the geographical features they control, albeit not nearly as dramatically.

Nor has China threatened shipping in the South China Sea, which carries more than half the world's trade. And although the U.S. accuses China of militarizing the islands, so far it has identified only two light motorized artillery pieces on one of them.

Even after their expansion—in the past 18 months China has added 2,000 or so acres of land—the islands remain mere specks in the ocean and have limited military value. Situated some 660 miles from the Chinese mainland, they are virtually indefensible.

"It's not a Cuban missile crisis," said Euan Graham, the program director for International Security at the Lowy Institute, an Australian think tank.

Still, the islands could be tokens in a much wider struggle likely to play out over decades, as China seeks to break free from a chain of U.S. alliances stretching from Korea to Australia that it believes is throttling its rise.

Washington fears that China plans to set up an air-defense zone over the South China Sea as it has done over the East China Sea, including islands disputed with Japan. The expanded islets in the Spratly Islands could help enforce that regime.

Mr. Graham says China's long-term goal is to make the South China Sea safe for its navy, including submarines carrying nuclear ballistic missiles now bottled up in the shallower East China Sea. Ahead of the Shangri-La Dialogue China produced a defense White Paper that outlined its plans to project naval power farther afield.

Pressure for a short-term fix could rise as more Asian nations, alarmed by China's expansionism, line up behind the U.S.

Zhu Feng, a professor at Nanjing University, said he heard "growing flexibility" in China's language at the Shangri-La Dialogue this year. "They want to de-escalate," said Mr. Zhu, the director of the China Center for Collaborative Studies of the South China Sea.

There was also an indication the U.S. might show flexibility in at least one area. Ahead of the meeting, there was speculation that the U.S. might withdraw an invitation for China to attend the biannual Rim of the Pacific naval exercises off Hawaii next year.

But Adm. Harry Harris, the new commander of U.S. Pacific Command, who created a stir several weeks ago by labeling China's new islands a "Great Wall of sand," said the Chinese were still welcome.

"We'll see how it goes, but a lot can happen between now and then," he said.