Day of reckoning
But if capitalists now definitively rule China, they have had a very rough few days.
China's stock market slumped again Thursday, despite fresh moves by regulators to arrest a decline that has seen the benchmark index in Shanghai lose 24 percent since June 12 and $2.4 trillion wiped off equity valuations.
Reuters said the decline "raised questions about how much more firepower Beijing can bring to bear before a full-scale panic sets in."
The latest weapon appears to be a good old-fashioned dose of nationalism, as opinion leaders took to social media to urge investors to hold onto shares for the glory of the Chinese nation.
"Believe in my country," Cao Zenghui, deputy general manager of Sina Weibo, whose company runs China's main microblogging service and who personally has more than 100,000 followers, posting a national flag as his profile image.
"It is not just a stock market issue any more. I will fight with forces who short China's economy. No eggs can remain unbroken when the nest is upset."
The Shanghai Composite index fell 3.5 percent Thursday, closing below the psychologically important level of 4,000, one that many investors had believed the authorities would defend by buying shares.
The market had surged 150 percent in the year to June 12, most of those gains recorded in the past eight months.
Experts saw the authorities' hand in that feverish bull market, in an attempt to boost personal wealth and consumer spending at a time when economic growth is slowing and the property market has been weak.
But if so, it is in danger of backfiring.
In the past few days, Chinese authorities have eased monetary policy, suggested more pension funds would invest in stocks, cut trading fees and even relaxed rules on using borrowed money to speculate in the markets.
But none of it has provided more than short-lived relief.
Retail investors dominate the market, and many are believed to have borrowed heavily to reap quick profits when the market was rising, Reuters says.
Now, some are being forced to withdraw to avoid losing money they don't have.
In the past few days, rumors have circulated on the Wechat messaging service that "international capital" — or simply capitalism itself — was attacking China.
Goldman Sachs and the Hong Kong office of China Southern Asset Management were supposed to be profiting from short-selling the market – rumors that were later rubbished by the China Securities Regulatory Commission.
On Thursday, Chinese media also implied that George Soros or Morgan Stanley might be to blame.
Fan Shaoxuan, a senior executive at Weibo TV who has more than 12,000 followers on Sina Weibo, posted a photograph showing the slogans: "Hold stocks with confidence. Win glory for the country even if you lose the last penny."
Hostile foreign forces often get blamed for trying to undermine China, and were said by the government to be behind pro-democracy demonstrations in Hong Kong last year.
Columnist Liao Baoping wrote that rumors of an attack by international capital often arise when the market falls sharply, "because people want to combine speculative behavior with national security and hope the Chinese government will introduce more policies to save the market."
People use international conspiracy theories as excuses, he argued, because they don't want to admit to losing money because of their own misjudgment.
Experts say more action by the authorities, like the suspension of Initial Public Offerings (IPOs) or the outright buying of shares by state-owned companies, are possible.
"The government has more tools it could use to support equities, but these moves could be short-lived if investors remain negative," wrote Oliver Barron of NSBO in a research note cited by Reuters.
"Retail investors account for about 85 percent of turnover, and the recent correction has greatly endangered their belief in the capital market opening up and reform, and might even cause social unrest."
In a research note cited by the Financial Times on Monday, Anne Stevenson-Yang of JCap Research said market valuations had nothing to do with financial fundamentals of quoted companies, saying it was "more a game of Russian roulette now than a reasoned calculation of future share values."
The Chinese equity market now has more than 90 million individual investors, according to China Securities Depository and Clearing Co., compared to the Communist Party's 87.8 million reported members at the end of last year.
"Ultimately, market participants all understand that the A-share bubble has been engineered to distract the average person from sinking values and illiquidity in the property markets," Stevenson-Yang wrote, predicting that efforts to prop up the market would ultimately fail and the bubble would eventually burst, as indeed now seems to be happening.
"The pools of cash owned by Chinese people are regularly redirected to the asset classes that the government needs to rise and that elites are tapped into, and it behooves the political elite to delay recognition for as long as possible of the drastic losses that are in those assets and would be proven beyond doubt if left to market forces," she wrote, according to the FT.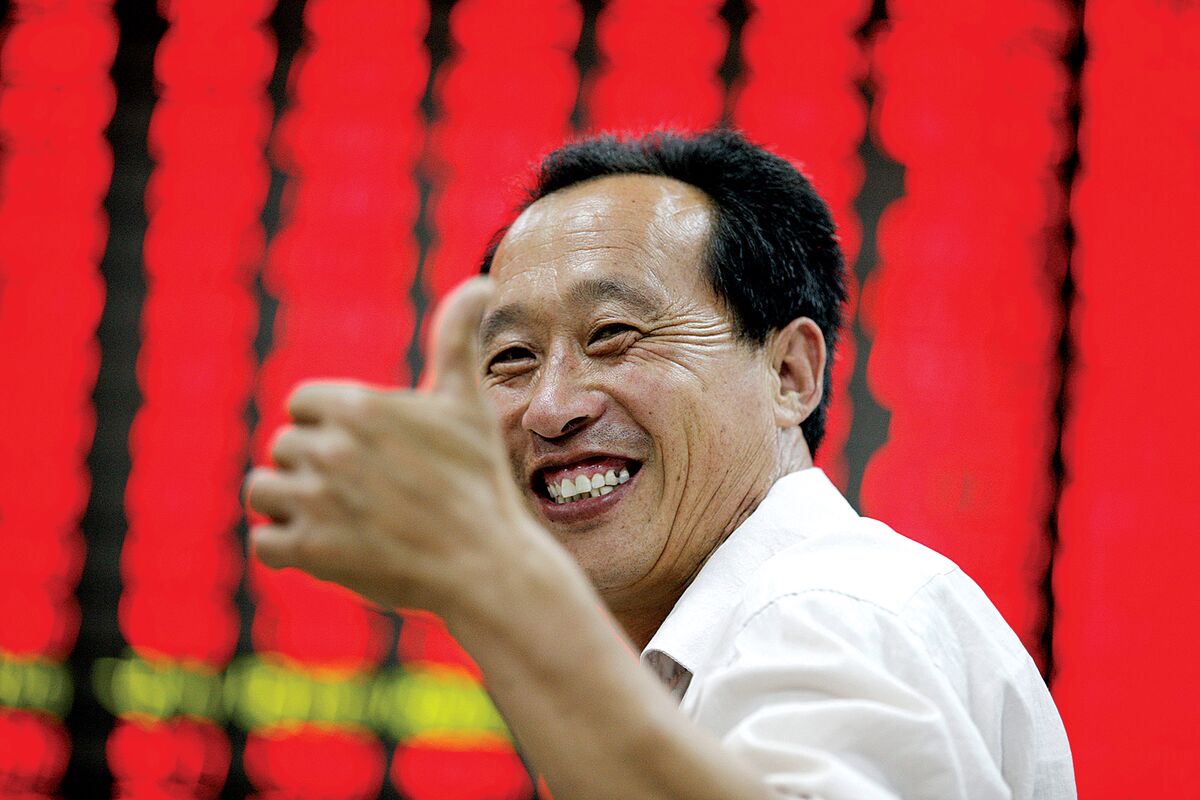 http://www.bloomberg.com/news/articles/2015-07-09/who-blew-up-china-s-stock-bubble-
Who Blew Up China's Stock Bubble?
Beijing urged people to buy stocks. Now it's begging them to stop selling
by Brian BremnerEnda Curran - July 8, 2015

In China, the invisible hand of the market sometimes needs help from the iron fist of the state. That's certainly true after a meltdown vaporized $3.5 trillion in the value of shares traded on the Shanghai and Shenzhen exchanges.
President Xi Jinping's government isn't being subtle in its campaign to reflate the bubble it had a big role in creating. The government has suspended initial public offerings and eased rules on margin loans, even allowing investors to use their homes as collateral to borrow money to buy stocks. On June 27, the People's Bank of China cut its benchmark interest rate and the amount of reserves certain banks are required to hold. Days later, it offered financial support to a group of 21 brokerages that have pledged to buy 120 billion yuan ($19.3 billion) worth of shares and hold them for a year. On July 8, China's securities regulator banned major company shareholders (those with stakes exceeding 5 percent), corporate executives, and directors from selling their shares for six months.
So far, the government's moves have had little impact. Since peaking on June 12, the Shanghai Composite Index has fallen almost 32 percent, dropping more than 5 percent on some days. The selling pressure in China has been so severe that on July 8, about 1,300 companies halted trading in their stocks on mainland exchanges, freezing $2.6 trillion worth of shares, or 40 percent of the stock market capitalization. On July 7, Hong Kong followed the mainland exchanges into bear market territory.
The stock market rout, the worst mainland market slump since 1992, has been an embarrassment to Xi and Premier Li Keqiang, who have vowed to push through more than 300 reforms aimed at reducing state intervention and letting market forces play a bigger role in China's $10 trillion economy.
As Chinese stocks made a 150 percent run from July 2014 through June 12, state-controlled media both urged individual investors to buy and characterized the stock boom as an affirmation of Xi's policies. "This is a real testing moment for the leadership," says Zhao Xijun, deputy dean of Renmin University's School of Finance. "The evaporation of fortunes of more than 80 million individual investors would pose unthinkable social problems for the country."
Then there's the risk that the stock market bust will complicate efforts to bail out the country's heavily indebted property developers, corporations, and local governments. A credit binge and supercharged spending on infrastructure and housing delivered 10 percent annual economic growth from 1980 to 2012. Now the economy has decelerated to about 7 percent annual growth and is awash in debt. Government, corporate, and household borrowing totaled $28 trillion as of mid-2014, or about 282 percent of the country's gross domestic product, according to McKinsey.
A thriving stock market figured into Xi's bigger effort to steer China away from its reliance on bank lending and develop a diversified financial sector with vibrant equity and bond markets to fuel growth. There's been some progress. Most interest rates, except for the benchmark deposit rate, are now set by market forces, and Xi's drive to root out government corruption continues to roll ahead.
A trading link was established last year between the Shanghai and Hong Kong exchanges to allow foreigners greater access to Chinese stocks. In a country where Mao Zedong once derided market-leaning party members as "capitalist roaders," there are today more individual stock investors, 90 million, than Communist Party members.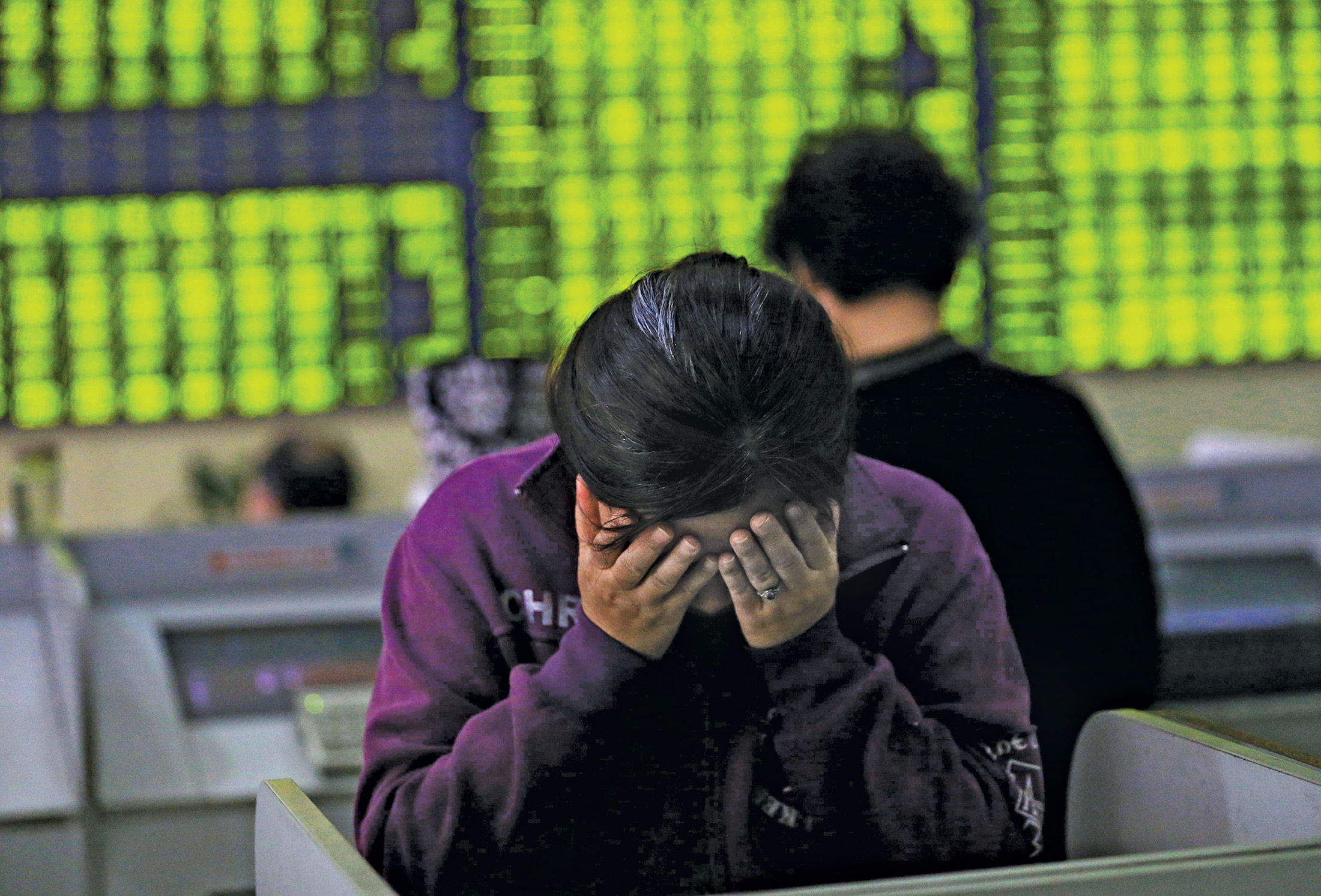 Source: Corbis
Unleashing market forces is what Western economists and the International Monetary Fund have long prescribed, but Minxin Pei, a government professor at Claremont McKenna College, says another agenda may be at work. Beijing goosed the stock market to shore up public support in a slowing economy and give debt-burdened companies a lifeline to equity financing, he says. Chinese companies have raised $72 billion this year in initial and secondary stock offerings, data compiled by Bloomberg show. "Many companies that should go out of business have tapped the stock market for funds," Pei says.
At the mid-June high, shares on the Shanghai Composite Index were three times more expensive than any of the world's top 10 markets based on estimated earnings. Even after the recent plunge, the median valuation of stocks on the Shanghai and Shenzhen exchanges is almost triple that of the companies listed on the Standard & Poor's 500-stock index. Margin account balances, a measure of shares bought with borrowed money, are still sizable at 1.05 trillion yuan as of July 8, according to the Shanghai Stock Exchange.
So far the government-led rescue mission has mostly helped prop up the shares of mainly big state-owned enterprises such as PetroChina, China Merchants Bank, and China Southern Airlines. Selling in the broader market, particularly with small-cap stocks, remains relentless. The CSI Smallcap 500 index is down more than 40 percent since June 12.
The government's cheerleading as stocks rose—and heavy-handed response when they collapsed—has hurt its credibility with global investors. "This saga shows that the leadership has not dealt with financial reform and liberalization well so far," says Liu Li-Gang, chief China economist at Australia & New Zealand Banking Group. And even if the rescue mission works, Claremont McKenna's Pei says China will succeed only in postponing a necessary and painful corporate reckoning: "The cleanup bill will be much bigger," he says.
Ultimately, Xi's government may be making a common mistake among novice investors: doubling down on a losing trade. "The more resources authorities commit to propping up the stock market, the more they ratchet up the potential fallout risks should the market continue to collapse," says Andrew Wood, an analyst at BMI Research. The government-controlled media, ever optimistic, continues to make the case for buying shares. "Rainbows always appear after rains," said a recent editorial by the People's Daily, the voice of the Communist Party of China.
At least one Western investment bank agrees. Kinger Lau, China strategist at Goldman Sachs, predicts the large-cap CSI 300 index will rally 27 percent over the next 12 months. "China's government has a lot of tools to support the market," Lau says. "We are still positive."
—With Jonathan Burgos
The bottom line: With Chinese stock prices down 32 percent since June 12, Beijing is scrambling to prop up the market.
For more, read this QuickTake: The People's Currency
=======================================
China's Stock Market Could Determine Communist Party's Fate
By Fan Yu
Tuesday, July 07, 2015
A last-ditch struggle for the Chinese Communist Party's legacy and legitimacy could be playing out on the nation's stock markets, as the regime desperately tries to prop up the last bright spot in the Chinese economy. After a huge market rally over the last 12 months, China is in the midst of the world's worst equities selloff in years. Shares tumbled again last week even as Beijing introduced multiple new programs to plug losses.

The benchmark Shanghai Composite Index dropped 5.8 percent last Friday and 12.1 percent for the week. It is more than 32 percent off its recent peak on June 12, wiping out more than $3.7 trillion in value. The smaller Shenzhen Composite plunged 16.2 percent last week, while the startups-heavy ChiNext declined 10.8 percent. Both of those exchanges are more than a third lower from their recent highs last month.

Given the state's hand in controlling China's financial markets, a total stock market collapse will be a catastrophic defeat for the Chinese Communist Party.

Market regulators and the People's Bank of China met over the weekend of July 4 to hammer out stock market bailout provisions, including halting all IPOs and providing unlimited funding to the state-directed margin finance firm, China Securities Finance Corp.

Heading into 2015, Beijing was facing its worst economic growth outlook in more than two decades. Manufacturing activity slowed and the once-booming construction sector deflated, displacing millions of migrant workers.

Encouraging Stock Purchases
The regime saw a burgeoning stock market as a lifeline.
A stable, gradually increasing stock market pushes the economy forward.

Rallying stock prices can alleviate companies' financing crunch, and allows local governments and banks to refill their coffers. It also enriches investors and serves as a distraction for the unemployed, all of which promotes social stability. China proceeded to loosen its monetary and fiscal policy.
It also did what it knew best: Beijing instructed its state media to promote investing.

During 2014, Xinhua and regime mouthpiece People's Daily newspaper published daily commentaries encouraging the world's largest population to buy more stocks.

In an article from Aug. 31, 2014, Xinhua said that "economic and social development will bring precious confidence and strong support into the stock market." And the Chinese populace did just that. Money flowed in from the property markets. The number of new brokerage accounts opened in the first four months of 2015 was more than 2012 and 2013 combined.

The Shanghai Stock Exchange exceeded 200 billion yuan ($33 billion) in average daily turnover, or the total value of shares exchanging hands, for the first time in four years on Nov. 28, 2014. That figure ballooned to 1 trillion yuan ($161 billion) in late April 2015. From Aug. 1, 2014 to June 12, 2015, the Shanghai Composite more than doubled, gaining 136 percent. Most new investors in China were consumers with very little financial experience.

Many joined because it was the latest fad, their friends all bought stocks, and the media and government promoted it.
Others, sensing opportunities to compound earnings, used margin credit to borrow money from brokerages to buy more shares.

The meteoric rise in the stock market wasn't grounded in fundamentals, and Chinese shares became some of the most overvalued in the world. On June 24, the Shanghai Composite traded at a trailing price-to-earnings ratio, a measure of the relationship between the stock price and its past earnings, of around 20 times.

Desperate Measures
But during the stock market downturn in the last two weeks, some of the same mechanisms the Chinese regime employed to boost the markets failed to work. On June 27, China's central bank cut benchmark interest rates.

After those measures did little to lift sentiment, on July 1 the China Securities Regulatory Commission (CSRC) eliminated certain margin trading restrictions it had previously put in place to discourage speculation. After the market declined again on July 2, Chinese regulators announced last Thursday that it would investigate and prosecute short sellers.

Those efforts failed to stanch the bleeding, as the Shanghai Composite tumbled another 5.8 percent on July 3. But some of the recent rule changes reek of desperation. The new margin rules implemented last Wednesday allowed investors to use real estate as an acceptable form of collateral on their margin loans.

In effect, investors are literally gambling their lives away by betting their house on the stock market.

Thursday's announcement of investigating short sellers was largely a nationalist PR stunt, apparently in response to rumors circulating on social media forums about certain "hostile foreign capitalist forces" who stand to benefit from short selling (Goldman Sachs andGeorge Soros?).

In reality, outside of institutional investors shorting to hedge their long positions, there are very few naked short sellers in China, a fact confirmed by a CSRC posting on Sina.com June 30.

'It's a Vicious Cycle'
The root cause of the selloff is the preceding boom.
Investors are spooked—the same investors who piled into the stock market are now selling their shares. They are selling shares to salvage their portfolios. Finance fundamentals tell us that when there are more sellers than buyers in the stock market, the bid-ask spread widens and prices will eventually drop.

What exacerbates the situation in China is the 2.2 trillion yuan ($350 billion) in margin debt. Independent estimates cited by Reuters peg the real debt at around $645 billion including the shadow banking sector.

Such debt is collateralized by the underlying stock holdings, and as stock prices fall (thus decreasing the value of collateral), investors must sell even more shares to meet margin calls.

"The panic is spreading as more investors are forced to liquidate due to leveraged funding. The further the market declines, the more investor are forced to liquidate. It's a vicious cycle," Zhou Xu, an analyst at Nanjing Securities, told the Journal.

Losing Grip
It's easy to look at the Chinese market collapse and say it was just a matter of time before the bubble burst. On the ground, this is a tragedy. The Chinese, traditionally, are hard-working folks who save the majority of their earnings.

A large portion of the millions of new Chinese investors are migrant workers, retirees, and the uneducated. They looked to the Chinese Communist Party, who directed them to steer their savings into the stock market. And now they stand to lose, big time.

On July 4, China's State Council, its central bank, and the CSRC convened in an emergency meeting and decided to halt all new initial public offerings.

Separately, more than 21 state-owned brokers including Citic Securities Co. announced that they would invest 15 percent of their net assets, or no less than 120 billion yuan ($19 billion) for direct stock purchases.

The PBOC on July 5 injected 100 billion yuan ($16 billion) into China Securities Finance Corp, and announced unlimited funding support, allowing the agency to provide further margin loans to finance additional stock purchases. This in theory could alleviate having to unwind trades to meet margin calls, at the cost of worsening China's existing bad debt problem.

These are some options of the last resort, and Beijing better hope these measures work.A public letter from five finance professors on how the Chinese regime should deal with the stock market crisis, posted on Xinhua on July 2, called the government's stabilization efforts last week "inexplicable."

The letter also warned that any stock market crash would be catastrophic to the middle class and the "Chinese Dream," which shouldn't be taken lightly.

Capital and wealth is one of the Chinese Communist Party's only remaining grips on power.

A stock market collapse could very well spell its doom. After all, with more than 90 million stock investors in China as of June 30, there are now more "capitalists" than Communist Party members.
=======================================
http://www.bloomberg.com/news/articles/2015-07-04/china-stock-brokers-set-up-19-billion-fund-to-stem-market-rout
China is suspending initial public offerings, creating a market stabilization fund and telling investors not to panic in an effort to shore up its stock market, which has had the largest three-week drop since 1992.
According to company filings to the exchanges Saturday evening, 10 companies will suspend IPOs on the Shanghai Stock Exchange and 18 will do the same at the Shenzen Stock Exchange.
The move was ordered at a meeting of the State Council, China's cabinet, and will be enforced by the China Securities Regulatory Commission, the financial magazine Caijing reported on its website on Saturday, without saying how it obtained the information or how long the planned freeze would last.
Calls by Bloomberg News to the press office of China's State Council went unanswered outside regular business hours.
Halting IPOs may stem the diversion of funds away from current listings. The move came hours after major Chinese brokerage firms pledged billions of dollars to form a stock market rescue fund.
The People's Daily, the official newspaper of China's ruling Communist Party, urged investors to stay calm. Moves to stabilize the market take time to transmit, the paper said on Weibo, China's Twitter-like microblogging site. "During this process, investors should have confidence and patience, instead of losing their minds and not knowing what to do amid anxiety and panic," it said.
Abrupt End
The Shanghai Composite Index fell 5.8 percent Friday to 3,686.92, bringing the decline since its June 12 peak to 29 percent. More than $2.8 trillion of value has been erased from the Chinese stock market during that time, an abrupt end to the longest bull market in the nation's history. Stocks entered a bear market on June 29 as leveraged investors headed for the exits; China's securities regulator that day urged investors to be rational.
The Shanghai gauge had surged more than 150 percent in the 12 months prior to June 12 as investors assessed that monetary stimulus would revive China's economy. Strategists at BlackRock Inc., Credit Suisse Group AG and Bank of America all said in June that Chinese equities were in a bubble.
Funds will be returned to investors on Monday for the new offerings that had already started the subscription process, the companies said in filings to the exchanges.
With the Shanghai gauge tumbling more than twice as fast as any other index worldwide, regulators also pledged to investigate potential market manipulation and have unveiled other measures to comfort the nation's 90 million individual investors. The government on Friday said it planned to make it more expensive to speculate on stock index futures.
Highly Capitalized
The Securities Association of China said Saturday in a statement on its website that a group of 21 brokerage firms led by Citic Securities Co. will invest the equivalent of 15 percent of their net assets as of the end of June, or no less than 120 billion yuan ($19.3 billion) in total, to set up a stock-market fund.
The fund will invest in exchange-traded funds of highly capitalized stocks, it said. The funds should be available by 11 a.m. on Monday, Caijing said in a separate report.
In another development, top executives from 25 Chinese mutual funds, including China Asset Management Co. and E Fund Management Co., promised to "actively" buy stock funds and hold them for at least one year, according to a statement on Asset Management Association of China's official website.
'Fleeting Effect'
The moves come after measures to shore up equities failed to stop margin traders from unwinding positions at a record pace. The People's Bank of China cut interest rates last week, while margin-trading rules were eased and trading fees were cut Wednesday.
The brokers' fund to bolster equities may have only "a fleeting effect when daily turnover has reached 2 trillion yuan," according to Hao Hong, China equity strategist at Bocom International Holdings Co. in Hong Kong.
"This 120 billion yuan won't last for an hour in this market," Hong said by phone from Beijing Saturday. "It might benefit blue-chip stocks, as investors may see them as value, but the bursting of the bubble in small-cap/tech stocks is likely to continue."
Small-Cap Stocks
The ChiNext index of smaller companies in Shenzhen traded at a record 131 times reported earnings last month, five times the level of the Shanghai Composite Index, after tripling over the past year. The gauge had lost more than 30 percent from its June 3 peak through Friday.
"The market's most acute concern is still these smaller cap stocks, as investors levered up to buy them and now margin lending curbs hit them the hardest," Hong said. "With their valuation in the stratosphere, nobody is willing to step in and bolster these stocks."
The brokers pledged not to reduce any proprietary investments in the equity market as long as the Shanghai Composite Index stays below 4,500, the association said. Listed brokers will actively buy back outstanding shares, while encouraging their parent companies to increase holdings, according to the statement.
The economic fundamentals that had justified the stock market's rally before the rout hadn't changed, the brokers' statement said. "It is therefore our duty to unite in stabilizing this market," the group said.
'Downward Pressure'
Li-Gang Liu, chief China economist for the Australia & New Zealand Banking Group Ltd., said the market would eventually find its own level.
"If a listed company thinks its shares are undervalued, it could buy back shares. Such purchases shouldn't be triggered by any kinds of administrative calls," he said. "I believe the market is still under big downward pressure."
The government could take other steps to support the market. China's central bank-affiliated Economic Observer reported last week that the government is considering reducing the stamp tax, while the finance ministry said it will allow the national pension fund to invest in shares.
On Friday, China's securities regulator said it will revise rules to encourage foreign investment in the market. Chinese media also reported that a unit of China's sovereign wealth fund has been buying exchange-traded funds in the past week to support the market.
=======================================
http://chinhdangvu.blogspot.com/2015/07/the-incoming-collapse.html
As Europeans hold their breath awaiting a referendum that will help determine Greece's future in the euro zone, a stock market slump on the other side of the world is causing barely a ripple in global markets.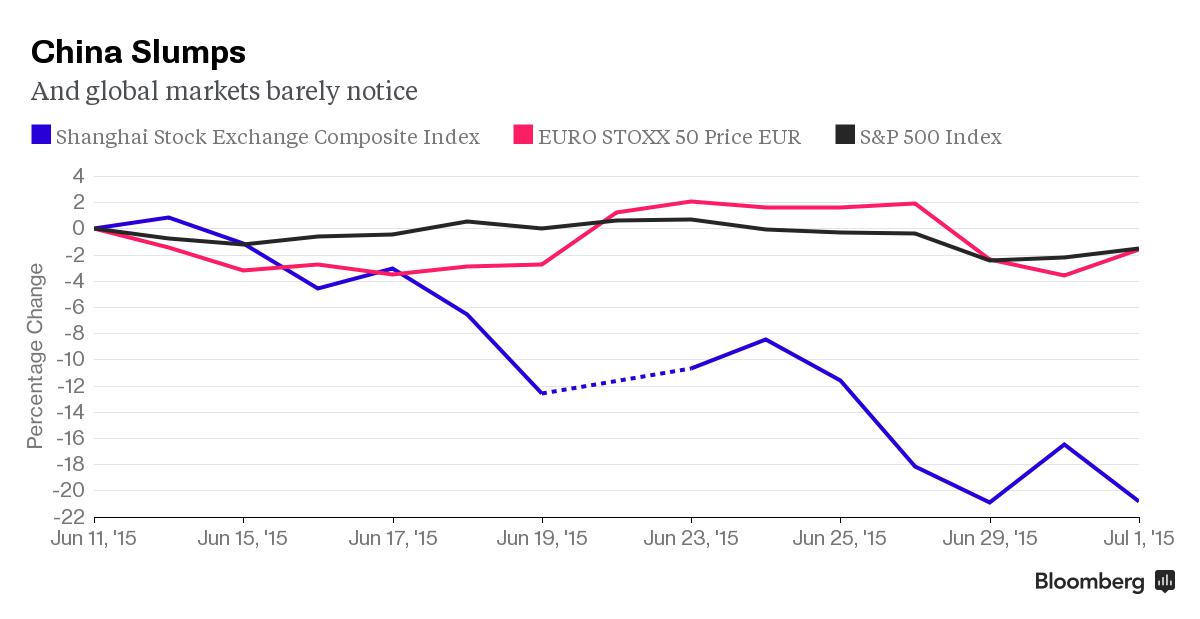 A dizzying three-week plunge in Chinese equities has wiped out $2.36 trillion in market value -- equivalent to about 10 times Greece's gross domestic product last year.

Still, the closed nature of China's financial markets is allowing the rest of the world to watch in wonder without seeing spillovers into their markets... yet.
"What happens in China will turn out to be far more consequential than any sting that Greece may deliver over the coming weeks or months,'' said Frederic Neumann, co-head of Asian economic research at HSBC Holdings Plc in Hong Kong.
"As China's equity markets lose their roar, the risk is that demand more broadly on the Mainland could take a hit. That would knock out an essential engine of world demand over the past decade. As dramatic as events in Greece currently appear, however, ultimately, it's difficult to see these proving decisive for the world economy.''
For now, even within China, economists find it tough to draw a link between its retail-driven stock market swings and the economy.
A recent survey by Bloomberg shows analysts split on whether a rout would have any decisive effect on growth.
One thing to note: With China opening its capital borders, roller-coaster rides on its stock market will have increasing repercussions for investors from London to New York and Tokyo.
But that's farther out in the future than the more immediate concerns in Greece.