Kerry: US Will Not Accept S. China Sea Restrictions
Pamela Dockins - VOA
U.S. Secretary of State John Kerry directly called on China Thursday to stop building artificial islands in the South China Sea and halt construction efforts on the disputed lands.
During a regional forum of the Association of Southeast Asian Nations (ASEAN) in Malaysia this week, diplomats again struggled to agree on a joint statement on the territorial dispute.
Kerry called it "essential" to maintain freedom of navigation and overflight in the region.
"Despite assurances that these freedoms will be respected, we have seen warnings issued and restrictions attempted in recent months. Let me be clear: The United States will not accept restrictions on freedom of navigation and overflight, or other lawful uses of the sea," he said.
Kerry urged the countries to commit to stop the construction and militarization of features in the region to lower tensions.
Growing regional tensions
China, Vietnam, Malaysia, Taiwan and the Philippines have overlapping claims in the remote seas that are vital shipping lanes and fishing grounds. But this year Beijing rapidly ramped-up land reclamation efforts and built an airstrip to shore-up its claim.
On Wednesday, China Foreign Minister Wang Yi said his country had stopped its land reclamation projects on the waterway. Kerry said he hopes that is true, but has not confirmed it.
"What's really needed though is an agreement to stop not just the reclamation but the large-scale construction and militarization."
ASEAN foreign ministers Thursday agreed to back the Iran nuclear deal, known as the Joint Comprehensive Plan of Action (JCPOA).
In a Thursday statement, ministers said if the deal is fully implemented, it will "contribute to building confidence in the exclusively peaceful nature of Iran's nuclear program."
Kerry marked the 70th anniversary of the U.S. nuclear bombing of Hiroshima, on Thursday, likening the impact of the event to the significance of the Iran nuclear deal.
"It is impossible not to have thoughts about it," said Kerry, as he sat down for talks with Japanese Foreign Minister Fumio Kishida on the sidelines of the ASEAN forum.
"Needless to say, it is a very, very powerful reminder of not just the impact of war lasting today on people and countries, but it also underscores the importance of the agreement we have reached with Iran to reduce the possibility of more nuclear weapons," he added.
An estimated 140,000 people were killed as a result of the August 6, 1945, bombing of the Japanese city of Hiroshima. An additional 70,000 were killed when U.S. planes dropped an atomic bomb on the city of Nagaski three days later.
The U.S. and its allies said the bombings helped bring an end to World War Two.
US, Russia meeting
Kerry also said that he and Russian Foreign Minister Sergei Lavrov spoke about an agreement to investigate chemical weapons attacks in Syria.
Kerry said that they agreed on the language of a new U.N. Security Council resolution that would lead to investigations into who is responsible for the attacks, and he believes the process will allow investigators to hold perpetrators accountable.
Foreign ministers and senior officials from 26 countries attending the ASEAN forum also addressed a range of other issues, including cybersecurity, disaster relief and environmental protection.
The State Department said Kerry also announced a USAID oceans and fisheries partnership, with an initial commitment of over $4 million to help address the threat of illegal and unregulated fishing in Southeast Asia.
Kerry also announced that the United States will provide $600,000 in disaster assistance to Myanmar, where the Red Cross estimates that floods and landslides have now affected nearly 180,000 people.
Kerry is nearing the end of a five-nation tour that has also included stops in Egypt, Qatar and Singapore.
Kerry in Vietnam
Later Thursday, he travels to Vietnam, where he will mark the 20th anniversary of renewed bilateral ties that were severed four decades ago as the protracted Vietnam War came to an end.
Over the years, the United States and Vietnam have forged strong economic ties, with two-way trade topping $36 billion last year.
Both countries are part of negotiations for the Trans-Pacific Partnership, a massive 12-nation trade deal.
However, the United States has continued to raise concerns about Vietnam's human rights record, including its detention of dissidents.
In July, U.S. President Barack Obama hosted Vietnamese Communist party General Secretary Nguyen Phu Trong at the White House.
WATCH: VOA's Pam Dockins in Kuala Lumpur
South-east Asian foreign ministers say China's land reclamation poses risk to stability of region, but Beijing hits back at 'division and antagonism'
US secretary of state, John Kerry, with China's foreign minister Wang Yi this week, during the East Asia Summit foreign minister meeting in Kuala Lumpur, Malaysia. Photograph: Fazry Ismail/EPA
China's land reclamation in the South China Sea has "increased tensions" in the region, south-east Asian foreign ministers said at the close of talks dominated by Beijing's island-building.
The declaration, contained in a final communique, followed a warning by US secretary of state John Kerry that Washington would not tolerate any restrictions on freedom of navigation in the strategically important waters.
The south-east Asian ministers' joint final statement noted "the serious concerns expressed by some ministers on the land reclamations in the South China Sea".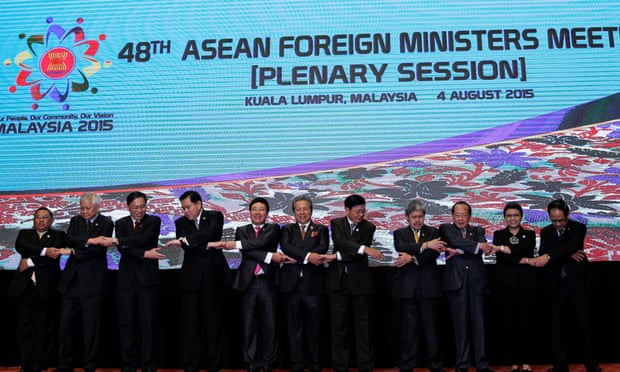 It said the land works "have eroded trust and confidence, increased tensions and may undermine peace, security and stability in the South China Sea" – but without specifically singling out Beijing.
The communique was hashed out after two days of wrangling over how hard to pressure China on its controversial drive to expand tiny reefs and build military posts in the disputed waters.
China claims most of the South China Sea, through which $5tn in ship-borne trade passes every year. The Philippines, Vietnam, Malaysia, Taiwan and Brunei also have overlapping claims.
In a statement released just before midnight on Thursday, China's foreign ministry accused the Philippines foreign minister of teaming up with his Japanese counterpart to "attack" China's South China Sea policy.
"First off, the situation in the South China Sea is generally stable, and there is no possibility of a major clash," the statement cited Chinese foreign minister Wang Yi as telling the forum, which was attended by foreign ministers from around the region.
Advertisement
"China opposes any non-constructive words and acts which widen division, exaggerate antagonism or create tensions."
The issue took centre stage at the series of diplomatic meetings this week in Kuala Lumpur, hosted by the 10-nation Association of South-east Asian Nations (Asean). They also included envoys from two dozen other nations such as China and the United States.
A day after voicing concern to his Chinese counterpart Wang Yi over the potential "militarisation" of the South China Sea, Kerry said freedom of navigation must be maintained.
"Let me be clear: the United States will not accept restrictions on freedom of navigation and overflight, or other lawful uses of the sea," he told reporters.
Diplomatic sources said the Philippines and Vietnam – which have been in the most direct confrontation with China – had called for strong language.
But they said there had been pushback from Beijing's traditional allies among the association. Cambodia, Laos and Myanmar traditionally side with China within Asean.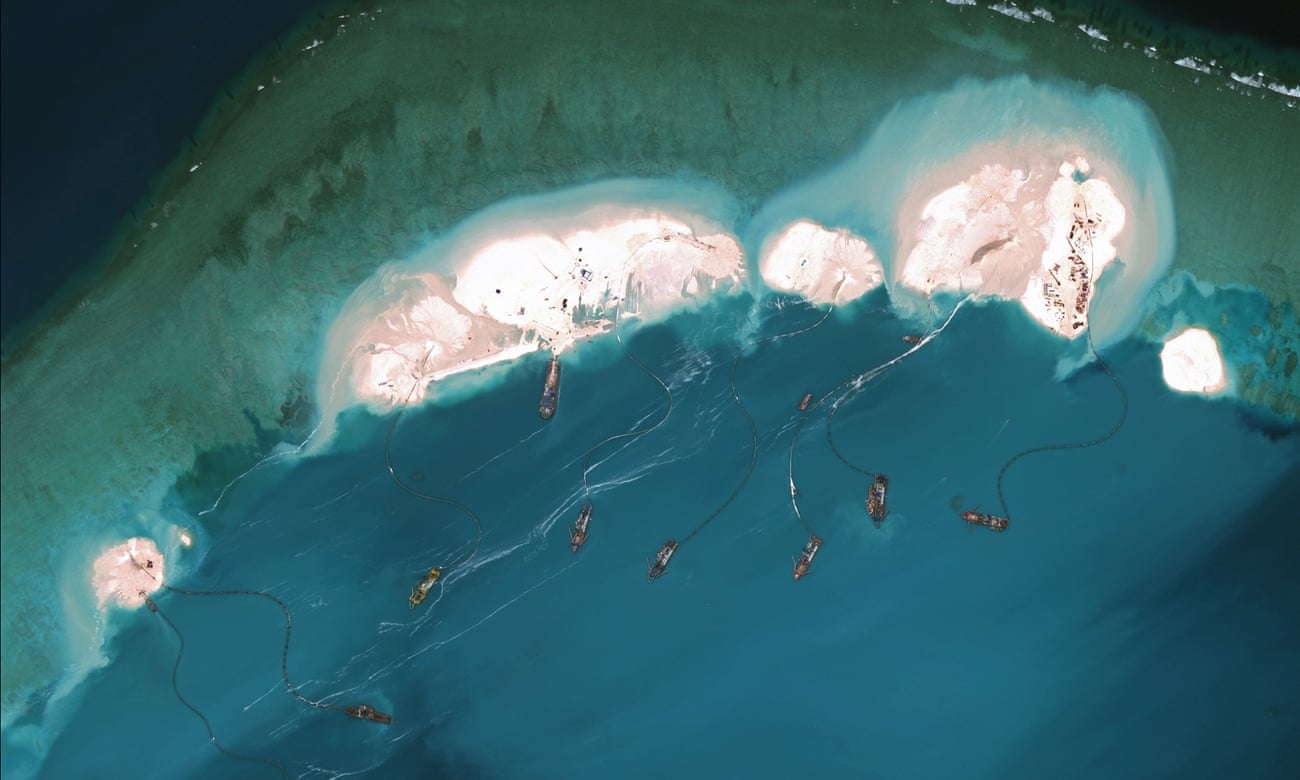 Wang told the forum that China is the real victim in the South China Sea, pointing to what he said was the "occupation" of some of its islands there, including by the Philippines. "But to maintain and protect the peace and stability of the South China Sea, we have maintained huge restraint," he added.
He said Japan had built up a remote island in the Pacific called Okinotori to enforce Japanese territorial claims. China has previously refused to recognise Tokyo's claims to an exclusive economic zone around Okinotori, which lies about halfway between Guam and Taiwan, 1,700km (1,050 miles) from Tokyo. "Before criticising others, Japan must first take a good look at its own words and behaviour," Wang said.
The United States and south-east Asian nations have called for a halt to further island-expansion and construction by China. Wang, however, said Wednesday that land reclamation had "already stopped" – a claim some diplomats said was met with scepticism at the gathering.
Kerry told reporters after the close of the talks: "The Chinese have indicated that they have stopped. I hope it is true. I don't know yet."
​