A closer look at the debate on how Washington should respond.
By Prashanth Parameswaran
• Obama Administration Warns Beijing About Covert Agents Operating in U.S. - By MARK MAZZETTI and DAN LEVIN
• BOMBSHELL: China and America already at war: Tianjin explosion carried out by Pentagon space weapon in retaliation for Yuan currency devaluation - by Mike Adams
• China Tianjin explosion: Haunting pictures show huge crater left by deadly explosion that killed 112 people - BY SAM RKAINA , MEGHA RAJAGOPALAN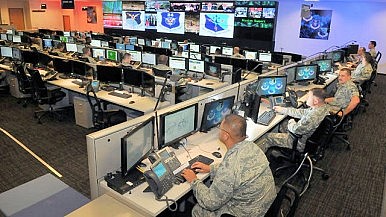 In a July 31 article in The New York Times,
David Sanger reported that while the administration has determined that it

ought to

retaliate

against Beijing

, officials have struggled to determine exactly

what options to pursue

.



The question of how the United States should respond to the attack

–
still not officially attributed to China by the Obama administration – took center stage at an August 19 panel discussion on the issue at the Atlantic Council, a Washington, D.C.-based think tank.

The event took place just weeks before Xi Jinping's upcoming visit to the United States.

Catherine Lotrionte, a former intelligence official under the Bush administration, argued that the OPM hack constituted a serious attack on

U.S. national

security.

Beyond compromising the security information of a large number of individuals, it also provided a list of people with clearances for China to potentially recruit as well as insights into which foreign nationals may have been speaking to U.S. intelligence officials.

Despite this, Lotrionte, now a professor at Georgetown University, noted that the Obama administration had remained silent on the issue, refusing to even state a clear position.

Without at least lodging a formal protest, she said it was very difficult to expect a change of behavior from China, particularly since attacks according to some U.S. officials have continued to happen.
"I feel pretty comfortable saying we haven't really deterred anyone," she said.

If the Obama administration wants to demonstrate to China that

such attacks are unacceptable

, Lotrionte said, it could consider several proposals that were short of severing ties with China.

After issuing a formal protest, Washington could consider

expelling
targeted groups of Chinese

out

of the United States;

stopping

business ties; and
enacting targeted

sanctions

or

asset freezes

.
But Robert Knake, who until this year directed cybersecurity policy at the National Security Council in the Obama administration, argued that such moves – which were already being considered by U.S. officials – would go too far.
The United States, Knake noted, thus far has deliberately chosen to object to Chinese economic espionage against American companies but not to state-on-state spying incidents like the OPM hack. Part of the calculation, Knake said, was that the United States should focus on bigger issues – like intellectual property theft and suppression of free speech in cyberspace, as well as hacks on the President or Joint Chiefs of Staff – rather than events like the OPM hack.

Furthermore, Knake noted that the U.S. intelligence community has not been pushing for punishing China or drawing red lines in cyberspace because it still believes that it is still doing far better than its peer competitors like China and is getting much more out of it.

"Right now, we judge that that's not in our interest," he said.
Knake, currently a fellow at the Council on Foreign Relations, also reminded the audience that the United States had lost any moral high ground it had in cyberspace following the Edward Snowden revelations.

If the United States were to take tougher measures against China this week, for instance, new Snowden documents revealing that AT & T had secretly helped the National Security Agency spy on Americans would not make the optics look too good.

"It's probably not a great thing," he said.
Given all this, Knake said that Washington and Beijing could agree on the basis of a much subtler norm which had informally been in place during the Cold War: "don't get caught."

The United States would clearly communicate to China that by conducting clumsy espionage operations and getting caught – such as the OPM hack – Beijing was not only drastically reducing the value of the information it was stealing, but also drawing unnecessary public attention and forcing the administration's hand to react.
"You can't end up in the front page of The Washington Post," Knake said in an attempt to convey what Washington would say to Beijing.

The stakes are even higher for China as the United States goes into an election season.

Presidential candidates – already notorious for bashing China to look tough during their campaigns – would view the cyber issue as an easy opportunity to take a swipe at Beijing
"

If that sets the stage for the next presidential election, that's going to be interesting

," Knake said.

Jason Healey, who served as Director for Cyber Infrastructure Protection during the Bush administration, also expressed skepticism about the United States "

punishing

"

China

.

He said he was

concerned about

more serious escalations

between the United States and China

rather than

the OPM hack.

That being said, he still argued that the United States and other actors could go even further to shape the norms of cyberspace in several ways, even in a post-Snowden world.
For starters, Healey said that although the United States had lost the moral high ground in cyberspace, the fact that China still continues to categorically deny charges of cyber espionage affords Washington the opportunity to publicly name and shame Beijing.
"We can continue to call them out," Healey, currently a senior fellow at the Atlantic Council , said.
China Foreign Ministry Urges US to Stop Accusing Beijing of Cyber Attacks
NEW YORK, June 9 (Sputnik) — The International Monetary Fund (IMF) should punish China for the recent cyber-attacks that resulted in compromising personnel records of millions of US Government employees, US Senator Charles Schumer said in a statement on Tuesday.

"It is long past time for the international community to rally together and make crystal clear to the Chinese government that if they want to be treated as a leading nation on the global stage, then they need to start acting like it," Schumer said.

On June 4, 2015, the US Office of Personnel Management (OPM) announced that a cybersecurity breach possibly compromised the personal data of up to 4 million current and former US federal employees.

Media reports citing anonymous US officials said hackers based in China were behind the attack.

China has denied past US allegations it is behind cyberattacks on the United States.

Schumer, along with US Senator Lindsey Graham, also urged Lagarde in a letter not to allow the IMF to designate the Chinese Yuan as a reserve currency.

"We write to express our deep concern with the IMF's potential consideration of the Yuan for inclusion in its SDR [Special Drawing Rights] system," the Senators told Lagarde in a letter.

The IMF Board is expected to meet informally in the coming weeks to assess whether the IMF's basket of emergency lending reserves that make up the Special Drawing Rights system should be adjusted to include the Yuan.


MORE:
U.S. Senate Backs Tough China Trade Moves - By JENNIFER STEINHAUER and MARK LANDLER