Chinese dredging vessels are purportedly seen in the waters around Mischief Reef in the disputed Spratly Islands in the South China Sea in May. | REUTERS
- China warns US not to make fool of itself over South China Sea - Video
=========================
A US Navy ship has sailed close to artificial islands built by China in the disputed waters of the South China Sea, US defence officials have said.
Guided-missile destroyer USS Lassen breached the 12-nautical mile zone China claims around Subi and Mischief reefs in the Spratly archipelago.
The freedom of navigation operation represents a serious challenge to China's territorial claims.
The foreign ministry in Beijing condemned it as "illegal".
In a statement, ministry spokesman Lu Kang described the operation as a "threat to China's sovereignty", adding that Beijing would "resolutely respond to any country's deliberately provocative actions".
US Defence Department spokesman Commander Bill Urban said earlier that "the United States is conducting routine operations in the South China Sea in accordance with international law".
China claims most of the South and East China seas. Other countries in South East Asia have competing claims for the Spratly Islands, Paracel Islands and Scarborough Shoal, which are thought to have resource-rich waters around them.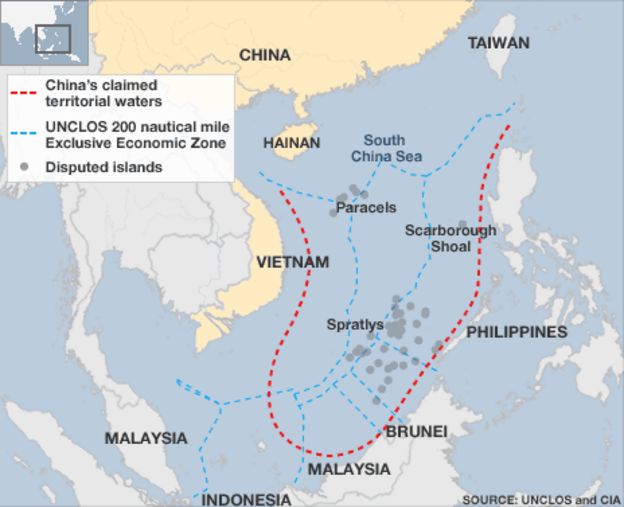 The reefs, which were submerged, were turned into islands by China by a massive dredging project which began in late 2013.
China says this work is legal and in a meeting with US President Barack Obama last month in Washington, President Xi Jinping said China had "no intention to militarise" the islands.
But Washington believes Beijing is constructing military facilities, designed to reinforce its disputed claim to most of the region - a major shipping zone.
What is Freedom of Navigation?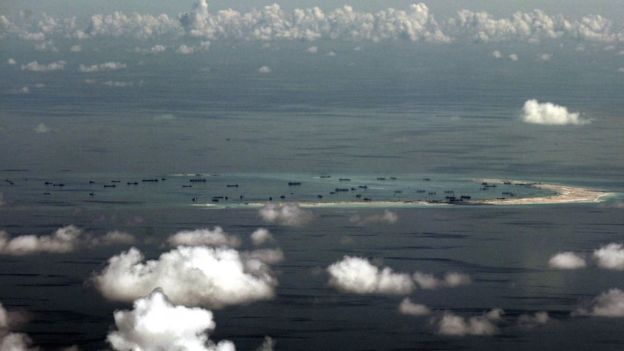 The US Freedom of Navigation programme challenges what it deems to be "excessive claims" to the world's oceans and airspace.
It was developed to promote international adherence to the UN Convention on the Law of the Sea, even though the US has not formally ratified the treaty.
In 2013 and 2014, the US conducted Freedom of Navigation operations of different kinds against China, Malaysia, the Philippines, Taiwan, and Vietnam - each of whom occupies territory in the South China Sea.
International maritime law allows countries to claim ownership of the 12-nautical mile area surrounding natural islands but does not allow nations to claim ownership of submerged features that have been raised by human intervention.
US Defence Secretary Ash Carter had previously signalled plans for the sail-by, saying the US would "fly, sail and operate wherever international law allows".
A senior US defence official told Reuters news agency the warship began its mission early on Tuesday local time near the reefs and would spend several hours there.
The USS Lassen was expected to be accompanied by a US Navy P-8A surveillance plane and a P-3 surveillance plane, according to the unnamed official, speaking to US media.
Additional patrols could follow in the coming weeks, the official added.
USS Lassen Image copyright US Navy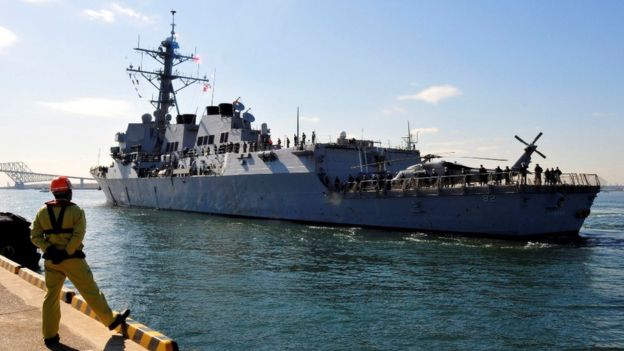 The ship is an Arleigh Burke class missile destroyer, which the US Navy says is among the most powerful destroyers ever built.

It is 155m (509ft) long with a displacement of 9,145 tonnes when fully loaded.

Crewed by a staff of about 330.

It carries two Seahawk helicopters and uses the Aegis defence system.

Weapons include Tomahawk missiles, RUM-139 Asroc anti-submarine missiles and surface-to-air missiles.
=========================
- Philippines, Australia Back U.S. in Challenge to China in Tense Seas - By Trefor Moss And Rob Taylor Updated Oct. 27, 2015
As Washington steps up its activities near man-made islands built by Beijing in disputed South China Sea waters, some experts are saying that Japan, with its newly empowered military, could play a larger role in the increasingly fraught quarrel.
The United States, which is reportedly weighing "freedom of navigation" patrols within 12 nautical miles of the artificial islands, has pointed to nearby shipping lanes that it says are vital to the free flow of trade.
Media reports earlier this month said the U.S. had decided to conduct the patrols, which Washington uses to challenge territorial claims in oceans and airspace it considers excessive.
The United Nations Convention on the Law of the Sea recognizes 12-nautical-mile territorial limits on naturally formed islands but does not recognize such limits on submerged reefs that have been reclaimed.
The officials did not specify a date for the patrols.
Since September 2013, Beijing has undertaken extensive land-reclamation projects — including the building of at least one airstrip — in the Spratly Islands. An estimated $5 trillion in global trade passes through shipping lanes in the South China Sea each year.
The trade routes are the arteries through which the lifeblood of much of the Japanese economy pumps. Tokyo fears the repercussions of what may happen if Beijing comes to dominate them.
According to Zack Cooper, a fellow with the Japan Chair at the Center for Strategic and International Studies, Japan's concerns are twofold: the threat to regional stability, and the example that assertive actions taken by China there could set.
"Given that U.S. forces and those of regional states have helped to protect international sea lanes . . . to ensure the free flow of energy and other economic trade through these vital routes, any contestation of international waters is a threat not only to the neighboring states, but to all countries with an interest in regional security and prosperity," Cooper said in an email message.
In addition, Cooper said, "if China is allowed to push around smaller Asian states in the South China Sea, it sets a dangerous precedent for larger states such as Japan, which is facing Chinese claims in the East China Sea."
While the dispute over the Japanese-administered Senkaku Islands has long overshadowed the South China Sea issue in Japan, a number of government officials and experts believe the two are inextricably linked.
In 2013, Japan's defense chief at the time, Itsunori Onodera, highlighted the connection by noting that Tokyo was "very concerned that this kind of situation in the South China Sea could affect the situation in the East China Sea."
In a 2012 opinion piece written before becoming prime minister, Shinzo Abe was even more direct in linking the two disputes.
"Japan must not yield to the Chinese government's daily exercises in coercion around the Senkaku Islands. . . . By making these boats' presence appear ordinary, China seeks to establish its jurisdiction in the waters surrounding the islands as a fait accompli. . . . If Japan were to yield, the South China Sea would become even more fortified," Abe wrote in a column on the Project Syndicate website.
Some experts have even ventured that the South China Sea issue may be more relevant to Japan than the East China Sea row.
"The SCS issue is much more important for Japan, not only from an economic perspective, but also military/strategic perspective, while the ECS issue is a tactical one and more manageable," Tetsuo Kotani, a senior fellow with the Japan Institute of International Affairs who focuses on maritime security, said in an email.
Tokyo is taking a multipronged approach to the South China Sea. It is internationalizing the dispute at multilateral forums, encouraging unity within the Association of Southeast Asian Nations, while providing capacity-building support to claimant countries and coordinating its positions with Washington.
Still, the potential for a dramatic policy shift by Tokyo exists, especially if the U.S. does launch a freedom of navigation operation, which will likely make routine patrols by Washington a necessity.
"If and when the U.S. decides to launch FONOPS (freedom of navigation operations) in the Spratlys, it's unlikely to be a one-off event — in order to reinforce its message that freedom of navigation in the SCS must be respected by China, the U.S. Navy will have to conduct such operations on a regular basis," said Ian Storey, a senior fellow focusing on Asia-Pacific maritime issues at the ISEAS — Yusof Ishak Institute in Singapore.
"This opens the possibility that in the future the United States will invite other countries to participate — Japan and Australia would be obvious candidates," he said by email.
However, Storey noted, Tokyo accepting any such invitation would represent a significant ratcheting up of Japan's role in the dispute, and would almost certainly aggravate tensions in Sino-Japanese relations.
Abe has spent considerable political capital over the past several years not to further aggravate the already fraught ties.
Cooper of CSIS also agreed that patrols by Japan were possible, but noted that any decision by Tokyo would have to take into account consultations with the U.S. while also evaluating the risks, benefits and proper timing of such a move.
"Japan certainly has the right to conduct similar operations in international waters, either on its own or in conjunction with the United States," said Cooper. "It is appropriate that China be given a more prominent say in international affairs, but Beijing will have to respect international rules and norms or it will risk undermining the regional order that enabled China's rise in the first place."
But more likely, others say, Tokyo will instead continue its multipronged regional approach to the South China Sea — especially so soon after the Abe government's grueling battle to pass security laws that allow Japan to conduct combined military operations outside its territorial waters.
"Japan needs to take the lead on the East China Sea and Senkaku issues," said Corey Wallace, a security policy analyst at the Graduate School of East Asian Studies at Freie Universitat, Berlin. "On the South China Sea, Japan has been careful to not get out ahead of other regional players. So without that regional buy-in the government will be hesitant. I'd say that they will continue to focus on maritime and military-capability building."